Two separate dates for next year's Etapes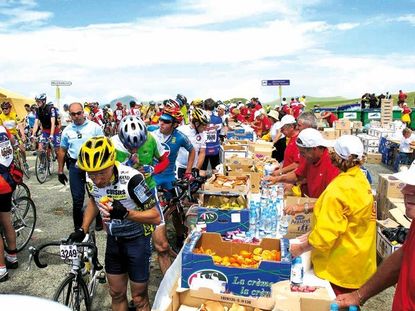 Tour de France organizers ASO have today confirmed that there will indeed be two "acts" to the Etape du Tour in 2011, and they'll take place on separate days.
The first will happen in the Alps on Monday July 11th between Mondane and the classic climb of Alpe d'Huez.
Although this also tackles the legendary ascents of the Col du Télégraphe and Col du Galibier it totals just 109km in length.
The other act is significantly longer at 208km and takes place the following Sunday (July 17th) in the Massif Central. Replicating the ninth stage of next year's Tour de France between Issoire and Saint Flour, it follows the Gorges de l'Alagnon before hitting the numerous climbs of the Monts du Cantal.
Justifying the introduction of two versions of the Etape, ASO cited the ever increasing demand for places in the event. They suggest dual events will relieve this pressure, allowing more people a ride and giving entrants the option of picking the course best suited to their abilities.
However, the financial gain of organising two Etapes is clearly not lost on ASO either. As a hint that riders are not restricted to entering just one version, they dropped into the announcement that there will be a cumulative ranking for riders who choose to tackle both.
Cycling Weekly subscription: The perfect Christmas gift
Related links
Two Etapes in 2011: the long and short of it
The mountains of the 2011 Tour de France
Cavendish challenging for eight stages at the 2011 Tour
Thank you for reading 10 articles this month* Join now for unlimited access
Enjoy your first month for just £1 / $1 / €1
*Read 5 free articles per month without a subscription
Join now for unlimited access
Try first month for just £1 / $1 / €1