Vincenzo Nibali answers Tour de France press pack's questions about doping
Vincenzo Nibali says that the sport has to move on ahead to a new, clean era with new riders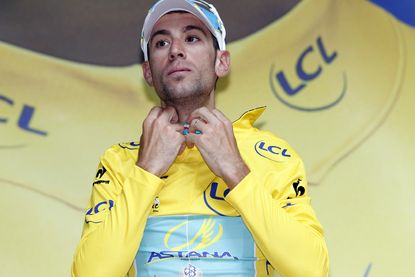 (Image credit: Graham Watson)
Vincenzo Nibali led the Tour de France for 10 days but only faced his first press conference doping question after a hot and sticky stage in Saint-Étienne today.
"The mistakes made were made in the past, made by a lot of riders, but we have to let that go and move ahead to the new riders who want to try to change cycling," team Astana's Nibali said. "We are showing that with the biological passport and out of competition controls at home."
The Italian from Messina in Sicily won the 2010 Vuelta and the 2013 Giro d'Italia, but never has been in pole position in the Tour de France and faced such media attention.
Compared to the amount of questions Chris Froome faced in 2013, Nibali has had an easy ride. So far, the Tour de France has enjoyed a relatively quiet run, at least in terms of doping scandals and questions.
Such is the difference, Sky's team manger David Brailsford questioned journalists about it at a rest day press conference.
"Last year, it was all about VAM, power output and doping. Just a s**t fight, but this year, no one is asking a single doping question. What's changed?" Brailsford said.
"You are nowhere near the same mindset. Was it because it was right after the Lance Armstrong thing or because Chris was in yellow? Did someone sit in Nibali's hotel and grill him?"
Nibali was asked today about why he left team Liquigas, now Cannondale, to join team Astana. The Kazakhstan-backed team has Alexandre Vinokourov, who was kicked out of the Tour for doping, Giuseppe Martinelli, who guided Marco Pantani when he was booted from the 1999 Giro d'Italia, and Michele Scarponi, banned for working with Michele Ferrari.
"I don't know what to tell you regarding Martinelli. We have a good relationship. Thanks to him I joined team Astana," Nibali explained.
"Astana invested in an Italian group because they want to help give credibility and create a good group, they not only signed me but [trainer] Paolo Slongo. I worked with Slongo in the national team when I was only 17 years old. That element gives me and the team credibility. That relationship was there in team Liquigas too. I decided on Astana because it gave me the chance to create a group to confront the races like the Giro tour and Vuelta."
Nibali responded to Cycle Sport magazine clearly after the 2010 Vuelta when asked if he had ever doped. "What kind of question is that? Certainly not!" he said. He replied similarly when asked about banned practices. "It's a stupid question."
Leading the world's biggest race, Nibali said that to be asked about doping is "normal".
"I was also last year at the Giro d'Italia, in the past, at training camps..." he said. "It's big theme in cycling, but it's a thing that's part of the past. Now, there are isolated cases and unfortunately, the mother of the idiots is always pregnant."
Vincenzo Nibali wary that his Astana team may be stretched over coming weeks, and that Movistar and Sky pose a
Thank you for reading 20 articles this month* Join now for unlimited access
Enjoy your first month for just £1 / $1 / €1
*Read 5 free articles per month without a subscription
Join now for unlimited access
Try first month for just £1 / $1 / €1