Vincenzo Nibali: The Tour de France would be better with Froome and Contador
Vincenzo Nibali wary that his Astana team may be stretched over coming weeks, and that Movistar and Sky pose a serious threat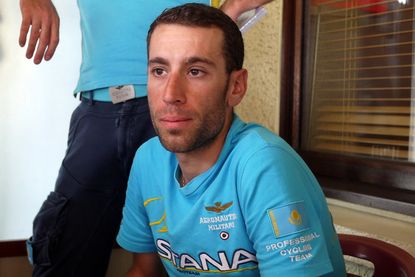 (Image credit: Gregor Brown)
With the race restarting today in Besançon after a rest, Vincenzo Nibali sits in pole position to win the Tour de France without pre-race favourites Chris Froome and Alberto Contador. Both riders crashed in the first week, leaving Nibali with a strong 2-23 minute lead over Sky's Richie Porte.
"I'm not happy with what's happened to Alberto and Chris, for sure, without them in these climbs... It would've been better and a great show for everyone," team Astana's Nibali said during the rest day on Tuesday in Besançon.
"I'm strong, though, you saw that [at La Planche des Belles Filles]. I'm racing here to win. I'm really sorry for what happened to Alberto, and what happened to Chris. We don't have the past winners here, but we still have quite a few big name riders."
Porte worked as a helper for Froome and Bradley Wiggins in the last two years and earned the right to lead the team regardless of Froome leaving. He trails by 2-23 and Alejandro Valverde (Movistar) by 2-47 in third with the Alps and Pyrenees yet to come.
If Nibali did win the Tour de France on July 27 in Paris, he would become only the sixth cyclist in history to win all three Grand Tours. He won the Vuelta a España in 2010 and in 2013, won the Giro d'Italia.
He would also become the second Italian to do so, matching Felice Gimondi who raced in the 1960s and 1970s, and won his Tour title in 1965.
Gino Bartali, who would have been 100 years old on Friday, was the only cyclist to win the Tour before and after the Second World War. He is one of only six Italians to win the race that now celebrates 101 years, the last was Marco Pantani in 1998.
The road to Paris, however, remains full of danger and unknowns. For example, Nibali last year looked ready to win a second Vuelta a Espana title but Chris Horner – who became the oldest Grand Tour winner ever – took victory out from under him.
"Of course, the dynamics of the race change with Tinkoff-Saxo losing Alberto," Porte explained. "I'm not going to give away what we're going to do tactically, but if we want to take time back then we do have to ride aggressively somewhere. It's not just us, but Movistar. They have a good team to do that sort of stuff."
Nibali took the yellow jersey with his stage win in Sheffield and, besides the one day on Tony Gallopin's shoulders, he has held on to it since. The eight days may start to take their toll on his Astana team.
"We still have a lot of stages to go. Sometimes, it seems easy to manage the situation, but sometimes, it's difficult," Nibali said.
"You can never under-evaluate anyone. I've learnt that over the years, especially in last year's Vuelta."
Thank you for reading 20 articles this month* Join now for unlimited access
Enjoy your first month for just £1 / $1 / €1
*Read 5 free articles per month without a subscription
Join now for unlimited access
Try first month for just £1 / $1 / €1