Vincenzo Nibali faces final Tour de France test in time trial
Vincenzo Nibali's trainer Paolo Slongo talks about his rider's time trial preparation ahead of Saturday's key test against the clock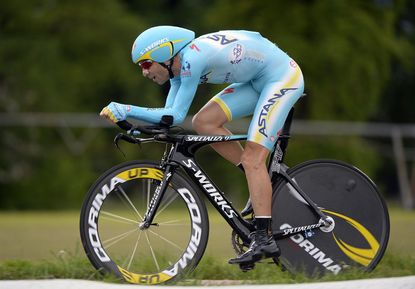 (Image credit: Watson)
Vincenzo Nibali leads the Tour de France by seven minutes, 10 seconds, but must race at 100 per cent in Saturday's time trial to invest in his future. The numbers the Italian and his trainer take from the 54-kilometre stage will help with Tours to come.
"It's a good test," trainer Paolo Slongo told Cycling Weekly. "He has to be able to manage the distance, 54 kilometres. He has to manage it well from the start to finish. It's also useful to verify his development."
Nibali last raced a long time trial when he won the Giro d'Italia last year. Over 54.8 kilometres, Alex Dowsett took stage victory and 'The Shark' placed fourth.
Wiggins paved the way to his 2012 Tour win by winning two long time trials, each near 50 kilometres. Nibali lost time and placed third overall at six minutes to Wiggins and Chris Froome in Paris.
Slongo explained that he worked off those time trial data files to prepare his star rider for 2014.
"I looked at the files even if those are different, because there were three time trial stages over three weeks," Slongo said.
"In 2012, he was climbing with Froome and Wiggins, so he just needed to maintain that and better himself in the time trials.
"You have to remember, he's not bad. He rode well already at the junior level when I worked with him, placing third in the worlds.
"We didn't really change his bike position from 2012, we worked a lot on his integration with the bike. We made sure that he maintained his aero position – holding your head up and keeping your neck strong so the helmet doesn't move – and that he was physically able to power the bike over such a distance."
Slongo kept to himself when asked about what average watts Nibali should produce through the vineyards from Bergerac to Périgueux, but explained that he knows what should happen based on his charts.
"I've done graphs of his power: the first 10 days through the first rest day and the second phase, from the first rest to the second rest day. You can get a good span of power. In an hour or hour-plus time trial, you can see what type of power he is able produce and we base our ride on that," Slongo said.
"On the climbs, based on those watts, I could bet you what watts he'll ride at, and be within five watts. It's a good and trusted method."
The Italian from Treviso will prepare a plan for Nibali's ride and give him a 'media magica' – an average watt that he should be able to produce and maintain over 54 kilometres.
Nibali should place well for someone who's not an expert time trialist like world champion Tony Martin. More importantly, he will come away with parameters that he will be able to use in 2015 Tour de France against riders like Sky's Chris Froome.
Thank you for reading 20 articles this month* Join now for unlimited access
Enjoy your first month for just £1 / $1 / €1
*Read 5 free articles per month without a subscription
Join now for unlimited access
Try first month for just £1 / $1 / €1