Vincenzo Nibali to play support role at World Championships
Tour de France champion Vincenzo Nibali also hints at possibility of riding both Giro d'Italia and Tour in 2015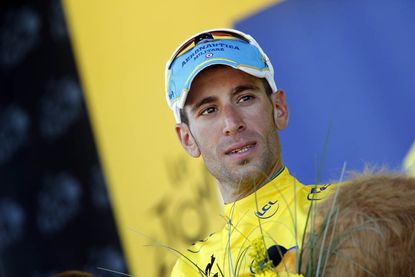 (Image credit: Graham Watson)
Vincenzo Nibali (Astana) could take a smaller role for the World Championships in Ponferrada, Spain, instead of leading the Italian national team. The Sicilian has not competed since the Tour de France's post-race criteriums and appears more focused on 2015 than on the rainbow jersey this September 28.
"I saw the course, but only in a video from [Italian Team Director] Davide Cassani," Nibali explained at a charity event on Saturday near Como, Italy. "It's not very suited to my characteristics, but the goal is to be there and to support the team."
Nibali led the team to fourth on the 2013 Florence Worlds course, which was impressive since he had crashed leading into the final lap. The rolling course in northwest Spain is less difficult than Florence's circuit was, but still could suit an in-form Nibali.
However, 'The Shark of Messina' has not raced since the criteriums in mid-August. Instead, he has spent more time than usual with sponsors to celebrate his Tour title.
He will return to racing in the Coppa Bernocchi, September 16, and continue in the Coppa Agostini, the Tre Valli Varesine, the Memorial Pantani, the GP Prato. The GP Prato on September 21 leaves seven days until the worlds in Ponferrada.
"I've talked about [the Worlds circuit] with Cassani," Nibali Continued. "I'll do all I can to arrive ready for the goal and give my best to the Italian team. Everyone knows that the Tour was my first goal of the year and the Worlds my second."
Followers also raised questions about Nibali's form in June. Nibali silenced everyone by winning the Italian road title and going on to become the first Italian to win the Tour since 1998.
"The criteriums that he did and the upcoming races will be enough if he trains well," Astana trainer, Paolo Slongo told Cycling Weekly. "I've gone to Lugano to train with him, pacing him behind the motorbike to simulate races. It'd be if he was able to race more, but without the Vuelta a España he didn't have many other opportunities."
Win or lose, Nibali must also consider his 2015 schedule. After the Tour, Italian media pushed him on returning to the Giro, where he won in 2013, but he responded with indecision. Now, he appears to be warming to the idea of racing his home tour in May and returning to defend his title in France in July.
"We are struggling with this idea. Clearly, it's difficult for me to renounce the Giro d'Italia because it's a race that I like a lot and it's truly in my heart, but as the Tour de France winner, I also have the desire to return to the French roads to fight with the best," Nibali explained. "It won't be an easy decision, but I like the idea of racing both of them."
Italian coach Davide Cassani rode the route of the 2014 UCI World Champs road race in Ponferrada, Spain, and gave
Thank you for reading 20 articles this month* Join now for unlimited access
Enjoy your first month for just £1 / $1 / €1
*Read 5 free articles per month without a subscription
Join now for unlimited access
Try first month for just £1 / $1 / €1