Wiggins primed for 2012 Tour win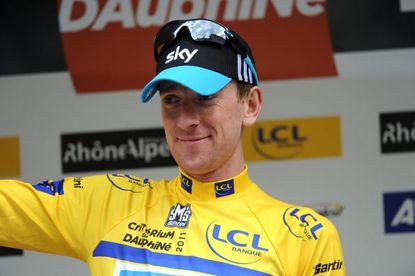 (Image credit: Graham Watson)
Bradley Wiggins claims to have not even seen the route of the 2012 Tour de France, but his motivation to win has only been hardened by his unceremonious exit this summer.
"I still believe the Tour is unfinished business. I've had two disappointing Tours after 2009, and I'm more capable than ever," he told Cycling Weekly.
As another year passes, Wiggins hints that it's now or never: "I can't sacrifice the Tour again, not after this year, with the age I'm at [he's 31]," he said.
Four months after crashing out of the Tour on stage seven to Châteauroux, Wiggins reflected "it wasn't devastating at the time, it was more a disappointment," he said. "There were times when I was watching the Tour thinking 'bloody hell, I wish I could have been there'. But I've sort of forgotten about it because the back end of the season was so successful."
Winning the Dauphiné and British national road race, finishing second in the World Championship time trial and third in the Vuelta, Wiggins is coming off the back of his most successful year relaxed and confident - and the 2012 Tour route suits him.
Laid-back approach
The five mountain stages not withstanding, it is the presence of two long time trials between Arc-et-Senans and Besançon (stage nine) and Bonneval and Chartres (stage 19), alongside the fast prologue in Liège, which marks out next year's Tour route as a Wiggins-friendly parcours.
Surprisingly, Wiggins claims to have not seen the route. "I've been so switched off at home that I never saw the announcement of the route. I'm not really interested at this stage. It's something I did last year because I've stopped worrying about things like that. The Tour route is announced so early that it really doesn't change what I do between October and January training-wise. It's way too early to go and look at routes, climbs or time trials."
Wiggins took this tack last off-season after getting his hopes up that the 2010 Tour route would contain favourable aspects. "I had this anticipation, and there was a huge disappointment when they weren't there. The Tour is what it is: whatever the route, I'll train to the demands."
Wiggins added that his coaching team at Sky, led by Shane Sutton and sport scientist Tim Kerrison, are poring over it, seeing what the difficulties are and working out a more precise training plan for January.
Come July, there will also be the crucial issue of marrying support for Wiggins's yellow jersey challenge with new signing Mark Cavendish's stage and green-jersey winning ambitions.
Speaking in November at the launch of the Gatorade G Series Pro range, which he attended with other Sky riders, Wiggins had just returned from holiday in New York with his wife. "It's nice to be home, seeing the kids more and doing normal stuff you can't do most of the year," he said.
Wiggins' Olympic juggling act
Bradley Wiggins is determined to follow a Tour bid with an assault on Olympic gold at London 2012. "I'm greedy and I want to do both," he said with a smile. "That's the difference between being great in sport and mediocre: taking on those challenges."
Wiggins maintained to CW that he also wants to ride the team pursuit alongside the Olympic road race and time trial. "I've said I want to do all three. It is going to be very difficult, but that's part of the challenge. It will inspire me to train bloody hard this year," he said.
Such aims throw up an extremely punishing potential schedule. The Tour finishes on July 22, the Olympic road race takes place on July 28, with the TT on August 1 and the men's team pursuit qualifying and finals on August 2 and 3.
Something may have to give for Wiggins, but he firmly believes that success across the board is possible. "I never see it as trying to justify or explain to everyone why I want to do this: I'll do it, and we'll see the results in August. The powers that be are telling me I'm capable of doing it."
Wiggins was heartened by his rough dry-run in September. "The World Championship time trial was my best ever in terms of the numbers produced for an hour. Doing that 10 days after finishing third in the Vuelta gives me more confidence than ever that I'm capable of doing both to a high standard."
This article originally appeared in the November 10 2011 issue of Cycling Weekly magazine
Related links
Tour de France 2012: Route details
Bradley Wiggins: Rider Profile
Thank you for reading 20 articles this month* Join now for unlimited access
Enjoy your first month for just £1 / $1 / €1
*Read 5 free articles per month without a subscription
Join now for unlimited access
Try first month for just £1 / $1 / €1