Pro riders call Vuelta finish 'the steepest climb I've ever done' – but at least it was short
Joe Dombrowski tells Cycling Weekly: "I didn't really love it, to be honest"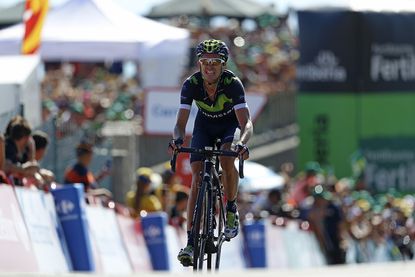 (Image credit: Yuzuru SUNADA)
The Mirador de Ézaro, the brutal finishing climb in the Vuelta a España stage three on Monday, gave some competitors their steepest ever test with its reported 30 per cent gradients.
Stage winner Alexandre Geniez (FDJ) struggled over the final ramps. He had a 1-14-minute gap with one kilometre to race; by 500 metres, it was down to 45 seconds; and by the finish, it was a slim 21-second advantage.
The gradients, mixed in with the 38-degree heat in the Vuelta a España's first summit finish, zapped the peloton.
"I don't think I've ever done anything that steep," Joe Dombrowski (Cannondale) told Cycling Weekly. "It was probably the steepest climb I've ever done.
"It wasn't that hard at the end of the day – it's eight to nine minutes. It's short. It suits a punchy rider not the pure GC guys. But I didn't really love it, to be honest."
The team buses did not try to arrive to the top and instead parked down below. The former race leader Michal Kwiatkowski (Team Sky) said the worst part of the day was actually descending after the stage to reach his team bus. He explained that his wheels' rims were heating up and screaming.
A Strava map of the climb depicts gradients as high as 43 per cent – and also awarded the KOM to Bart de Clercq (Lotto-Soudal), who finished 12th on today's stage.
Sky's Chris Froome said: "I don't know, but it was quite steep, a good 20 or 20-plus.
"It's short. It's seven minutes long, but for a short climb... You know, it's similar to the Mur de Huy, but just longer I guess. The steeper parts last for longer."
Australian Rory Sunderland (Movistar) relaxed in the shade, happy with a job well done. His team-mates Alejandro Valverde and Nairo Quintana finished with the favourites, and put time on some others, and are still in contention for the overall.
"It's the steepest most people have done, but many other races have something that steep," Sunderland said.
"It's not for too long. I think it's a good show for the fan and cool for everyone. It was bad, but I've been up worse. You go to Italy, and you get climbs that are 10km at 12 per cent.
"It depends on how hard you've ridden beforehand. For me, if it's 20 kilometres, it's worse. The distance – and the little climbers – makes it hard for me."
"This was already the third time we've done this climb at the Vuelta, so we already know it," Italian Dario Cataldo (Astana) added.
"There are other climbs that are steeper than this one. I don't know what the steepest bit was today in one of the inside turns, but there are tougher climbs like Montelupone or some of those in the Tirreno-Adriatico stage race."
Cataldo rode a 39 gear in the front and a 32 in the back. Dombrowski had a 38x32. Both said that they could have used an easier ratio.
"Honestly, I know it sounds like overkill," added Dombrowski, "but if I could have done it again, I would have used a 36 in the front and a 32 in the back."
Thank you for reading 20 articles this month* Join now for unlimited access
Enjoy your first month for just £1 / $1 / €1
*Read 5 free articles per month without a subscription
Join now for unlimited access
Try first month for just £1 / $1 / €1