Michal Kwiatkowski thanks Peter Kennaugh for setting him up for Vuelta red jersey
Kennaugh helped his teammate to fourth place in the sprint on the second stage of the Vuelta a España and a stint in the red jersey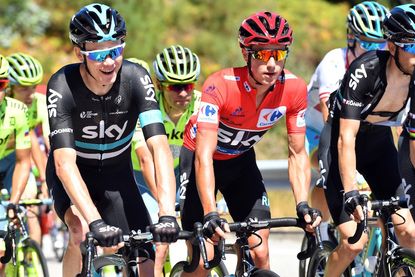 (Image credit: Watson)
Pete Kennaugh did not have to, but he turned to Michal Kwiatkowski in the closing kilometres of the Vuelta a España's stage two and asked him if he wanted a chance to take over his red leader's jersey. Kwiatkowski says that it was thanks to Kennaugh that he was able to take over the lead, which came via fourth place in Baiona.
The Brit took the lead yesterday when he led Team Sky over the line in the opening team time trial. His priority today was to look out for Chris Froome, but once he saw his leader was safe, he hatched a plan with Polish teammate Kwiatkowski.
"I'm very thankful to Pete, who gave me the opportunity to sprint in today's final, to go for the bonus seconds and the win," the 2014 world champion said sitting inside the interview trailer at the finish. "I'm really thankful to the team that it was possible.
"A few kilometres before the final, Pete asked me if I wanted to sprint and I accepted this proposition. He led me out. We were up there in the mix, and we were sure that Chris was safe and out of danger so there was no risk that he would lose time. We could play it like that and I'm really thankful to Pete."
Belgian Gianni Meersman (Etixx–Quick-Step) won the sprint, Kwiatkowski took fourth and Kennaugh 33rd. The jury awarded the red jersey to Kwiatkowski due to his higher placing because they were all on the same time.
Sky won the opening time trial by a fraction of a second over team Movistar. The risk today was that José Joaquín Rojas, of team Movistar, would sprint and take the leader's jersey
"We knew that Rojas could sprint for bonifications today. He was one of the guys two could take the red jersey," added Kwiatkowski. "I was looking at him before the finish, but I decided to go and try to out sprint him. We didn't want to just give up the red jersey for free because we deserve to still keep it after yesterday."
Rojas placed 12th and moved to second overall on the same time with Kwiatkowski. Alejandro Valverde (Movistar) sits third and Froome fourth overall.
"For me it's an incredible feeling that I had the opportunity to get the red jersey," Kwiatkowski said. "It's one of the nicest starts to the races that I had. Winning the team time trial with Team Sky is incredible."
Thank you for reading 20 articles this month* Join now for unlimited access
Enjoy your first month for just £1 / $1 / €1
*Read 5 free articles per month without a subscription
Join now for unlimited access
Try first month for just £1 / $1 / €1