Nibali: People are treating me like I'm a monster after Vuelta expulsion
Vincenzo Nibali says he hopes to find serenity again at Astana and the results will return next year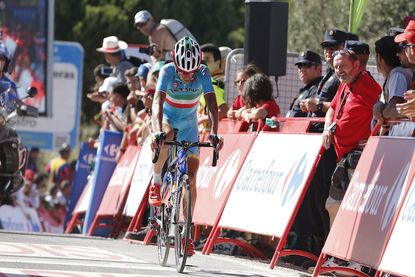 (Image credit: Yuzuru SUNADA)
Vincenzo Nibali is not holding back with his thoughts following his ejection from the Vuelta a España on Sunday, claiming the UCI must have been involved in the decision.
In an interview with La Gazzetta dello Sport, the Italian got a lot of issues off his chest, including retaliating to his detractors and discussing his future at Astana, where his contract runs until the end of 2016.
Nibali admits that he broke the rules but believes the distrust that Astana have been eyed with this season is a contributing factor to his expulsion and the subsequent reaction among fans and fellow riders.
"Okay, I was wrong and I paid the price, he told Gazzetta. "I'm being treated like I am a monster, and this does not make me feel good because I'm not.
"It seems to me that there was too much nastiness against me, I don't know if it is out of envy or what. On the internet there is even put it as one of the five worst things ever seen in cycling. Come on!"
He added: "Maybe there is this rage against me for the team that I represent. Many do not see with Astana in a good light, it is useless to deny it. As I am convinced that the decision given to me is not taken by the president of the jury alone. A sentence so severe will have had the endorsement of the UCI."
The Vuelta incident is the latest setback for Nibali and Astana this year, following on from the team's licence issues this winter and the Italian's struggles at the Tour de France.
At the Tour, Astana manager Alexander Vinokourov suggested there was "something wrong in [Nibali's] head" after the defending champion lost four minutes to Chris Froome on the race's first climb.
This led to speculation that the Kazakh team and the Italian rider may be ready to part ways before the end of his contract at the end of 2016, but Nibali told Gazzetta that he hopes to find a way to make it work with Astana.
"I think the best thing is to reach an agreement with Astana," he said. "In my contract, which is also there for 2016, there are no termination clauses, so the consensual resolution of the contract should be at the agreement of the leaders of Kazakh cycling.
"But I also think that it is common interest to create a serene environment of total trust between Astana and I. I have to find the serenity, so I have to get closer to my group. The error on Sunday was not only mine."
A dominant win at the 2014 Tour de France showed that when working as a team, Astana and Nibali's relationship can prosper.
"I have shown that with the serenity and tranquillity I can give you the best. Allow me to smile again and the results will return."
Thank you for reading 20 articles this month* Join now for unlimited access
Enjoy your first month for just £1 / $1 / €1
*Read 5 free articles per month without a subscription
Join now for unlimited access
Try first month for just £1 / $1 / €1