Astana dismiss rumours that Nibali was told to find a new team for 2016
Kazakh team respond to rumours reported in the Spanish press that Alexander Vinokourov told Vincenzo Nibali he could leave the team at the end of the current season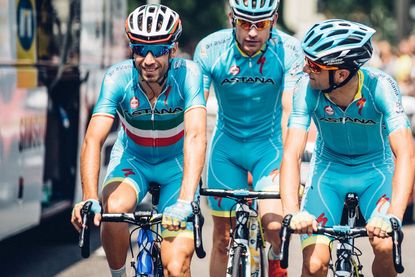 (Image credit: Daniel Gould)
Astana have been quick to dismiss rumours circulating on Thursday that Vincenzo Nibali had been told by the team's general manager Alexander Vinokourov that he could find a new team for the 2016 season, after falling out of contention in the 2015 Tour de France on the first mountain stage.
According to reports in Spanish newspaper AS, Vinokourov was so angered by the Italian champion's poor performances throughout 2015, that he was looking to offload Nibali before his contract expires at the end of 2016.
Nibali lost over four minutes to race leader Chris Froome (Team Sky) on the first summit finish of the to La Pierre-Saint-Martin on stage 10, prompting his Kazakh boss to tell the press that "Vincenzo needs a good mechanic because something is broken in his head."
It's not the first time either that Vinkourov has pressured Nibali for better results, particularly with the reported €4m per year that the 30-year-old earns, having sent a letter to Nibali ahead of the 2014 Tour demanding results after poor run of form. Nibali subsequently went on to take four stages and the overall in a dominant performance at that Tour.
Vinokourov was quick to get behind his team leader on Thursday night after the AS report, saying that they would now look to the final Grand Tour of the season, the Vuelta a España for a chance at overall success.
"There has never been a question that Vincenzo Nibali will leave the team at the end of the season - Vincenzo is doing very well in the team," Vinokourov said in a statement.
"Of course I am not happy when we don't win, as is the case with all team General Managers - But I merely think that Vincenzo is not riding at his best level in this Tour"
"Nibali has a potential that is much better than his current place in General Classification"
"We are going to do medical tests to determine the reason for his performance, and we also wish to see him race in the Vuelta a España this season to achieve a grand tour victory"
"There is no problem between him and the team, and we have full confidence in him, contrary to what is being reported in the press."
While Nibali still sits just inside the top-10 of this year's Tour, 7-47 behind Froome, there was some confusion over who exactly was leading Astana earlier this week, after Vinokourov indicated that Jakob Fuglsang would take over leadership responsibilities.
The Dane sits 13-33 back on the the top of the GC, as the Tour heads to its first transition stage from the Pyrenees to the Alps, on a medium mountain route to Rodez on stage 13.
Vincenzo Nibali's 2015 Tour de France bike
Thank you for reading 5 articles this month* Join now for unlimited access
Enjoy your first month for just £1 / $1 / €1
*Read 5 free articles per month without a subscription
Join now for unlimited access
Try first month for just £1 / $1 / €1