Tinkoff-Saxo continue in Vuelta a España 'as long as safety is guaranteed'
After two of its riders were hit by official motorbikes during the Vuelta a España, the Tinkoff-Saxo team meet with race organiser and UCI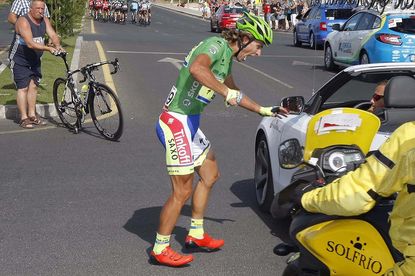 (Image credit: Watson)
Russian WorldTour team Tinkoff-Saxo has decided to continue racing in the Vuelta a España after receiving assurances from the race's organiser regarding rider safety. Tinkoff-Saxo riders Peter Sagan and Sergio Paulinho were forced to withdraw from the race after being injured by official motorcycles in two separate incidents.
According to the team, a meeting took place on the Tinkoff-Saxo bus on Thursday morning ahead of stage 12 between the team, the Vuelta race director, a UCI commissaire and a representative of TV España.
"A number of concrete safety measures were discussed and agreed upon," read a team statement. "And as a result, Tinkoff-Saxo's squad took to the start of stage 12."
The team has said that any further incident will result in the squad's immediate withdrawal.
"The team will immediately retire from the race if any incident similar to the ones that involved Peter Sagan and Sergio Paulinho takes place again."
>>> Second Tinkoff-Saxo rider hit by motorbike at Vuelta a España
According to Tinkoff-Saxo, the following safety measures were agreed:
- Race director will issue a radio communication to all vehicles that safety of the rider is the first and paramount objective and that no risk should be taken to get a video or photo of riders
- The minimum safety distance between in-race motorcycles and riders is doubled from the current 5 to 10 metres.
- The organization will thoroughly review and assess the status of all drivers of motorized vehicles, including their driver licenses, qualifications and experience, in order to ensure they are fully capable of safely performing their job.
A further meeting will take place after stage 12 to "discuss remaining safety issues and concerns and find a viable long-term solution for the safety of teams and riders".
On Wednesday, Tinkoff-Saxo team owner Oleg Tinkov had hinted that he would withdraw his team from all ASO races in protest at the rider being hit by motorcycles. ASO organises the Vuelta through its subsidiary, Unipublic.
"I'm considering now to take the team off the #Vuelta2015 . Boycott #ASO for this. They pay us NO money for the race and even damage riders," Tinkov tweeted.
Earlier, Tinkoff-Saxo has issued an open letter to Unipublic and the UCI stating five demands for rider safety during the event in reaction to the original incident involving Peter Sagan. A few hours later, Sergio Paulinho was hit by a motorbike on stage 11 and required 17 stitches in his leg.
Thank you for reading 20 articles this month* Join now for unlimited access
Enjoy your first month for just £1 / $1 / €1
*Read 5 free articles per month without a subscription
Join now for unlimited access
Try first month for just £1 / $1 / €1