Watch: US crit racer celebrates too early and suffers unfortunate crash
The Gran Prix of Beverley had a climactic finish for the men's elite event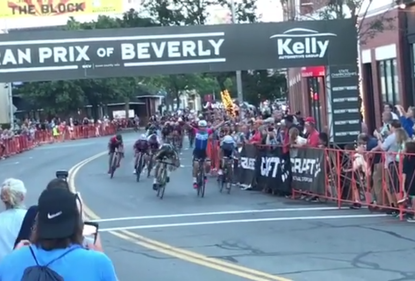 The final stretch to the Gran Prix of Beverly, a criterium race held in downtown Beverley, Massachusetts in the USA, saw a hectic turn of events after a rider celebrated too early before crashing down across the finish line.
Sam Rosenholtz was racing in the men's elite category that was also the State Championship race. Rosenholtz was also riding for a $1000 prize pot but the moment got the better of him as he sat up too early to celebrate.
With less than a bike's length between him and his competitor, Jake Keough, his celebrations were premature as he came up short. With his hands off the handlebars he couldn't react to Keough's bike as it sped past him across the finish line causing him to crash.
While Rosenholtz, a member of CCB Velotooler, finished the race in second his finish line crash also brought down a fellow contender who couldn't swerve around the downed rider quick enough.
The CCB Velotooler rider seemingly came away with no injuries and was soon smiling once more atop the podium. He'll be sure not to repeat that in a hurry.
Thank you for reading 10 articles this month* Join now for unlimited access
Enjoy your first month for just £1 / $1 / €1
*Read 5 free articles per month without a subscription
Join now for unlimited access
Try first month for just £1 / $1 / €1