A Yates with destiny: Simon Yates reflects on racing, family and ambition
After a year that saw him take home the Tour's white jersey and complete the Vuelta a España, Simon Yates talks about what he's achieved and what's to come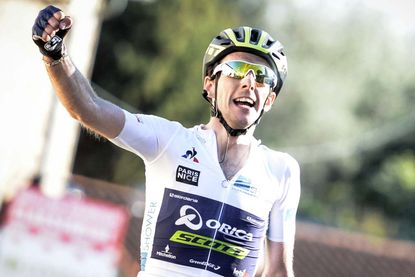 (Image credit: Yuzuru Sunada)
Following in the wheeltracks of Francesco Moser, Greg LeMond, Marco Pantani and Alberto Contador would be a good enough excuse for a major blow-out party for most 24-year-olds. Not so for Simon Yates, the latest pro to win the Tour de France's white jersey, awarded to the race's best young rider.
"We just had a nice little get-together with the team and enjoyed the moment. My family were proud and my mum, typically, made a bit of a scene, but I expect that from my mum. It was a good night," says Yates, which makes us think that "a nice little get-together" may be closer to the raucous all-nighter we were imagining.
>>> How do professional riders spend the off-season?
"She's obviously very proud of us both winning the white jersey and I think it's quite special for both of us to have won it, the first two brothers to do so," he adds, keen to credit his brother's own white jersey-winning ride in 2016.
Susan Yates's level of pride is unsurprising. There aren't many firsts left to claim in the sport and the Yates twins, both of whom ride for Orica-Scott, have hoovered up a significant one.
What is striking as Yates talks during the final week of the Vuelta a España — his second Grand Tour of the year, the first time he's doubled up in one season — is that he has a keen understanding that the white jersey is merely a stepping stone to bigger goals.
The jersey itself doesn't have a fantastic record of marking riders out as future Tour winners. Since the competition's introduction in 1975 only five of the 37 winners have gone on to claim a Tour title — Laurent Fignon, LeMond, Pantani, Jan Ullrich and Andy Schleck. Yates is very aware of this: "The white jersey is just one step. A lot of the guys who won it are barely heard of again, so I hope I'm not one of those guys and that I can keep improving."
Yates's words are indicative of his self-belief. When Cycling Weekly caught up with him after the Tour's final time trial back in July, where he secured the white jersey, he gave a similar hint at that inner confidence.
Orica-Scott were in the same hotel as Sky and with that team toasting their yellow jersey just feet away, it begged the question of whether Yates would trade his white jersey to be a key lieutenant for the likes of Chris Froome.
The highly decorated Michał Kwiatkowski had just spent three weeks doing that to devastating effect. Yates answers without hesitation: "No. White jersey every day. I think the only thing I'd trade it for is the podium. If you were to, hypothetically, say to me podium and no white jersey or fifth and white jersey, I'd choose the podium."
It's not an unrealistic goal. Yates was one of the best-performing GC riders in the Tour's opening time trial in Düsseldorf, where he lost only 25 seconds to eventual winner Froome while others haemorrhaged time; he took the white jersey on the Tour's first summit finish and held it all the way to Paris despite the best efforts of Louis Meintjes (UAE-Emirates) in the race's final week.
Level-headed
In the Alps that week Yates found himself dropped by the favourites but paced himself to manage his losses. It seemed to display a level of maturity and level-headedness that belied the fact that this was only his second serious assault on a Grand Tour GC contest.
But Yates plays this down when CW asks what was going through his head as he saw his main rivals go up the road and was unable to follow.
"This hurts really. It's not just the Tour de France where I race like this, I do it at any other race where I'm not at the best level, I think I'm pretty good at managing the losses… You start thinking 2km to go, 3km to go, you just dig deep and stay with the best guys. Especially at altitude, you can really blow up and lose a lot of time there."
Not that there aren't areas for improvement, and the now 25-year-old appears well aware of his own limitations at this stage. When CW asks about a seemingly innocuous look over his shoulder during an attack at the Tour, he chastises himself. "I tried not to look behind. I have a habit of checking behind and seeing what the gap is," he says.
It was, in part, with the aim of improving himself that Yates took on the Vuelta a España this year, not necessarily with the intention of getting a podium spot, but with one eye on the rest of his career.
"The whole idea is that it will benefit me next season," he explains ahead of the race's final week. "I've only done one Grand Tour a year up to now, so I think this can only help me. Even when you do one Grand Tour, you feel the benefit the next year, so this was the logical next step. But we won't know until next year how it will work out."
However, there had been hopes within Orica-Scott that the Yates brothers and co-leader Esteban Chaves would form a three-pronged attack in Spain — though no one knew when entering the race who would be the best — but hopes of that began to fade in the second week and by the third week the Yates brothers were finishing in the gruppetto as they saved themselves for future stages.
But Simon did get to race a Grand Tour alongside his brother again, something they'd not done since the Tour in 2015. "It does help, but more off the bike because I do room with him. It's nice to race together, we're always joking in the bunch, but it doesn't make my legs go any faster," says Simon.
Despite a tough three weeks in Spain, 2017 was Yates's best pro year to date with stage wins in Paris-Nice and the Tour de Romandie, alongside victory at the Gran Premo Miguel Indurain to add to his palmarès.
And with a second Grand Tour in his legs and a strengthened Orica-Scott squad heading into 2018, it seems likely that Mrs Yates will have further reasons to celebrate.
Thank you for reading 20 articles this month* Join now for unlimited access
Enjoy your first month for just £1 / $1 / €1
*Read 5 free articles per month without a subscription
Join now for unlimited access
Try first month for just £1 / $1 / €1