Rebellin ready to return, like it or not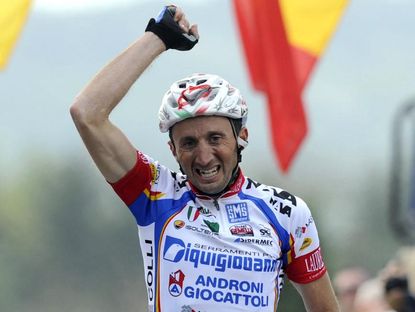 Davide Rebellin is preparing to race following the end of his suspension for doping at the 2008 Olympics. The 39-year-old underscores his intentions almost daily with updates on his Facebook page.
"I am continuing my period of semi-recovery, more or less three times a week to the gym and some bike rides of two to three hours," he wrote yesterday. "I prefer riding the bike!"
A positive dope test for the third generation of blood booster EPO, CERA, at the 2008 Olympics in Beijing put an end to him riding his bike in races. He won a silver medal in the road race when he finished second to Spaniard Samuel Sánchez, a medal the Italian Olympic Committee (CONI) later forced him to return along with €75,000 in winnings. The International Olympic Committee (IOC) did not release the results until April the following year, after Rebellin won Flèche Wallonne and finished third at Liège-Bastogne-Liège.
He claimed there was an error and fought to keep his medal by appealing to the Court of Arbitration for Sport (CAS). In September this year, the cycling federation in Monaco, where he holds a pro racing licence, handed him a two-year ban: April 27, 2009 to April 27, 2011. He has only five months left to prepare.
"For the entire month of November, I will only go on easy rides," Rebellin wrote earlier this month. "I will start my true preparations in the first week of December."
He figures he will end the year with 33,000 kilometres of training, only 2,000 shy of the 35,000 kilometres he would cover before his suspension. Part of the time, he trains with other residents of Monaco, Alexandre Vinokourov and Philippe Gilbert. He avoids riding with the Australians, saying they stop for coffee too often, but they do not agree with his habits.
Before the IOC busted Rebellin for super EPO, police filmed him seven years prior asking for drugs. Rebellin and his wife Selina Martinello were caught on police surveillance video at Doctor Enrico Lazzaro's office May 14, 2001, and with Lazzaro at a Bassano del Grappa hotel at the Giro d'Italia that year. At the hotel, Rebellin reportedly bought testosterone and EPO.
Lazzaro later received a 14-month suspension, but Rebellin continued racing, winning the Amstel Gold, Flèche Wallonne and Liège-Bastogne-Liège in 2004, and the Paris-Nice stage race in 2008.
The three-week Giro d'Italia stage race starts May 7 next year and could be Rebellin's first race back. Vinokourov, who ban for blood doping, is reportedly interested in having him join his Astana team. Rebelling may ride in support Astana's new signee Roman Kreuziger.
Rebellin said in a recent interview with Italian newspaper Il Giornale di Vicenza that he will decide by mid-December where he will race.
Related links
November 2009: Rebellin stripped of Olympic silver after EPO positiveRebellin in denial after CERA positive
Davide Rebellin: Rider Profile
CERA: New scourge of the peloton
Thank you for reading 20 articles this month* Join now for unlimited access
Enjoy your first month for just £1 / $1 / €1
*Read 5 free articles per month without a subscription
Join now for unlimited access
Try first month for just £1 / $1 / €1