Record viewing figures for Tour of Britain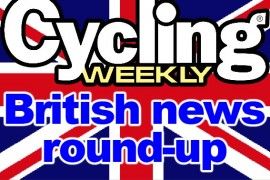 ITV4 has announced record viewing figures for this year's Tour of Britain, which was the first to be broadcast live on the channel each day.
An average of 382,000 viewers tuned into the live coverage while 526,000 on average watched the daily highlights show, an increase of 12% on last year.
It's good news for British teams and sponsors, especially with the coverage going out to 130 countries across the globe. The main benefit however seemed to be for the spectators at the finish of each stage, who for the first time could watch the stage unfold before the real-life peloton thundered across the finish line.
Record Tour: Nearly 1 million viewers saw Cav win three stages at the 2012 Tour of Britain
"The excellent viewing figures demonstrate the popularity of The Tour of Britain with fans and its continued growth as a major event on the British sporting calendar," said Alastair Grant of organisers SweetSpot.
_____________________________________________________________
The Bicycle Film Festival makes its annual return to London next week with a series of screenings at the Barbican.
Starting next evening Friday (October 5), sessions runthroughout the weekend with highlights including the UK premiere of Ras Tailteann: Men of the Ras and the tragic Shay Elliott: Cycle of Betrayal.
While both these examples have an Irish road racing theme, the full selection covers a wide spectrum of cycling films from hair-raising alleycat footage and bike riding music videos to oddball cartoons and a documentary about a man and his camperbike.
See: www.bicyclefilmfestival.com
While we're on the subject...
Another cycling themed film is being shown this Friday in London as part of the more general Raindance Film Festival. Named "Janapar" after the Armenian word for journey, it is described as a bicycle travel film with a true love story at its core.
A feature documentary, filmed over four years in 32 countries, it tells the tale of a young Englishman who went to cycle the world but fell in love with an Iranian-Armenian girl along the way. For more information see http://janapar.com
Tickets for the screening can be obtained from http://j.mp/ObEjVd
_____________________________________________________________
The Primal Europe team will be merging with the Spin-Rotor team for 2013, it has been announced, to create Spin/Rotor-Primal - Europe - C-Originals Racing Team.
James Smith from Primal Europe will continue as Team Principal while Alex King will be sports director. The team of 12 riders will race at the Premier Calendar series next year and will also apply to ride the 2013 Halfords Tour Series.
"This year has been a staging point for us here at Primal Europe, but now we need to take the next step and it is great to do this with likeminded people such as the guys from Spin, Rotor and C-Originals," said Smith.
Smith is currently inviting applications from elite and first category riders who would like to ride for the team, and welcomes exceptional second cats to apply too.
Despite already having one of the longest names in cycling, the team is also open to new sponsors to come on board. Email james.s@primalwear.com for more information.
_____________________________________________________________
This Saturday evening the roads around the NEC in Birmingham will be lit up for the Cycle Show Supercrit, featuring the likes of Ed Clancy, Andy Tennant and the Downing brothers.
It's a post-Tour crit for the Tour of Britain, as all the British teams at September's race will be represented. King of the Mountains winner Kristian House from Rapha-Condor-Sharp will also be riding.
Tour of Britain KoM winner Kristian House in action earlier in the year
Entry is free for spectators and the first races kick off at 5.30pm for Cat. A and B youth riders before the main event at 7.00pm.
_____________________________________________________________
In London? Free this evening? Fancy a night of roller racing, DJs and the chance to win a share of a prize pot from the likes of Oakley, Morvelo, Levi's, Condor (and Cycling Weekly)worth £1500?
Well head down to the Vibe Bar in Brick Lane for Rollapaluza's Little Monstas Roller Racing fund raiser. There are prizes for all qualifiers (16 men and eight women) plus for the best-placed vets on the night.
Put on your best pain face, it's Rollapaluza
Reigning Rollapaluza champ Rob Reed will be supporting the event by NOT riding so the competition is wide open.
Entry is just £5 for spectators and racers and all proceeds will go to Rollapaluza's outreach projects visiting schools and encouraging kids to get into cycling through the roller racing rigs.
_____________________________________________________________
The weather looks like it is going to brighten up and what better way to spend a fine autumnal Sunday than a long bike ride past some Olympic venues, past and present, around the capital?
Places are still available on the Ride Around London this Sunday which takes in places such as Herne Hill, Eton Dorney, Box Hill and the beautiful Chiltern Hills. There is a 115 mile ride or a shorter 60 mile route with both including food, drink, timing chips, and an optional baggage transfer from start to finish.
Olympic gold medalist Rebecca Romero will be riding and the ride is to support Access Sport's legacy projects in London and Bristol which aim to increase participation and involvement in sports. Find out more by heading to http://www.accesssport.org.uk/ride-around-london
Related links

Trek sends Jens to Coventry - tomorrow!
25,000 register for Ride London cycle event
Thank you for reading 5 articles this month* Join now for unlimited access
Enjoy your first month for just £1 / $1 / €1
*Read 5 free articles per month without a subscription
Join now for unlimited access
Try first month for just £1 / $1 / €1
Richard Abraham is an award-winning writer, based in New Zealand. He has reported from major sporting events including the Tour de France and Olympic Games, and is also a part-time travel guide who has delivered luxury cycle tours and events across Europe. In 2019 he was awarded Writer of the Year at the PPA Awards.