Is this the fastest road bike? Road bike time trials, and how one rider built a record breaking machine
Cycling Weekly spoke to the new British road bike 10-mile time trial record holder George Fox about his bike, his ambitions, and the resurgence of road bikes in time trialling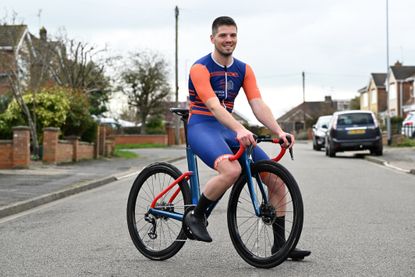 (Image credit: Andy Jones / Future)
In an article published in Cycling Weekly magazine in March, we spoke to George Fox about road bike time trials and building the fastest road bike ever. Since the feature was published, he has indeed set a new 10-mile record on it.
Is this the fastest road bike in existence? Last year George Fox's Argon 18 was ridden to a 19.06 '10'-mile time trial last weekend – that's a stonking 31.4mph average, which as far as anyone can work out, is the fastest solo 10-mile road bike TT by a current racer. It's not the fastest ever, but we'll get to that.
Fox's eye-opening road bike performances, which include 49.43 for 25 miles, come as UK time trialling attempts to embrace this new-old branch of the sport. In an effort to make events more accessible, many events are now putting on separate races for road bikes alongside their standard open categories for the super-aero 'spaceships' that many with the enthusiasm (and the wallet) ultimately gravitate towards.
Mindful that ambitious riders would be just as likely to push the envelope with road bikes as they are when it comes to modifying their low-pro bikes for speed, Cycling Time Trials (CTT), time trialling's governing body, recently standardised the spec for what a 'road bike' must look like – a sign that racing against the clock on drop bars is being taken seriously.
It's fairly non-interventionist and doesn't go much further than outlawing disc wheels and tri-bars. Clothing isn't mentioned either.
The beauty of the road bike category is that it can be all things to all riders. As a super-accessible roll-up-and-ride event it's hard to beat. Entrants can feasibly whip the mudguards off their workaday commuter bike and ride out to their local TT, race, then ride home. All without really feeling at a disadvantage or that they're not taking it as seriously as they ought to.
But as is the case in our sport there are always those that want to push the boundaries of what we thought was possible and go as fast as possible. They are now taking this branch of time trialling into an exciting new era and doing things on two wheels that weren't previously thought possible.
Pushing the envelope
George Fox, and his wind tunnel-tested bike, is undoubtedly in the latter category. As the owner of George Fox Cycling Solutions – a business dedicated to getting its clients fitter and more aerodynamic – the 29-year-old Midlands rider is perfectly placed to get the most out of himself and his road bike.
Fox's decision to take up cycling was driven by a tragic event as a teenager. When a friend died of a heart condition while playing football, Fox renounced team sports and instead began riding his father's bike, a 60cm Thorn Brevet that was two sizes too big for him.
"I started at the local club, like most people did, really," he says. "My first ever ride was up and down a dual carriageway in an evening 10. Which ironically, was on a road bike. That was 2010 and it sort of escalated from there."
Fox initially stuck to time trialling, but transitioned to road racing a few years later, eventually getting his first-cat licence, so going fast on a road bike is nothing new to him. He has since returned to time trialling, where he has set about racking up some very swift times. His outright 10-mile PB for example is 18 minutes on the dot – very fast and yet infuriatingly close to a '17'.
"Don't get me wrong, I was sat in the back of the car trying not to cry," he laughs. "We're all the same, it doesn't matter how fast you go, that one second is one second.
"I looked at that the week after and thought, do I need to ride the time trial bike again, now, I've proved I can go quick on it? Let me take the road bike out. And, in inverted commas, have a bit of fun."
That 'bit of fun' has yielded some impressive performances, with Fox now eyeing the road bike '10' competition record of 18.48. This was set by international rider Colin Sturgess back in 1988 as he prepared for the Olympic Games that year (see boxout).
It's a time that Fox is unapologetically focusing on, and as he says, in theory, he ought to be able to beat it.
"For me now I'm going 'actually, you know what, it'd be nice to just break this record, put it on the shelf for a week or two until somebody faster decides they want to try and break it'. The maths is there… I just need the right day and the right legs basically."
Rather than being an official 'road bike' record, Sturgess's time was actually a full-fat competition record that happened to set on his standard road bike. When it was eventually broken four years later by Matt Illingworth, disc wheels and tri-bars had both been passed for use in the sport and no one in their right mind was going out in search of fast times with 'curly bars' any more.
The more popular road bike TTs become, the more likely Sturgess is to lose his record. Nevertheless, he's all for them. "I think the CTT has got something really positive here," he says. "It's hopefully going to bring people into the sport. There's an opportunity for someone just to go 'right, I'll put a skinsuit on for the day, ride out to the '10', race, and ride home. I think it's positive, I really do."
Unlike for example the UCI's return to the Athlete's Hour (when, for over a decade, the world governing body tried to fix the technology of the hour record in aspic in the 1970s), the CTT's road bike time trials are aimed at opening up participation rather than an exercise in turning the clock back to a different era. With the advance of technology – not to mention different road conditions these days – that would be next to impossible.
"I think one of the worst things you can get into is comparing eras," Sturgess concurs. "I was fortunate enough to have that bike," he says of his Reynolds 753 Condor, "But if you went back another 20 years, someone would probably have a 531, and it wouldn't have been as light, and they didn't have the Campagnolo aero groupset. And so it's all relative in many ways."
Fox's bike in detail
Fox has used his bike in road races and even as a winter bike with mudguards. The fact it's based on a triathlon frame could be controversial for some, but is within CTT's road bike rules and, he reckons, slower on paper than his Giant road bike. It's the position it allows him to achieve that counts, he says.
Frame: Argon 18 E117 Tri
Groupset: Shimano Ultegra Di2 with a 62t single ring on race day
Wheels: Princeton 7580 (f); VeloElite 88mm (r)
Tyres: Vittoria Corsa Speed
Bars: Prime aero carbon 36cm
Stem: –17deg
Simmonds sets the pace
Fox may be the fastest rider on a road bike right now, but while he's yet to break the old records, in the women's side of the sport Hayley Simmonds has been there, done that. Her 20.34 on the R10/17 course near Abergavenny in 2021 made her the first rider in nearly 50 years to beat Beryl Burton's 21.25 competition record, set in 1973. Just like the proverbial bus, another one came along just a few days later, and Simmonds lowered the time to 20.30 on the A3 in Hampshire.
While Simmonds isn't single mindedly pursuing road bike time trials in the same way Fox is, her coach Xavier Disley says that she has half an eye on a 19-minute ride at some point.
"The idea is still, you know that she might try and go for a 19. And she can, she can do it – she can physically do it. It's just whether you get the right day."
Disley is an enthusiastic proponent of this branch of time trialling, to the extent that his company Aerocoach, has been holding its own dedicated road bike championship since 2019.
"We're very keen on road bike stuff. It's more inclusive," he says. "When you turn up to a TT, and everyone's on a 20-grand spaceship, and you've just rocked up, because you want to have a go at time trialling, and you're on a 600-quid Specialised Allez or whatever, you need to not feel excluded.
"I think that time trialling needs to be seen as a subset of the sport which you can just do whenever you want, and you don't have to have a special bike."
The CTT is throwing its weight fully behind road bike time trials, with imminent changes to the way it presents race results that will allow road bike testers to more easily view and search their achievements.
CTT chair Andrea Parish says: "I don't have all the data yet, but early indications so far is that there's a really good appetite for road bike only events."
"Every roadie has a road bike," she points out. "I'm thinking if we can't increase participation by levelling the playing field here, then I'd be surprised. I'd love to put time trialling back into the realm of being an 'every person sport', because it should be – it's the most accessible, the easiest way into competitive cycling."
The Sturgess '10'
In the middle of a big block of Olympic training, Colin Sturgess was hoping to do a fast 10 that July Saturday in 1988, but just like all those who stood open-mouthed at the results board as his 18.48 went up after the race, he couldn't believe his eventual time.
"We knew I had a couple of fast '10's in me," he says, "And, you know, I'd ridden very low 20s [20-minute 10s] on quite difficult courses. So we knew there was a '19' in there. But, you know, we weren't sure."
"I knew I was on a decent ride, because I caught a fair few people. And you just get that flow, that momentum. And you know, when you're on top of gears, when everything's going smooth, you can hold the power down."
"And if I remember rightly, it was a tailwind home. And just yeah, absolutely floored it. But my dad was stood at a bridge with about probably a kilometre and a half to go. And he was hopping up and down. And I thought, oh, yeah, I'm on for a good ride here."
"When I eventually came back to the finish area, I couldn't believe it when they said, 'you've just done an 18'."
The bike Sturgess was riding was very much his usual road bike, with Reynolds 753 frame and a Campagnolo C-Record groupset with a 52x13 top gear. He had some 28-spoke time trial wheels fitted, but otherwise the only concession to aerodynamics, he says, was removing the bottle cages. In fact, the next morning he rode the same bike in a crit, which says it all.
"I've got some half decent results throughout my career," says the track World Champion, with typical humility, "but that one, that one does stick in the mind, because it was very special."
Thank you for reading 10 articles this month* Join now for unlimited access
Enjoy your first month for just £1 / $1 / €1
*Read 5 free articles per month without a subscription
Join now for unlimited access
Try first month for just £1 / $1 / €1
After cutting his teeth on local and national newspapers, James began at Cycling Weekly as a sub-editor in 2000 when the current office was literally all fields.
Eventually becoming chief sub-editor, in 2016 he switched to the job of full-time writer, and covers news, racing and features.
A lifelong cyclist and cycling fan, James's racing days (and most of his fitness) are now behind him. But he still rides regularly, both on the road and on the gravelly stuff.