Saxo Bank team loses SunGard sponsorship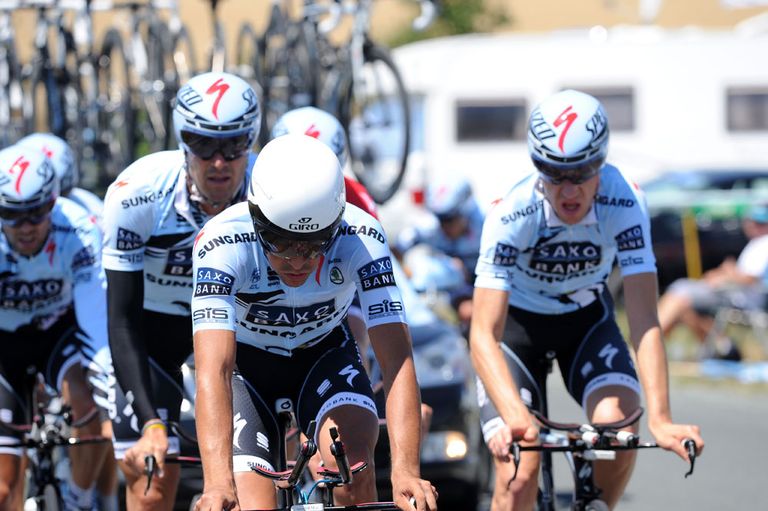 Alberto Contador's team lost an important financial backer, SunGard. The team's general manager, Bjarne Riis announced today that Saxo Bank will take over full sponsorship for 2012 as SunGard ended its agreement.
"The parties have agreed for SunGard to step down," Riis said in a press statement. "The agreement has no influence on the 2012 team budget."
SunGard increased its involvement in the team when Riis was looking for new sponsors in 2010 and became a co-sponsor for 2011.
Saxo Bank twice indicated it would end its sponsorship, at the end of 2010 and at the end of 2011, but each time has committed for one more year. In June, it renewed its sponsorship through 2012.
Riis also is applying for a new WorldTour licence. The UCI licence commission will announce the list of 18 teams on December 10.
Basso welcomes Schleck to Giro d'Italia
Ivan Basso said that he would welcome Andy Schleck as a rival in next year's Giro d'Italia.
"It's clear, if he comes he will be the number one favourite," Liquigas-Cannondale's Basso told La Gazzetta dello Sport.
"It will be an advantage for me; his team will help control the race. Also, the more quality racers the Giro has, the better. In the end, a great champion will win. And if I lose, well, I will have a good excuse!"
Basso responded after Eddy Merckx said yesterday that Schleck should consider winning the Giro over placing second in the Tour de France again.
WADA calls for more anti-doping measures
The World Anti-Doping Agency (WADA) director general, David Howman said on Monday that more needs to be done to stop doping. According to an AFP article, he suggested more thorough testing and punishing those who help athletes dope.
"We are catching the dopey dopers," he said, "but not the sophisticated ones."
Howman spoke in Paris at the UNESCO Convention against doping. He added that WADA and sport lack the scientific means to catch sophisticated dopers.
AFP reported that athletes last year were subject to 258,267 doping controls, but labs only detected 36 EPO positives.
"It is the drug of choice for dopers," said Howman. "It is pathetic. We must increase quality and efficiency if we want to continue the fight."
This year, Italian professional Pasquale Muto tested positive for EPO at the Giro dell'Appennino. British amateur Damien Sharp also was caught and issued with a two-year ban.
Vigorelli velodrome support
The Vigorelli velodrome Milan will receive support for its restructuring on Sunday. A group of local cyclists have organised Rivogliamo il Vigorelli, an effort bring back to life the track that hosted several hour record rides and concerts.
The outdoor 397.27-metre wooden track on Via Arona 19 was opened in 1935. Up until and through the 1950s, it hosted hour record rides by Giuseppe Olmo, Fausto Coppi, Jacques Anquetil and Ercole Baldini. The Beatles and Led Zeppelin played in the structure in later years and American football clubs now use the infield.
"Milan has not shown any interest to invest in this structure for visibility and economic return," read a press release.
"The world of cycling has also shamefully relegated the track discipline to a corner. The discipline has given so much to Italian cycling and shows on the road, where gaps are now visible because of a lack of a 'school' or 'nursery.'"
The Italian cycling federation (FCI) lists 32 active velodromes in Italy. Montichiari near Brescia houses the only wooden track. It was opened on May 23, 2009, and used for the junior track World Championships in 2010. Many Italian professionals, including Ivan Basso, use it to train and perfect their time trial positions. A restructured Vigorelli velodrome in Milan would give Italians more options and awaken a part of Italian culture sleeping for 25 years.
MilanoSport proposed a 250-metre track, adding a roof and seats for 10,000 fans. The facility would be available for other sports and include fitness and meeting areas. (YouTube http://www.youtube.com/watch?feature=player_embedded&v=1TqbgZYeTfY#! )
For more information:
http://www.vigorelli.org/
http://www.facebook.com/event.php?eid=194818690593138
http://www.livestream.com/sestinatv/video?clipId=flv_053eb86e-b0c5-45d0-92bd-5c48b885934c
Specialized pushes for carbon-fibre recycling
Specialized bicycles is pushing to re-use old carbon-fibre bicycles and parts. It will work with bike shops in the USA to collect damaged bikes and encourage other companies to do the same.
"You're probably not going to make a bike from recycled carbon, but you can make a range of products with the shorter fibres," Bryant Bainbridge, sustainability specialist for Specialized, told Bicycle Retailer. "Besides keeping these frames out of the landfill, you're recovering carbon with significantly less energy than it took to make virgin material."
It will give its findings to other companies at next year's Eurobike and Interbike trade shows, and push for a similar initiative in Europe.
"This is a shared industry program and one we all need to address."