Sir Chris Hoy confirms retirement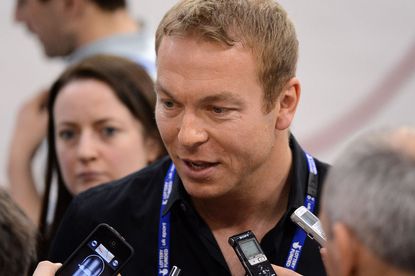 Sir Chris Hoy has today confirmed that he is to retire from international competition. The six time Olympic champion made the announcement in Edinburgh.
"It's probably not a massive surprise I'm officially announcing my retirement from international competition today. It's not decision I took lightly, but I know its the right time." Hoy said.
"I just feel that I don't want to be [in Glasgow] to make up the numbers. I feel I got every last drop out in London. It would be better to stand aside to let the younger riders come through."
"I've been in the sport as a senior for 19 years. The sport has changed beyond recognition. To be part of that journey has been a massive honour."
"To try and and go for another year would be too much, one year too far for me. I'd rather step aside and let someone else have their opportunity. I don't want this to be a sad moment. There's always a temptation of going on too long."
Hoy had suffered with minor injuries in the build up to the London Olympics due to the intensity of the training, as situation that was not going to improve as he gets older. "Everything that was becoming an issue in the build up to the Olympics last year was becoming more of an issue," he said.
"I had a proper break after the Games and before long I wanted to get back on the bike. I thought if I kept my hand in, it gave me the option to decide [about Glasgow]. In sport, you're dealing with such small margins, and you can tell when you're good, but not good enough."
Hoy had been taking time out of the sport since the London Olympics. He rode a series of sprint races at the Rotterdam Six-day over winter, but opted out of the serious competition at the track world cups and world championships in Belarus in February.
The Scot had always said that he would only continue if he was able to train to his own very high standards. As he delayed any announcement until now the expectation was that it would be of retirement, and when the email went round earlier this week regarding an announcement the media came to the correct conclusion en masse.
Hoy won his first Olympic medal at the Sydney Olympics in 2000, taking silver in the team sprint with Jason Queally and Craig MacLean. Four years later he won his first gold in Athens, winning the kilometre time trial.
In Beijing he dominated the sprint competition winning all three events - the team sprint, kierin and individual sprint - and returned to the UK a hero. He was knighted and won the BBC's Sports Personality of the Year.
"Question is what's next?" Hoy asked. "Immediately, first thing is to step back and let it all sink in. I'm looking forward to continuing my career as a football referee...sorry, that's Chris Foy."
Related links
Sir Chris Hoy rider profile
Sir Chris Hoy; 80 medals and counting
Sir Chris Hoy launches bike range
Read Cycling Weekly magazine on the day of release wherever you are in the world with our iPad and iPhone edition - International digital edition, UK digital edition. And if you like us, rate us!
Thank you for reading 20 articles this month* Join now for unlimited access
Enjoy your first month for just £1 / $1 / €1
*Read 5 free articles per month without a subscription
Join now for unlimited access
Try first month for just £1 / $1 / €1