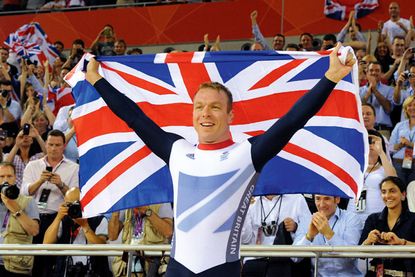 Get The Leadout Newsletter
The latest race content, interviews, features, reviews and expert buying guides, direct to your inbox!
Thank you for signing up to The Pick. You will receive a verification email shortly.
There was a problem. Please refresh the page and try again.
For a few seconds, it appeared that Sir Chris Hoy's Olympic career was going to end with a silver medal. With half a lap remaining in the keirin final inside the London Velodrome last August, Maximilian Levy overtook the Scot, and led going with 100 metres remaining.
"I could see a wheel coming past me. I thought 'I can't let that wheel come past my front wheel; if that happens it's all over'. So I drove like I've never driven before," said Hoy after the race.
It worked: having gone into turn three behind Levy, he turned onto the final straight ahead of the German, and extended his advantage as he sprinted towards the line. Despite having previously insisted that he wanted to retire following the 2014 Commonwealth Games in Glasgow, Hoy's decision to bow out of the sport after becoming Britain's most successful Olympian is perhaps the most fitting way for him to retire.
The revolution begins
Hoy's career has spanned the British track revolution. He was an emerging talent in the era before National Lottery funding, with the oft-reported tale of him having to take his own race bike and wheels to the 1996 European Under-23 Championships in Moscow a perfect example of how the British Cycling Federation operated at the time.
Sprint qualifying at Beijing: Hoy lights up the velodrome
Indeed, the anecdote is also fitting of how top-level track racing was considered in Britain back then. Even when he won his first of 84 international medals - a silver in the team sprint at a World Cup meeting in Italy in 1999 - the story recording the result filled just two paragraphs of this magazine.
However, by the time that Hoy, Craig MacLean and Jason Queally finished second in the team sprint at the 1999 World Championships in Berlin - Britain's first medal at the Worlds in 33 years - lottery funding and Peter Keen's World Class Performance Plan was in place.
Team sprint silver in Sydney
The improvements in performance both of these led to were quickly evident, as Britain jumped from 12th in the cycling medal table in Atlanta 1996 to sixth at the Sydney Olympics in 2000. Queally was very much the star of the show down under, as he won Britain's only cycling gold of the Games with an unexpected victory in the kilo. Nonetheless, Hoy started his Olympic medal haul there with silver in the team sprint.
The run-up to Athens
Whereas Sydney was the zenith of Queally's career, it turned out to be just the beginning of Hoy's success on the international stage. In September 2002, he beat Arnaud Tournant by one-thousandth of a second in the kilo to claim his first world title in Copenhagen. Tournant, who had been world champion in the discipline four years running, never won a world or Olympic title after the defeat. The following day, Hoy, MacLean and Jamie Staff triumphed in the team sprint.
After a modest 2003, his next rainbow jersey came in the kilo in 2004, which meant that he started last in the Olympic final in the discipline at the Athens Games. A weaker rider would have crumbled under the circumstances: three-time world champion Shane Kelly broke the Olympic record with his time, German Stefan Nimke went faster and Tournant quicker still.
First Olympic gold in Athens
Fortuitously Hoy, who knew he had to ride a personal best to win the gold, had started working with Dr Steve Peters before the Games to help his competitive mindset. In a similar scenario at the previous year's Worlds, he had buckled under the pressure of watching what his rivals were doing.
Focusing solely on his performance at the Games paid off, as he won by nearly two-tenths of a second. Having only started believing he could be an Olympic champion in the discipline after he took gold in it in the Commonwealth Games in Manchester two years earlier, it had not taken Hoy long to unlock his potential.
After the UCI removed the kilo from the Olympic programme after Athens, Hoy increased his participation in the more unpredictable bunch events. He already had the speed, and together with British Cycling coach Jan Van Eijden, he quickly developed his tactical nous.
A first keirin world title came in 2007, and was followed by his sole rainbow jersey in the sprint a year later, as he became the first British champion in the discipline since Reg Harris in 1954. Not that the winning stopped there: at the Beijing Olympics in August 2008, he became the first Briton to win three golds in one Games since swimmer Henry Taylor in 1908. Furthermore, his victories in the team sprint, keirin and sprint meant he was the first (and to this day the only) rider to win four world and Olympic titles in four separate events.
The four years between Beijing and London turned out to be the most turbulent Olympic cycle of his career. Hoy won only two world titles between 2009 and 2012, as opposed to five in the build-up to the 2008 Games. He missed the 2009 World Championships through injury after a high-speed crash at a World Cup round in Denmark, which ended a 10-year run of winning medals in the event.
London leavetaking: a final lap of honour ends a legendary career
Back racing in 2010, he suffered embarrassing defeats against Robert Förstemann and Felix English. Off the bike, further changes to the Olympic track programme were announced in 2010, which resulted a one rider per country per event rule coming into play at London 2012. (Jason Kenny - who had beaten Hoy in five previous meetings - eventually got selected to ride the sprint).
Despite the setbacks, Hoy's determination to end his Olympic career on a high remained, and he issued a fierce warning shot in the keirin at last April's World Championships. The victory was arguably the best of his career, as he weaved through the smallest of gaps in the final 100 metres to snatch victory from the jaws of defeat.
And so to London 2012. Prior to August 2 last year, no country had ever successfully defended a team sprint title at the Olympics, and no knighted athlete (he was awarded the title in 2009 having previously been awarded an MBE) had ever subsequently won a gold medal at the Games. Three rides and two world records later, Hoy had achieved both of those.
The stage was now set for the Scot to not only end track competition in the velodrome, but also pull the curtain down on his career with a gold medal in the keirin. Nothing else would have been fitting. Dependable as ever, he delivered. Alas, there will be no swansong at the Glasgow 2014 Commonwealth Games for Hoy in the velodrome that bears his name.
An emotional finale it may have proved, but thankfully the 37 year old has realised something many sportsmen and women before him have failed to: it is best to go out on a high. After all, this is Sir Chris Hoy, Britain's greatest Olympian of all time, for whom winning was everything. And winning is how he will be remembered.
Hoy: first by a whisker
Hoy's first world title - Kilometre time trial
Copenhagen, September 26, 2002
"Chris Hoy took on two of the greatest names in kilometre time trial history and emerged triumphant by just one thousandth of a second. Having placed eighth in last year's Worlds, Hoy was down in the seedings. His opening lap of 18.12 drew a gasp from the crowd.
Hoy's head started to drop ever so slightly in the crucial last 200 metres...but maintained his momentum to finish in 1-01.893. Now he faced the ordeal of watching the last five seeded riders attack his time.
"With a lap to go, he [Arnaud Tournant] was ahead for the first time by 0.171sec and Hoy looked set for another world silver. Suddenly the Frenchman was struggling. The British could only wait and hope. Then there was a collective yell as they saw Tournant's time: 1-01.894."
Tributes to Chris Hoy
Craig MacLean on Sir Chris
Craig MacLean was a training and racing partner of Sir Chris Hoy through the first half of his career. MacLean won a Paralympic gold in London as a tandem pilot in the men's sprint
"I think there were a lot of people hoping that he'd carry on certainly, and he will be sorely missed by the Scottish team. I wouldn't say it's a massive surprise. The training he does is incredibly gruelling and I think when you step back from it, and all the emotion of London Olympics, it's really hard to get back into it and find that desire to hurt yourself on a daily basis.
"Before British Cycling existed as we know it now we had each other as sparring partners and got the best out of each other. Without Chris I wouldn't have been the athlete I was.
"My best memory, watching him, was the one kilometre time trial in Athens that he went on to win. Athens was a particularly low point in my career but being able to watch Chris go on and win that was a really nice moment.
"He pretty much wears his heart on his sleeve. I think it's difficult when you're in the media, your responses are always quite measured and you possibly don't see the funny side of him all the time when he's on camera.
"He's boosted the profile of cycling worldwide really. In Scotland it's hard to say because we were both kind of removed from the situation a little bit. We were training down in Manchester and we don't really see the impact it has up there, but certainly from what I hear the bookings for the Glasgow velodrome, you have to wait months and months just to get on some of the public sessions now. I think that's testament to his success."
Embracing coach Shane Sutton at London 2012
Shane Sutton on Sir Chris

Shane Sutton was part of Sir Chris Hoy's coaching team at British Cycling
"He was our comfort blanket when we went into the big competitions. It was quite evident after 2008 with him having a little bit of time away,coming back and having a bad hip injury, across the board our performances dipped for a couple of years. By the time we got to the Melbourne [2012 Track World Championships], when he won that keirin, we all just raised our gamed again.
"It wasn't just the riders. I think everybody rose to the occasion because we had this big, iconic figure back around us 24/7. The Jason Kennys and the Laura Trotts just fed off him. It's a bit like Ed Clancy with the team pursuit.
If Ed's playing, he's one of them big guys in team pursuit and when he steps up you know he can really lead. Sir Chris, across the whole team, led it well. "He trains harder than anybody, was dedicated probably more than most and he just loved the environment of the gym and the track centre so I think he'll miss that.
"All big iconic figures in all sports should be utilised and we don't see enough of that across the board within Great Britain. Sir Chris will join us in the big battles as one of our mentors and for sure I think that's the one thing we're looking forward to - going into big competitions and knowing he's around. I would envisage you're going to see him playing quite a role."
The hat-trick
Individual sprint - Beijing, August 18, 2008
"Chris Hoy took a historic third gold on the final day of track competition, adding the sprint title to his keirin and team sprint golds. Having achieved what no other British sportsperson had in the last 100 years, Hoy couldn't hold back the tears as he circled the track looking for his family, who have been at virtually every major championship their prodigious son has competed in.
The press have already knighted him with headlines of 'arise Sir Hoy'; surely it won't be long before the palace does the same."
The final golden goodbye
Sir Chris Hoy in quotes
"I was actually inspired by the film ET. The BMX scenes were fantastic so I pestered my dad into taking me to the local track and it all spiralled from there."On how he got started in cycling.



"A porn star. You're guaranteed job satisfaction." Hoy describes his dream job to Cycling Weekly in November 1999.



"I'm going to have a beer now." First on his list of things to do after the Sydney Olympics.



"It was weird, for a split second, when I opened my eyes and realised it wasn't a dream."Sir Chris describes the feeling of waking up next to his first Olympic gold medal in 2004.



"If you'd told me two years ago that I'd be fighting for gold in the sprints and keirin, I'd have laughed." Hoy after he won both events at the Beijing Olympics.



"Chris Hoy thinks that the day Chris Hoy refers to Chris Hoy in the third person is the day that Chris Hoy disappears up his own a***."When asked what Chris Hoy thought about Chris Hoy.



"Just for the record 1) I don't need glasses and 2) I do not lead a double life as an English Premier League ref. That's Chris Foy" Hoy's response after angry Tottenham Hotspur fans on Twitter mistook him for the football referee of a similar name.



"I can't put into words what it means to me. It's one of the greatest feelings I have ever had."Hoy's thoughts after winning his sixth, and final Olympic gold medal.
Last Olympic title
Keirin - London, August 7, 2012
"Who else to bring the curtain down on another barnstorming British cycling performance than Team GB's flag bearer, the most decorated track sprinter ever, the man who had the velodrome in raptures every time he climbed on his bike.
It was the roar of the crowd that brought him home as he closed his eyes and lunged for the line in the event he has made his own over the last five years."
Sir Chris was the king of Beijing
Palmarés
Olympic Games
1km Time Trial
Gold - 2004
Silver - 2000
Keirin
Gold - 2008, 2012
Sprint
Gold - 2008
Team Sprint
Gold - 2004, 2008
World Championships
1km Time Trial
Gold - 2002, 2004, 2006
Bronze - 2003, 2005
Keirin
Gold - 2007, 2008, 2010, 2012
Silver - 2011
Sprint
Gold - 2008
Silver - 2011
Bronze - 2012
Team Sprint
Gold - 2002, 2005
Silver - 1999, 2000, 2006, 2007, 2008, 2011
Bronze - 2001, 2003, 2004, 2010
Commonwealth Games
1km Time Trial
Gold - 2002
Bronze - 2006
Team Sprint
Gold - 2006
Bronze - 2002
Honours
Appointed an MBE in 2005 for services to cycling; knighted in 2009 for services to sport.


Related links:
Sir Chris Hoy confirms retirement"
Sir Chris Hoy: rider profile
This article was first published in the April 25 issue of Cycling Weekly. Read Cycling Weekly magazine on the day of release where ever you are in the world International digital edition, UK digital edition. And if you like us, rate us!
Thank you for reading 20 articles this month* Join now for unlimited access
Enjoy your first month for just £1 / $1 / €1
*Read 5 free articles per month without a subscription
Join now for unlimited access
Try first month for just £1 / $1 / €1