Six-foot father riding 211 miles on 7-year-olds bike to raise money in daughter's memory
The 46-year-old will ride from Bristol to Land's End and began training three months ago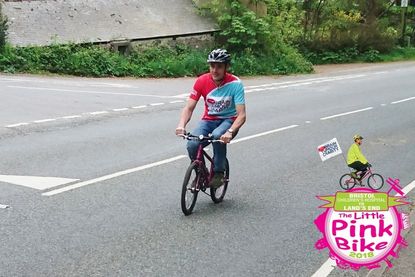 (Image credit: Picasa)
A six-foot tall father is riding from Bristol to Land's End on his daughter's 'little pink bike' to raise money for a brain tumour charity.
Peter Williams has called his challenge the 'The Little Pink Bike (opens in new tab)' mission, as he sets off on his daughter's Islabike, designed for a seven year old.
Its original owner, Ellie, lost her life when she was just 7-years-old, from a rare brain tumour in 2015.
Williams proudly states: "Ellie loved cycling and could ride a bicycle without stabilisers when she was just 3-years-old."
The 46-year-old intends to begin his journey on September 26, and has set a goal of raising £10,000 for The Brain Tumour Charity. At time of writing, he had already collected £7,801 via a JustGiving page. (opens in new tab)
Williams will travel through Bristol city centre, Somerset, Devon and Cornwall - his route is by no means flat and he intends to cover the distance in around a week.
The Cornwall based farther posted an updated three months ago to say that his preparations had begun, stating: "I started training today around Goldsithney, just a few miles to start getting my legs & lungs ready for the big ride on the Little pink Bike!"
Children at St Hilary School, in Penzance, have also been involved in the fundraising efforts, raising £2,763.06 via a three-mile charity ride and Zumba dance challenge.
On his fundraising page, Williams points out that £250 could fund one day of research, and that just 2 per cent of the UK's overall spend on research into cancer goes specifically into learning more about treating brain tumours.
Thank you for reading 5 articles this month* Join now for unlimited access
Enjoy your first month for just £1 / $1 / €1
*Read 5 free articles per month without a subscription
Join now for unlimited access
Try first month for just £1 / $1 / €1