Sky's team tactics: other teams have to take note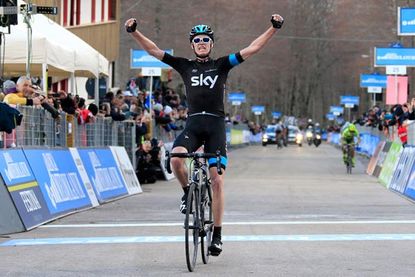 Chris Froome raised a few eyebrows in the final of yesterday's Tirreno-Adriatico stage to Prati di Tivo, following Sky team-mates up the mountain.
In the group at four kilometres from the line, Froome had Sergio Henao and Rigoberto Urán, while the other contenders had no team-mates in attendance. Stars like Vincenzo Nibali (Astana) and Alberto Contador (Saxo-Tinkoff) rode unprotected, left to their own devices.
Froome saved his legs as much as possible riding in the protection of Henao and Urán. With one kilometre left, Froome took over the work, rode clear and won the stage.
How did it happen?
Froome explained after the stage that it was down to training. "There's no secret," he explained. "We just keep doing the training, measuring the training and going back and doing it again. There's no secret, just getting the basics right."
Sky's secret appears to be down to good management. They signed the right riders - getting rid of sprinter Mark Cavendish to make room - and planning well.
"From December, we've been working together, specific work for the climbs and developing roles," Dario Cataldo told Cycling Weekly. "You could say it's very scientific work, but the results show it's working."
Team principal, David Brailsford nods his head in agreement. Asked to explain how it is possible for Richie Porte to win Paris-Nice and Froome winning in Tirreno-Adriatico, he responded that it is due to hard work.
"Because other teams aren't training as well as we do. I've been with the Olympic team now for 15 years, it's all based on coaching, a sports-driven environment," Brailsford said.
"There had been an era where performance came from medical enhancement." He continued that now it comes from a good coaching team, with people like Rod Ellingworth.
Other teams are taking note.
Luca Guercilena manages team RadioShack-Leopard. This morning, he watched his riders, one by one, step out of the bus. Chris Horner, Andy Schleck and the others. Yesterday, Schleck fell behind on the climb and left Horner on his own.
His eye catches Sky's Cataldo roll by.
"I'm not that surprised to be honest. When you see 12 to 14 riders left and there are four sky riders you have to say, 'Wow, I'd like to have it that way as well,'" Guercilena said.
"We have to accept that it's been well set up and well managed, they are taking advantage of the seeds they planted long before. I still remember the first year and a half, everyone said, 'Oh Sky has a lot of money and they are doing nothing.' Now, we all say that it wouldn't be so bad to have those bad years in order to be at this level."
Guercilena pointed out Sky recruited well. He referred to David López and Cataldo, climbers Brailsford hired this year.
"They scout well. Then it's easier when the rider is in and you just manage his training and goals ... It's something we did in Mapei in 2000. It was just with young kids, it cost less. They are doing almost the same, but 10 years after on a high, high level. It's another step. Chapeau. Now I'm trying to raise our bar."
Guercilena, Brailsford and the other managers got in their team cars and left for the fifth leg of Tirreno-Adriatico. The race underscores Sky's stage race strengths ahead of the Grand Tours.
Related links
Richie Porte wins Paris-Nice after final time trial victory
Chris Froome takes Tirreno-Adriatico lead
Thank you for reading 20 articles this month* Join now for unlimited access
Enjoy your first month for just £1 / $1 / €1
*Read 5 free articles per month without a subscription
Join now for unlimited access
Try first month for just £1 / $1 / €1