Sleepless in the saddle: Is ultra-racing taking sleep deprivation to dangerous levels?
As ultra-racing's popularity grows, so do the risks some competitors are willing to take. Has the situation gone too far?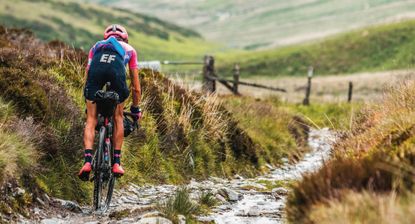 (Image credit: Getty Images)
In late summer, Lachlan Morton, EF Education-EasyPost's road racer turned ultra-endurance rider, was asleep beneath the star-filled skies of rural Colorado, but he was also winning. His nap was happening during this year's Tour Divide, a 4,298km epic ride from Banff, Canada, to the Mexican border in New Mexico, USA.
Unlike other riders in the ultra-race, or unlike Morton before, the 31-year-old made a point of stopping every night to sleep, spending six or seven hours off the bike a day. His sleeping proved key to victory as he completed the route in 12 days, 12 hours and 21 minutes – a frankly ludicrous pace. Sleep, sleep deprivation, and suffering is a big topic in the world of ultra-cycling. The rewards can be records, success and acclaim, but the risks are accident, injury or worse. Should one push through, forge on, or rest often?
For Morton, the benefits of his strategy were clear. "That was a game changer for me," he said. "In the end, I was able to sleep basically six hours every night – plus or minus an hour here and there. Normally, doing an ultra like this, you feel like you should always push more – this time, I had to stop for six hours, so during that time, I was very relaxed in organising my stuff and trying to be as efficient as I could so I could sleep more."
As the discipline grows, becomes more popular, and athletes push their bodies further, perhaps it is time to consider how much is too much, and the dangers of things like sleep deprivation.
Not a sufferfest
In September, French rider Sofian Sehili, winner of the Silk Road Mountain Race, Tour Divide and Atlas Mountain Race, became exasperated with what he saw as the sport's worship of suffering.
In a minute-long video posted on his Instagram page, Sehili stressed, "Ultra-cycling is not ultra-suffering. We push our limits, there is discomfort, there is sometimes pain, there is no race without some sort of physical attrition and moral distress.
"The end goal is not to suffer, though. We are not masochists looking to be in the worst possible shape. Most of the time there is joy, there is pleasure.
"These adventures cannot be reduced to suffering. The pain is only a by product. What we see, what we find, is the joy of being outside, and the pride of achieving the seemingly unachievable."
Speaking to Cycling Weekly, Gail Brown, a keen ultra-endurance cyclist from Bristol, who recently completed the Tour Divide which Morton won, said that she found the pushing of the suffering narrative "uncomfortable", and that it wasn't what ultra-cycling was about.
"I would never want to give the message that you have to do this, it's the way forward," she explained. "It's something I'm enjoying exploring because I have this mindset which means I really enjoy it, I'm good at it, and I get a cool perception of the world. It's a good way to explore what I'm capable of, but it doesn't have to be this. It could be whatever you want.
"It's exciting because it is extreme, and it's exciting to have these challenges which stretch you in ways that you didn't think would be possible.
"I find it frustrating that a lot of the narrative around ultra-cycling is sleep deprivation, sufferfest stuff. I actually think prioritising self-care means thinking about sleep.
"People might think that if you're resting, you're not taking it seriously, but that's absolutely not the case, and you could see that with the mix of riders. The thing with dot-watching is that if you don't sleep you will always appear ahead, and so people feel like they shouldn't sleep."
Dot-watching is the practice of watching competitors – or your rivals – while they race via their GPS tracker; for those wanting to compete, it can be a way of keeping track of how well your race is going, but it can also encourage you to ride irresponsibly, if you are behind, or only just ahead.
Brown stressed that the point of ultraracing was not to put yourself into a hole, even if that is a strategy for some people. As fellow ultra-endurance athlete Will Robinson said: "I think there's two ways of doing it: there's the Angus Youngs of this world, who go all out and can't stand up for two days afterwards, and that's risky; and there's people who programme in stops.
"There are so many different ways of doing it, the worry is that ultra is becoming a bit too macho. We're so privileged to have this opportunity, that's what it needs to boil down to, not that I love pain, I love being in that cave."
"It is possible to do it, look after yourself, and race, if that makes sense," Brown added. "It doesn't have to be that you're going so hard down into this cave, that you're hallucinating and emaciated. If you lost 10kg during a race you're doing an awful job. You should try and finish as strong as possible."
Different sleep strategies
Different sleep strategies One of the most appealing things about ultra-endurance races is the freedom over how one tackles the event. That might be taking breaks every day, as Morton did, or it might be going non-stop.
Donnie Campbell, a rider who won this year's GBDuro, and who has also set a few fastest known times (FKTs), told Cycling Weekly that you just keep pushing your body and see what happens.
"I can go 48 hours without sleep, but someone else might not be able to do that, so it's a very personal thing, knowing what your body is capable of," he said.
"You just keep pushing it and see what's possible. I've tried out shorter sleeps and longer sleeps, and seen what happens. Through experience, you can just increase how long you stay awake for and see how your body reacts.
"If you can keep going until daylight, generally you feel a bit better once the sun comes up."
At the French Divide, a 2,000km race between Dunkirk and Biarritz, Campbell settled on three hours sleep a night. "A full sleep cycle is roughly 90 minutes, so you don't want to wake up in mid-deep sleep because then you'll wake up feeling really rubbish," he explained. "So my tactic was to go for three hours sleep, and then sunrise meant that my circadian rhythms were reset."
At GBDuro, another 2,000km race, things were more clearly defined, with four stages, so Campbell decided to push through to finish each one. This echoed with Robinson's experience – he finished second.
"GBDuro was the first race where I minimised my stop time, but I prioritised sleep when I got to the checkpoints," he said. "I went at a very slow pace, but the others were faffing around and stopping more, so that allowed me to build up an easy lead. For one night missed, you gained two basically. I wanted to race it, I wanted to push it, so that was the way I felt I had to do it."
"With a little bit more sleep, you cut your faff time," Brown added. "The lady who came second in Tour Divide this year had much more sleep time but she was moving so much faster in between."
There are inherent risks associated with sleep deprivation, risks that are then heightened when you are pushing your body to its limits, whether you're on or off road when tiredness starts to take its toll.
"The risk is higher on the road generally because there are other people that you can't control," Brown said. "Both aren't great. I think it's harder to ride really tired offroad. You'd be more likely to carry on when you're tired on-road, and that's dangerous, I think."
"When you're on public roads and busy rides it can be difficult," Campbell echoed. "The races I did this year and last year, the majority were off-road, so the consequences are less serious than if you fall off
while riding on-road. Although in the races I've done, the roads have been really quiet. You're looking at that from different angles.
"It's down to personal responsibility. Everyone knows how they function with a lack of sleep, or what their strategy is, depending on how long the race is." Yet again, however, the ultra-cyclists CW speaks to are keen to stress that different approaches to sleep strategies are possible, and that it doesn't have to be a sufferfest.
"I think the macho stuff is off-putting for a lot of people," Brown said. "They might not consider that they could do it, and a lot of people, women especially, find the sleep element difficult. They say they don't want to do something where they suffer and they don't get enough sleep, but you don't actually have to take that approach."
Safety concerns among female cyclists
Concern over safety is an issue that comes up frequently among female riders on the ultraendurance events circuit, and the idea of wild camping alone can be a major concern. Gail Brown is keen to dispel some of these concerns; however, all riders need to make their own decisions based on their perception of safety and their past experiences.
"I guess I might have a different appreciation of the safety risks for women, because so much of my childhood was wild camping," she explained. "The further from civilisation I am, the safer I feel. I sleep better in the woods.
"I don't know if the risk is higher. A great example is the Atlas Mountain Race, where culturally, for a woman to be cycling on her own is unusual, let alone in the clothing we wear. I went with a hefty dose of concern around that, but was blown away by the generosity and kindness of people.
"There is risk of harassment for women, but it's not as much as we fear. It was the same in the US – I hardly had any negative interactions with anyone."
Thank you for reading 20 articles this month* Join now for unlimited access
Enjoy your first month for just £1 / $1 / €1
*Read 5 free articles per month without a subscription
Join now for unlimited access
Try first month for just £1 / $1 / €1