Specialized lays off 8% of its staff, cites economy and industry changes
"It may be tough to see in the moment, but the future of cycling and the future of our brand is bright," says CEO Scott Maguire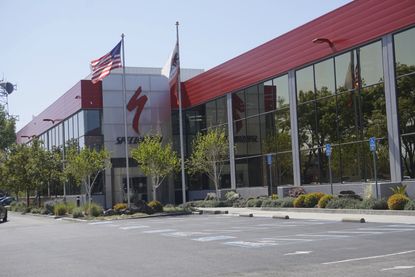 (Image credit: Anne-Marije Rook)
Approximately 125 Specialized employees were laid off, effective immediately, today as the American bike brand cut 8% of its staff world-wide, citing economic and industry changes.
"The time is now to adapt to the current environment and ultimately led us to make some extremely tough decisions today," says Scott Maguire, Specialized's CEO.
"I want to recognize those teammates who departed and thank them for all their contributions, hard work, and dedication to Specialized. We are focused on ensuring that they are fully supported during this difficult time. It may be tough to see in the moment, but the future of cycling and the future of our brand is bright."
Budget and staff cuts have been prevalent throughout the bike industry in the past year, with Outside, Zwift, Wahoo, Strava, Rad Power Bikes and Pearl Izumi all 'restructuring' in response to economic changes or growth strategies.
This latest round of layoffs comes just weeks after Specialized abruptly ended the contracts of most of its ambassadors and other contracted workers, causing some social media backlash. This decision will, however, save the company millions of dollars, an anonymous source told Cycling Weekly.
Earlier in 2022, Specialized's founder, Mike Sinyard, stepped down from his CEO role after 48 years at the helm and was replaced by former Dyson executive Scott Maguire. Then, in the summer, the acquisition of retailer Rutland Cycling in the UK led to some layoffs, and in the fall, Specialized hired former Nike VP, David Schriber, to lead its marketing team. Under his guidance, the brand aims to "serve new riders with new products in new channels at greater scale."
Wednesday's layoffs are both part of this new vision as well as a response to the economy.
"Like everyone, Specialized is wary of where the economy is going," Kelly Henningsen, the brand's Global PR and Media Relations Leader, told Cycling Weekly. "It's global and it's happening in every market that we're in."
Citing "faster than anticipated" economy changes as well as "rapid changes" within the cycling industry, Specialized says the organizational adjustment will allow the brand to be adaptive, whilst still investing in innovation.
"We are transforming the company around our purpose to Pedal the Planet Forward. Our priority is to better serve riders, retailers, and communities and to be the best place for our teammates to innovate and grow," states Maguire.
Thank you for reading 20 articles this month* Join now for unlimited access
Enjoy your first month for just £1 / $1 / €1
*Read 5 free articles per month without a subscription
Join now for unlimited access
Try first month for just £1 / $1 / €1