'The scariest thing is that there was no warning' - The cyclist left with 13 fractures in pothole crash
Andy Bevan went from riding to lying on the road in North Somerset in an instant thanks to a poor road surface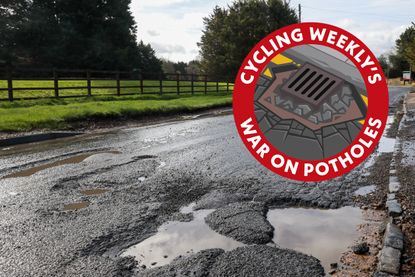 (Image credit: Getty Images)
For Andy Bevan, his bike ride on 4 September was just designed to be a short one as his wife, Gwen, test out her new wheels, on a regular route from Portishead to Clevedon in North Somerset, England.
However, what followed next was anything but regular. On a gentle descent down into the seaside town, Andy hit a series of cracks in the road which had been obscured by the light and dappling on the road, causing him to crash heavily.
It is just yet another reminder of the problem which is potholes and uneven road surfaces in the UK right now, one of the biggest dangers cyclists face every time they go out on their bike.
Cycling Weekly has launched its War on Potholes to raise awareness, and put pressure on local and national government for change.
"I've come off the bike various times before, nothing too bad, you know, I've ended up with road rash after being hit by a car once, which was not not too bad," Andy told CW this week. "I've come off at the velodrome as well. This is definitely the worst. I think the reason it's the worst is because I didn't slide along the road. I went right up in the air and came crashing straight down. So it was like blunt force trauma.
"I remember parts of it. I didn't know at the time what I'd hit, which was the most frightening thing for me.
"The first thing I knew is that I was flying through the air. I think what actually happened was that my front wheel had gone down into a crack in the road and stopped. I was doing 32km/h, I know from my Garmin, and I stopped and was thrown forward. I ended up doing almost a complete somersault, and I think I flew about 10 metres before landing.
"When I hit the ground, the first thing I remember is that I thought I was winded. Then I just couldn't move, I was still attached to my bike. People came out of their houses and stuff to help, and I was basically left in the road until the ambulance came because they were concerned about me having spinal injuries. I think I was in and out of consciousness, that was the shock."
Gwen, Andy's wife, was riding ahead; her knowledge of the accident came when she heard a scream and the sound of his bike hitting the floor.
As a result of the crash, he was taken to hospital by ambulance, where it was found that he had fractured his clavicle, broken nine ribs, fractured his pelvis in two places, and had a displaced T1 spinal fracture. On top of this, Andy suffered a collapsed lung. Thankfully, he is now on the mend, but his accident is a all-too colourful reminder of the dangers of potholes.
The cracked road surface, on Castle Road in Clevedon, has now had signs put around it by North Somerset Council, but it took a serious incident, and for Andy and Gwen to pressure the body, for something to be done.
"Council inspectors were there this week putting up signs and said that it's actually some kind of underground spring, and that the road was just cracking each time the road was resurfaced," Andy said. "The way you approach it coming downhill, you could not see the sink in the road."
"I've been cycling since I was a kid, it's not like I'm an inexperienced cyclist," he continued. "But I've never had anything like this. Normally, you can always prepare yourself, if you see a bad road surface, even if you're riding in a bunch. That was the scariest thing about this, the fact there was no warning, I didn't know what I'd gone into."
There are 22,600 miles of roads classed as RED (poor overall condition), according to the Asphalt Industry Alliance (AIA) Annual Local Authority Road Maintenance (ALARM) survey, which 75% of local authorities in England and Wales responded to. In 2022 1.4 million potholes were filled in, and yet it is still a problem that is not going away.
"Sometimes it's almost like being in a third-world country," Andy explains of riding in the UK. "Whenever we ride in France, Germany, Spain, or other European countries, the roads are just incredible, whereas ours are just an absolute mess."
It is a growing problem for their peers, too: "Gwen and I are both members of Bristol Road Club, we've got a good few hundred members, and we've had some bad injuries this year through the state of the roads. It's a worry riding in a bunch, because to some extent you're blind."
As a result of the crash, Andy is slowly getting back to health; walking at the moment, and then using Zwift for some indoor training is the plan. However, when he gets back on the open road on two wheels, his incident is very much going to be there, affecting him.
"When I get back on my bike in six weeks or whatever, I'm sure the accident is going to be at the forefront of my mind," he said. "I'll be thinking about what's on the road beneath my wheel."
A spokesperson for North Somerset Council said: "We are aware of potholes in this area but it hadn't met our intervention level when previously reported. As the condition of the area is only going to deteriorate further during the autumn we have asked our contractor to complete a patch repair.
"We will also be carrying out further investigation in the future as we suspect the road surface may be deteriorating due to an issue with spring water."
Andy was speaking to Cycling Weekly as part of our War on Potholes, a campaign which seeks to highlight the huge issue of poor road surfaces for cyclists. If you have a story to tell about potholes and cycling, contact us: adam.becket@futurenet.com
Thank you for reading 20 articles this month* Join now for unlimited access
Enjoy your first month for just £1 / $1 / €1
*Read 5 free articles per month without a subscription
Join now for unlimited access
Try first month for just £1 / $1 / €1