Top field announced for Dengie Marshes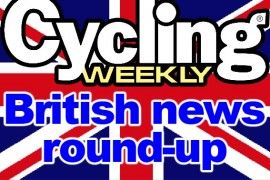 >>>We want to hear what's happening in your area - from racing results to sportives, recreational cycling to commuting. To submit your stories for CW's British news round-up, please email Nick Bull or Richard Abraham>>>
Despite wins abroad, the UK's best domestic teams have selected squads from the top drawer for the opening round of the Premier Calendar at the Dengie Marshes Tour on April 1.
The race, nicknamed 'Hell of the East' for it's sections of dirt track through the Essex badlands, makes its debut on the Premier Calendar in 2012 and starts and finishes in Maldon, Essex.
Last year's winner Zak Dempster will head his new Endura team which also includes Jon Tiernan-Locke, Scott Thwaites and Jonny McEvoy.
Zak Dempster won last year at Dengie Marshes
IG-Sigma will be hoping to put a stop to Endura's winning streak as experienced Classics rider Dan Lloyd lines up for his new team for the first time.
They won't be the only ones; each and every team, including all six UCI registered squads and BC Academy team 100% ME, looks to have selected their A line-up.
Check out Cycling Weekly March 29 for a full preview of the 2012 Premier Calendar.
_______________________________________________
Brand new outfit SPIN ROTOR Racing Team have announced their official team launch to take place on March 24 at Perkins Garages in Rayne, Essex.
The four man squad, based in Northamptonshire, is captained by former junior CTT champion Jamie Scott. The team is completed by Paul Londors, Dave Palmer and Paul Robertson.
The SRRT jersey for 2012
The team will be competing in a number of Premier Calendar events and kick off their season at the Dengie Marshes Tour on April 1 and the Tour Doon Hame the following weekend.
________________________________________________
Soul Wheels have teamed up with BC Thames West Promotions to offer two pairs of wheels at the Tuesday race series at Hillingdon Circuit which starts on April 10.
Winners of a prime in each race will not only win £10 on the night, but will be entered into a draw at the end of the twenty race series to win a set of Soul wheels worth £575. There will be two wheelsets on offer, one for the E/1/2/3 series and one for the 4th cat. series.
The prime prizes are in addition to the normal cash prizes paid on the night for the first six riders in three race categories, with £30 for a win.
All entries for the Tuesday series are on the night only, not in advance.
Adam Buckland, distributor for Soul Wheels, said: "With my love of the sport, I welcomed the chance to give support to the volunteers putting on the programme while taking the opportunity to bring this new range of wheels to the attention of so many potential customers."
________________________________________________
The UK's first ever series of balance bike racing has been announced aimed at children aged between 18 months and five years.
The Strider Cup will kick off at the Outlaws BMX track in Nottingham on April 1 and includes rounds in Stratford and London before the first Strider UK World Cup at the National Cycling Centre in Manchester in June.
Balance bikes, for those unfamiliar with them, are pedal-less bikes designed for young children. Strider, manufacturers of the bikes, say they teach children balance, coordination skills and confidence on a bike.
The Strider Cup launch in Manchester
All events will be free to enter and Nottingham Outlaws event organiser Phil Gray-Blest said: "We're really pleased to have the Strider team join us for their first full Strider Cup event in the UK.
"It means that we are now able to give children from 18 months the chance to try cycling in a fun, competitive and safe play environment."
For more information and online entry, head to www.stridercup.org or www.stridersports.co.uk.

________________________________________________



The opening round of the Rudy Project RTTC series takes place this Sunday on the NC19 near Litchborough, Northamptonshire.
Matt Bottrill: the fastest (post)man on two wheels
Speedy postman Matt Bottrill (drag2zero.com) will be out to defend his series title and sets off last this weekend.
________________________________________________
>>>We want to hear what's happening in your area - from
racing results to sportives, recreational cycling to commuting. To
submit your stories for CW's British news round-up, please email Nick Bull or Richard Abraham>>>
>>To catch up on previous weeks' round-ups see the British news round-up index page>>>
Thank you for reading 10 articles this month* Join now for unlimited access
Enjoy your first month for just £1 / $1 / €1
*Read 5 free articles per month without a subscription
Join now for unlimited access
Try first month for just £1 / $1 / €1
Richard Abraham is an award-winning writer, based in New Zealand. He has reported from major sporting events including the Tour de France and Olympic Games, and is also a part-time travel guide who has delivered luxury cycle tours and events across Europe. In 2019 he was awarded Writer of the Year at the PPA Awards.