Tweets of the week: Geraint Thomas has a happy birthday and Elisa Balsamo gets her unicorn back
Oh and Jumbo-Visma gets back into its Twitter account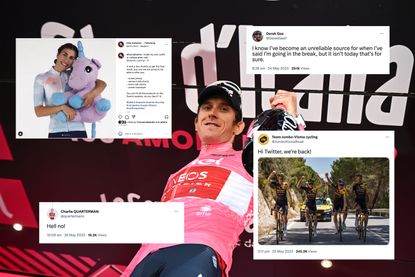 (Image credit: Getty Images)
If you are very online, you might have noticed over the past week that the Jumbo-Visma Twitter account was behaving very strangely. The social media page for one of the biggest cycling teams was posting about Michel Heßmann one moment, and then about cryptocurrencies the next, in a surefire sign that something was wrong.
It came weeks after its star rider Primož Roglič also suffered from hacking, so some would suggest that the Dutch team needs to have a conversation about cyber security.
Elsewhere in the world of cycling social media, there was less hacking and more fun to be had. Geraint Thomas (Ineos Grenadiers) has taken time away from leading the Giro d'Italia in order to post on Instagram how great a birthday he had yesterday - in pink - while his erstwhile teammate Tao Geoghegan Hart has posted from his hospital bed to thank everyone for their support.
Jens Voigt is revealed to have swum the Thames while working in London - don't check the sewage stats, Jens - and Davide Formolo has some spare tickets for a gig.
In the world of riders working hard at the Giro, Derek Gee (Israel-Premier Tech) and Charlie Quarterman (Corratec-Selle Italia) have both been active on Twitter too, with both offering their opinions on the day's stages before they begin.
Also, former world champion Elisa Balsamo (Trek-Segafredo) has been reunited with a unicorn, and has also been revealed to enjoy parmesan on curry, which is... interesting.
1. Jumbo-Visma has their Twitter account back, and its riders look thrilled by the news
2. Geraint Thomas turned 37 on Thursday, and also gained an advantage in the overall lead at the Giro. What a day
3. He might have turned 37, but here's what would happen if 20 years suddenly got shaved off...
4. Speaking of riders who look young, Mark Cavendish is both 38 and 10 years old
5. Meanwhile, Tao Geoghegan Hart finally got his hands on a Fossombrone shirt. Sadly for him, he's in hospital recuperating after his broken hip
6. Derek Gee is in the breakaway again today, but he likes to keep his fans updated when he definitely won't be
7. Geraint Thomas had a habit of calling Remco Evenepoel "that little bastard", so this feels like fair game
8. Soudal Quick-Step are down to just two riders, so it's good that the team still can attract fans for half the squad
9. Davide Formolo has spare Maroon 5 tickets, if anyone wants them
10. Jens Voigt is 51. He swam the Thames the other day. Is this a case of "shut up stomach"?
11. Some riders have useless skills. I think Madis Mihkels should unleash this in the peloton
12. Charlie Quarterman was not looking forward to stage 19 of the Giro, and who could blame him?
13. This is top, top work from Niccolò Bonifazio
14. Elisa Balsamo did WHAT to her curry?!
15. Let's not be too hard on Balsamo, however, she is adorable
16. Finally, after a big race, why not have a beer? In a shoe?
Thank you for reading 20 articles this month* Join now for unlimited access
Enjoy your first month for just £1 / $1 / €1
*Read 5 free articles per month without a subscription
Join now for unlimited access
Try first month for just £1 / $1 / €1