Tweets of the week: Giro d'Italia celebrations, sightseeing in London, and pineapple on pizza at last
There will be no Giro hangover with these bangers to get us through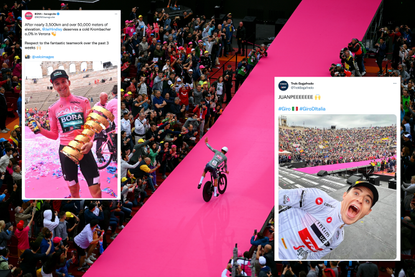 (Image credit: Getty Images)
It's the morning after the three weeks before. In the cold light of a Monday after a Grand Tour has finished, things feel a little harder, a little bit more grey, and a little less fun. Not to worry, though, because the titans of social media have been posting to help you through this tough time.
It is only a month until the Tour de France, anyway, so grow up and enjoy the calm of no Grand Tour racing while you can. There is more to the world than the Giro d'Italia, too, as other racing has been happening too, including a new Women's WorldTour race in England, which was also good for some content.
This week, Mathieu van der Poel finally had his pineapple pizza, after being chased around the Alps by fans wielding the spiky fruit. There was a lot of celebrating post-Giro, including the imbibing of some alcohol-free and alcohol-not-free beers. Meanwhile, London hosted the best women in cycling, and they had a lovely time sightseeing.
1. Mathieu van der Poel won the combativity prize at the Giro d'Italia, but disgusted all of Italy by insisting pineapple on pizza is good. Is it? I don't think I've tried it since I was a child. Maybe I should. Let me know what you think
2. The Giro's social media team also went through the whole pineapple-on-pizza charade, charming
3. Quick-Step Alpha Vinyl had a bumpy start to stage 20, these mechanicals get increasingly tricky to solve. Shame the car didn't have quick release wheels
4. One of the stars of the Giro was Juan Pedro López, whose enthusiasm seemed to light up the race throughout. Let's hope he keeps this form up
5. Lilian Calmejane plays Where's Wally? before the start of the final day time trial
6. Is it me or does Arnaud Démare look very Roman in the last pic? It helps that he is in a Roman amphitheatre, sure, but Démare could be a Caesar, surely
7. Richard Carapaz might not have won the Giro d'Italia, but he still got serenaded by his team, which is nice. In his ordinary clothes, doesn't he look sweet? Aw
8. How would you celebrate Australia's first ever Giro win, your first Grand Tour, your team's first too? With an alcohol-free beer, obviously. Make sure you look delighted with it, too
9. Nico Denz, meanwhile, has a better idea, with a cooler full of Birra Moretti. Those bidons will taste a little bit sweeter now the racing is over
10. Tao Geoghegan Hart sends a lovely message to Jai Hindley, the man he beat in 2020 at the Giro d'Italia. Now they're both champions
11. Look, there's nothing special about this tweet, but how young does Gijs Leemreize look? He's 22 but I bet he gets asked for his ID when he buys paracetamol. Sam Oomen is 26 and looks like a baby too. Cute little boys
12. Early on during stage 19, an AG2R Citroën rider decided to pull into the petrol station, presumably to buy a can of Coke and a Snickers. It's impossible to say
13. Barnabás Peák is confronting the truth of being a professional cyclist, which is eating a lot of rice and nothing else. Hopefully, the Hungarian can eat some proper meals now
14. Ahead of stage three of the Ride London Classique, Trek-Segafredo's women's team found time to chill by the Thames. It always feels weird seeing pro cyclists in ordinary places. I've been there before!
15. FDJ Nouvelle-Aquitaine Futuroscope also spent the day looking at the scenery of London rather than focusing on the racing, as their top rider, Emilia Fahlin, finished 21st on the day
16. Finally, it's worth seeing how emotional Enrico Gasparotto was as Jai Hindley completed his race-winning move on stage 20 of the Giro d'Italia. Sport does this to people! Magnificent
Thank you for reading 5 articles this month* Join now for unlimited access
Enjoy your first month for just £1 / $1 / €1
*Read 5 free articles per month without a subscription
Join now for unlimited access
Try first month for just £1 / $1 / €1