Tweets of the week: Jonas Vingegaard as Steve Jobs and Julian Alaphilippe gets some new shoes
Just how many Pizza Hut pizzas do you think Remco Evenepoel has ever actually eaten? And other questions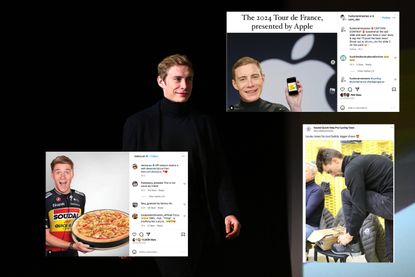 (Image credit: Getty Images)
The Tour de France route presentation rolled around this week, which meant we got a glimpse at what the riders do when they have to dress up smart - but not too smart. It is a real minefield for people who spend most of their professional lives in team kit, whether that be lycra or tracksuits with logos on them, so we should all give them a lot of slack when it comes to the fashion department.
However, given it is the one of the only times a year when we are able to see the riders out of sponsor wear, it was fascinating to see Jonas Vingegaard opt for the black turtleneck and jacket, a look reserved for philosophy professors, one which was redolent of Dapper Laughs' appearance on Newsnight, for those of us with long memories. Maybe that's what smart casual is these days in Denmark! It did not, however, stop the memes flowing.
In sponsor-wear news, the Soudal Quick-Step lads hopped over to Dusseldorf this week for time with Safety Jogger, the brand that makes personal protective equipment cool, with its range of shoes which, if you wanted to, you could wear on OR off site. Simple. Julian Alaphilippe had lots of fun in Germany.
Meanwhile, fellow Quick-Step rider Remco Evenepoel's partnership with Pizza Hut in Belgium has resurrected, meaning we can revisit the question that has always puzzled us. How many slices of Pizza Hut pizza do you think the world time trial champion has ever eaten? We took a look at what Evenepoel eats in a week earlier this year, and there was no evidence of pizzas like the Grimbergenkaas and the Super Supreme in there. I just can't see it. Still, Remco is a big name in Belgium and we're sure his face sells pizzas, so fair is fair.
Elsewhere on social media this week, we look at the trend of revealing how unhealthy cycling at top level actually is, and Lachlan Morton is really good at advertising instant coffee.
1. Jonas Vingegaard or Steve Jobs? It's tricky to decide
2. The same, but different
3. Now this is a crossover meme between the American cartoon Rick and Morty and the Tour de France presentation, in case you were wondering. Keep up.
4. Mads Pedersen might breathe so hard in a sprint that he passes out? This is normal, right
5. What this Tweets of the Week needed was some Daft Punk!
6. Belgium to Cornwall would be tricky for any postal service, it should be said
7. Emely, while I appreciate that this is a joke, are you ok?
8. Meanwhile, Maurice Ballerstedt - a pro cyclist - thinks that the easiest way to save money on cycling is not to cycle. Errrr.
9. Lidl-Trek on ice absolutely terrifies me. I reckon Quinn Simmons would be handy with a stick in his hand, and Elisa Balsamo has something about her which makes me think she'd be good too. Off of no evidence, obviously.
10. Richard Carapaz: Grand Tour winner, and an excellent dancer too
11. I love this from Sporza. Own your mistakes! The joke is that they assumed Tadej Pogačar was going to be given the Vélo d'Or, so didn't have a graphic ready for Jonas Vingegaard. A classic.
12. Dan Martin is ready for the 2024 Tour de France already. We back him to storm out of retirement and win the maillot jaune.
13. Look at Julian Alaphilippe here. Is that a man who "loves" his new shoes, or a man who has to put them on for sponsor reasons? Hmm.
14. This has been weirdly photoshopped. What was Remco holding in the orginal? Is that even his body? Very confusing, and that's before the whole pizza chat, as above
15. Can instant coffee ever be good? I'm very on the fence. Lachlan Morton's approach might make it taste just about alright, though, but I wouldn't rush to put it in Coke
16. The real victim in Wiggle going into administration: Haribo
17. And finally, here's Christine Majerus to remind us why it's great to keep riding through the autumn
Thank you for reading 20 articles this month* Join now for unlimited access
Enjoy your first month for just £1 / $1 / €1
*Read 5 free articles per month without a subscription
Join now for unlimited access
Try first month for just £1 / $1 / €1