Wahoo bosses look to indoor market push after refinancing
Firm will press ahead with legal battle with Zwift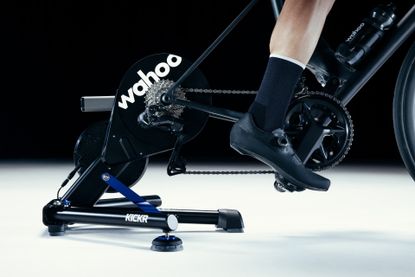 (Image credit: Wahoo)
The bosses of US cycling technology firm Wahoo have said they see big opportunities for indoor cycling technology days after the firm refinanced.
Last week the US firm went through a refinancing operation that freed it of all its debt that came from private equity investment in 2021.
The firm had suffered a series of credit downgrades over the last 18 months as it struggled with the slow-down in the cycling market following the boom brought about by the pandemic.
Now the company's founder and chair, Chip Hawkins, and chief executive Mike Saturnia are looking to the future.
Hawkins was keen to keep exact details under wraps but when asked what he was excited about he said: "I think the trainers will be really exciting this year, we've got a lot of stuff going on, there's still a lot of room for innovation there. We're going to have some things that I think people will be really excited about."
Cryptically he added: "And then there's a category that we have not gotten into yet that we will be getting into, you have to wait and see."
However, he was keen to warn that Wahoo like many other cycling businesses was still recovering from the effects of the pandemic which saw a boom for demand that was hard to service and a sharp drop just as firms were getting in a position to meet it.
He said Wahoo like most brands were in a position of holding a lot of inventory and sometimes having to sell that as a loss as opposed to introducing new products and selling that year's stock. He added: "I think the trainer category is probably like six months ahead of the cycling category, I think it hit us first because it's counter cyclical."
Saturnia added: "We're looking at 2024 as returning to normal. At what point during that year? That's a little bit mixed but somewhere between second and third quarter, hopefully. In that 2024 window, we would begin to see normalised levels of inventory and normalised levels of consumer demand."
Hawkins added that the firm's current investors are taking a "long term" view of the company's growth rather than following the more typical private equity investment model of trying to sell within a few years.
They have also pledged to press on with the company's legal battle with Zwift over what it alleges are infringement of its patents for a smart trainer.
Hawkins said that he had seen comment on the lawsuit that "made his blood boil" for implying that his company was trying to patent the entirety of a smart trainer.
"What we patented was some cool things about this very specific way that we make the Kickr: how the brake is manufactured; the shape of it; how it connects to the frame. No one else has infringed on that… You have to really be blatant to sell a product that infringes those things and we can't just not do anything about it."
Thank you for reading 20 articles this month* Join now for unlimited access
Enjoy your first month for just £1 / $1 / €1
*Read 5 free articles per month without a subscription
Join now for unlimited access
Try first month for just £1 / $1 / €1