Watch: Canyon unveils a very Miami Canyon Aeroad CFR, custom-made for the Blazers
The Miami Blazers' custom Canyon Aeroad CFR is meant to serve as a vibrant visual representation of the city the team calls home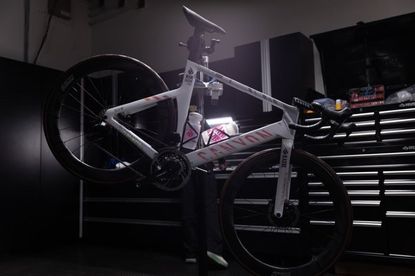 (Image credit: Canyon Bicycles)
Bicycle manufacturer, Canyon Bicycles, today unveiled a custom Canyon Aeroad CFR, designed for the Miami Blazers team. The eye-catching design is meant to serve as a visual representation of the vibrant culture of Miami, the team's hometown.
The Miami Blazers is one of America's most prominent criterium teams and known for their efforts to diversify the sport. Owned by Justin and Corey Williams of L39ion of Los Angeles and launched ahead of the 2022 season, the team roster includes riders from Cuba, Belize, Venezuela, Anguilla, Guyana, Barbados and the United States.
For a second year, the team will race aboard a Canyon Aeroad featuring a custom design to represent the city of Miami. These design elements include the city's symbolic 'wave' design, various reflective elements that become illuminated when the bike is put in sunlight and an iridescent decal material that displays an array of color from various angles to mirror Miami's diverse population and all the different characters of the team.
There are several numbers painted on the frame which represent the city's population, zip code and square mileage.
Despite the team's criterium racing prowess, the team alongside L39ion of Los Angeles and DNA Pro Cycling announced earlier this spring that they will not be partaking in the all-new National Cycling League race series, which will make its debut in Miami in April.
Watch the bike launch on YouTube
Thank you for reading 10 articles this month* Join now for unlimited access
Enjoy your first month for just £1 / $1 / €1
*Read 5 free articles per month without a subscription
Join now for unlimited access
Try first month for just £1 / $1 / €1
Cycling Weekly's North American Editor, Anne-Marije Rook is old school. She holds a degree in journalism and started out as a newspaper reporter — in print! She can even be seen bringing a pen and notepad to the press conference.
Originally from The Netherlands, she grew up a bike commuter and didn't find bike racing until her early twenties when living in Seattle, Washington. Strengthened by the many miles spent darting around Seattle's hilly streets on a steel single speed, Rook's progression in the sport was a quick one. As she competed at the elite level, her journalism career followed, and soon she became a full-time cycling journalist. She's now been a cycling journalist for 11 years.