Westminster Grand Prix start list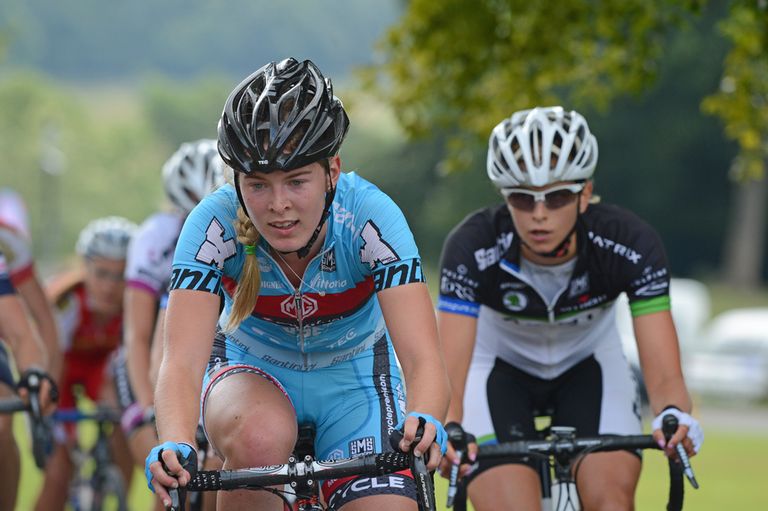 The women's Johnson Health Tech Westminster Grand Prix precedes the final stage of the 2013 Tour of Britain in Westminster, London, on Sunday, September 22.
The start list represents a comprehensive array of domestic British racing talent, and the race promises to be a fast-paced affair on an 8.8km circuit around Westminster passing some of London's most well-known landmarks.
Johnson Health Tech Tour Series winner Hannah Barnes (MG Maxifuel) tops the list of 79 riders from first, second, third and elite category racers. The race will take place between 10.30 and 11.30am.
More details of the Westminster circuit can be found in our Tour of Britain stage eight preview>>
Name/team
Ruby Baker (Behind The Bikeshed)
Alice Barnes (Scott Contessa Epic)
Hannah Barnes (MG-Maxifuel Pro Cycling)
Tracy Best (Zappi's Ladies Team)
Karla Boddy (MG-Maxifuel Pro Cycling)
Louise Borthwick (Edinburgh RC)
Sian Botteley (Squadra Donne - Shutt VR)
Lydia Boylan (Look Mum No Hands)
Melissa Brand (MG-Maxifuel Pro Cycling)
Amy Brice (DID Electrical)
Lydia Brookes (GS Henley)
Charmaine Brown (Pearson Cycling Club)
Elanor Cadzow (Welwyn Whls CC)
Sian Cahill (Zappi's Ladies Team)
Sophia Chastell (Welwyn Whls CC)
Lucy Chittenden
Sarah Connell (Brixton Cycles)
Clemence Copie (High Wycombe Cycling Club)
Tracy Corbett (London Dynamo)
Lauren Creamer (ISCorp Cycling/NCSF)
Natalie Creswick (Team Mulebar Girl - Sigma Sport)
Jennifer Crouch (London Dynamo)
Abigail Dentus (Team De ver)
Lowri Devey (Abergavenny Road Club)
Tracy Dresch (Squadra Donne - Shutt VR)
Charlotte Easton (Look Mum No Hands)
Nikki Engelbach (Les Filles Racing Team)
Sophie Faulkner (Solihull CC)
Michelle Forster (London Phoenix CC)
Flora Gillies (Team ASL360)
Clare Gillott (Elitecycling)
Emma Grant (Matrix Fitness Racing Academy)
Tanya Griffiths (Ipswich BC)
Corrine Hall (Matrix Fitness Racing Academy)
Lucy Harper (Welwyn Whls CC)
Saskia Hook (Squadra Donne - Shutt VR)
Ella Hopkins (Breast Cancer Care Cycling Team)
Anna Marie Hughes (Prestige Velo Club)
Nicola Juniper (Les Filles Racing Team)
Sarah Kennedy (Squadra Donne - Shutt VR)
Cynthia Kunschke (High Wycombe Cycling Club)
Jennifer Lake (Squadra Donne - Shutt VR)
Sophie Lankford (Cambridge Triathlon Club)
Bella Leach (London Phoenix CC)
Manon Lloyd (Abergavenny Road Club)
Melissa Lowther (Matrix Fitness Racing Academy)
Sandra Mackay (GB Cycles.co.uk)
Mhairi Mackenzie (London Phoenix CC)
Louise Mahe (Team Mulebar Girl - Sigma Sport)
Elizabeth Malins (Abergavenny Road Club)
Mary McFadzean (Cycle Sport Dynamo)
Cassie McGoldrick (WyndyMilla)
Helen McKay (Look Mum No Hands)
Lili McLean (Andover Whls)
Siobhan McNamara (DID Electrical Ladies Racing Team)
Alice Miller (Look Mum No Hands)
Juliet Milward (High Wycombe Cycling Club)
Francesca Morgans-Slader (Lee Valley Velo)
Emily Nelson (Bike Pure - LeMond - Aspire Velotech)
Sarah Odell (Pearson Cycling Club)
Nicole Oh (Les Filles Racing Team)
Rose Osborne (High Wycombe Cycling Club)
Harriet Owen (Matrix Fitness Racing Academy)
Sarah Piner (DID Electrical)
Maeve Savage (London Dynamo)
Michelle Sellars (Goscomb - BSR)
Alexie Shaw (Les Filles Racing Team)
Lucy Shaw (Solihull CC)
Victoria Strila (Medway VC)
Gillian Taylor (Abergavenny Road Club)
Claire Thomas (GSD Gestion/Kallisto/Specialized)
Jo Tindley (Matrix Fitness Racing Academy)
Emma Towers (Twickenham CC)
Abigail Van Twisk (WXC World Racing)
Hannah Walker (Matrix Fitness Racing Academy)
Jessie Walker (Matrix Fitness Racing Academy)
Molly Weaver (Breast Cancer Care Cycling Team)
Victoria Williams (Royal Air Force CC)
Rachael Yates (London Phoenix CC)
Related links
Tour of Britain 2013: Coverage index