What should TFL do about Cycle Superhighway 2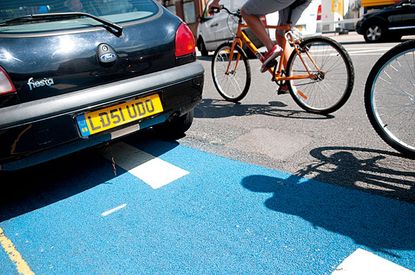 >>> Laura Laker rides Cycle Superhighway 2 >>>
Transport for London has said they are now contemplating the coroner's report on prevention of future deaths on Cycle Superhighway 2 in the East End of London.
The report followed two separate inquests into two deaths on the route - of Brian Dorling at Bow Roundabout in 2011 and Philippine de Gerin-Ricard near Aldgate in 2013. TfL will now be looking at how to improve the route for cyclists. So what should they be doing to prevent future tragedies?
Leon Daniels, Managing Director of Surface Transport at TfL, said: "Our thoughts are with the family and friends of Mr Dorling and Miss De Gerin-Ricard.
"We provided our full assistance to the coroner to ensure both inquests were a thorough investigation into the circumstances of these tragic incidents."Every death on London's roads is one too many and we will continue to do everything we can to reduce the risk to all road users.
"We are carefully considering the coroner's report on the prevention of future deaths and will respond formally in due course." Coroner, Mary Hassell, said CS2 was an accident waiting to happen, namely that unbordered blue paint causes confusion, both among cyclists and drivers, who don't understand it's not a cycle lane.
She added: some cyclists believe they have to ride on the blue paint, or that it provides some protection. But sticking to the blue paint can put them at risk from left-turning vehicles at junctions, or encourage riding up the inside of vehicles stopped at junctions.
Many cyclists don't ride assertively and don't realise sometimes taking the lane is for their own safety; cycle and motorist training was one of the factors Hassell mentioned.
The road's 3.1m wide lanes (of which concerns were raised by the Metropolitan Police when the road was redesigned in 2007), aren't wide enough for both motor vehicles and cyclists riding the blue to share.
Dedicated space for cycling alone, especially at junctions where cyclists are most vulnerable, would remove confusion and provide protection. The coroner said she would like to see a segregated cycle lane but noted the competing demands on the space from traffic and pedestrians, as well as cyclists.
Hassell said she would write to TfL advising that they come up with an innovative solution.
The solution for all of these problems, especially given the considerable width of the street along which CS2 runs, would be physical segregation, with separate traffic light phases for cyclists to create a true superhighway akin to the forthcoming Stratford leg of the route.
Cyclists shouldn't hold their breath, however. When asked during Wednesday's Mayoral Question time about segregating the entire route of CS2, though Mayor Boris Johnson said he would "invest what it takes", and pointed out improvements had already been made to Bow Roundabout since 2011's fatality, he seemed unconvinced about segregated facilities on the route.
Johnson said: "The difficulty is that [with segregation] we take away a huge amount of road space and we perhaps don't even deliver the safety improvements that we desire.
"Speaking as a cyclist I think the one problem many cyclists have with the segregated option is that they don't always use the segregated gullies and I am not convinced that it will be the knock-out solution that some people say it will be.
"I do think there are further improvements that can be made across the streets of London."
The Mayor is under duty to respond to the report by 16th December, describing actions proposed or already taken to prevent future deaths on the route.
>>> Laura Laker rides Cycle Superhighway 2 >>>
Read Cycling Weekly magazine on the day of release where ever you are in the world International digital edition, UK digital edition. And if you like us, rate us!
Thank you for reading 10 articles this month* Join now for unlimited access
Enjoy your first month for just £1 / $1 / €1
*Read 5 free articles per month without a subscription
Join now for unlimited access
Try first month for just £1 / $1 / €1