Why women's cycling is on the rise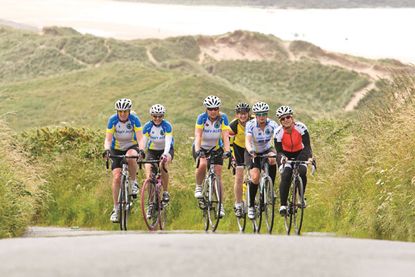 There's no denying it: women remain underrepresented on two wheels in the UK, where just one in four cyclists is female.
Things are changing slowly, though. British Cycling recently shouted from the rooftops that 106,000 women had taken part in its sports programmes so far this year, and tenacious moves are afoot to bring long-awaited parity to racing.
At entry level, enthusiastically attended women-only rides are popping up across the country, along with events like Cycletta and Breeze. But what is it that stops women throwing a leg over the saddle? And what is being done to get more women dusting off their bikes?
"I think some of it is about knowledge of the opportunities out there," says Natalie Justice, British Cycling's women's network project manager. "Women have been put off by misperceptions about the sport. Women who have wanted to get involved [in the past] have been put off or didn't know where to go. We are really raising the profile so women know where to go.
"It is not necessarily about changing the product, it is about changing how we talk about it.
"It is also about changing the language so it is not too technical and scientific; obviously it's got to be sporty but the biggest challenge is making it into a language people understand," she said.
Role models
Justice says role models like Dani King and Laura Trott make cycling seem more accessible: "A lot of female athletes come across so well; they are normal, people can really relate to them, and that does really help."
There is growth in track racing too, thanks to programmes such as Herne Hill Velodrome's women-only sessions, which have been running since 2010. Part of their success, according to organiser Wiesia Kuczaj, is down to persistence as much as pitching at the right level.
"I remember when we first started running them; we would sometimes only have one woman turn up," said Kuczaj, "but we would still run them every week.
"Too often we would see organisers grumble that not enough women attend their sessions or races, so they would just cancel them.
"We wanted to be different, and it worked. The sessions are now really popular, with up to 50 girls turning up for some sessions!
"We cater for women of all abilities, providing a perfect way to introduce women to track riding, allowing them to gain confidence before moving across to the main sessions and then on to racing if they wish. The main sessions tend to be very male-dominated and often fairly fast, so this can be intimidating to those who are new to the sport."
It was for similar reasons that Velojam was started, a hugely popular annual women's-only race meet, which Kuczaj is also involved in organising.
"One of the main barriers to getting more women racing on the track is that all ladies are generally lumped in the same category, meaning that a complete newbie could end up racing against a national champion.
"We wanted to be different, so we decided to split the racing into categories, so riders would be competing against other riders of a similar ability."
Welcoming women
World BMX champion Shanaze Reade says there have been big changes in the sport for the better.
"I took part in cycling 15 years ago, and where it was then to where it is now is worlds apart. To see more women taking part on the track and on the BMX track is really encouraging.
"I think everything is [now] in place for females to take part in the sport; British Cycling has great schemes, a lot of sportives and rides, and over 100,000 more women have taken part [in British Cycling events] this year."
At entry level, women's social rides mirror the success of British Cycling's increasingly popular Breeze Rides. Stan's Cycles in Shrewsbury runs regular turn-up-and-ride jaunts for women who are new or returning to cycling.
Stan's Beccy Neale says: "Each week [the groups] go a bit further; 25 miles is their maximum so far. They have a no-drop policy so they wait for everyone.
"It is such a growing thing with us, two ladies are riding London to Paris this year. I think it is becoming more of a friendship thing - we talk the same language and it is good for your mind; it is something the girls can all do together," said Neale.
This article was first published in the November 7 issue of Cycling Weekly. Read Cycling Weekly magazine on the day of release where ever you are in the world International digital edition, UK digital edition. And if you like us, rate us!
Thank you for reading 20 articles this month* Join now for unlimited access
Enjoy your first month for just £1 / $1 / €1
*Read 5 free articles per month without a subscription
Join now for unlimited access
Try first month for just £1 / $1 / €1