Zwift Academy reopens for 2023 -two professional contracts are on the line
The six-ride, two-race series will run from November 6 through December 17. Contracts with CANYON//SRAM Generation and Alpecin-Deceuninck Development Team on offer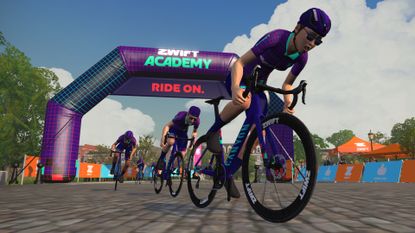 (Image credit: Zwift)
Zwift Academy, the indoor cycling platform's "ultimate challenge" is now open for registration.
Started in 2016, Zwift Academy is a training program consisting of six workouts (each with a long and short ride option) and two races on the Zwift platform, which this year will take place from November 6 to December 17.
According to the company, Zwift Academy is one of Zwift's most popular events, and for good reason - it is not only a fun way for Zwifters to ride and race together to cap off the year, it is also a talent identification pipeline used to discover young cyclists with great promise.
This year, Zwift Academy is offering female Zwift Academy riders the chance to earn a contract with CANYON//SRAM Generation, the development team for CANYON//SRAM Racing. Male participants have the chance to earn a contract with Alpecin-Deceuninck's development team, as well.
Several Zwift Academy participants have gone on to race on the WorldTour including last year's winenrs Luca Vergallito (Alpecin-Deceuninck) and Ricarda Bauernfeind. Other alumni include Jay Vine (UAE), Ollie Jones (Dimension Data) and Ella Harris, Neve Bradbury and Tanja Erath who all raced for Canyon//SRAM.
Those looking to fight for these coveted opportunities must wear a heart rate monitor for all Zwift Academy activities and must choose the "long" option for all of six Zwift Academy rides.
Fortunately, you do not need to be jonesing for a professional contract in order to enjoy the Zwift Academy - anyone with a Zwift account can sign up.
The six workouts range between are 60-90 minutes for the "long" version and less than an hour for the "short" option. They will work on "explosive anaerobic workouts to strengthen your sprinting skills…to endurance-focused workouts that will improve your aerobic efficiency," according to Zwift.
The six workouts are on-demand and can be completed at any time during the November 6 through December 17 window. There will be organized group workout options, too, for riders who want to tackle the Academy with others in real time.
The two races are a mix of sprinting power and the ability to recover quickly from bursts of climbing strength. Race one is two laps for a total of 14.2km and 59m of simulated elevation gain and race two is three laps for a total of 9.2km and 159m of simulated elevation gain.
To keep things interesting, participants in Zwift Academy can earn exclusive in-game unlocks such as the Zwift Academy kit after the first activity, Zwift Academy cap after three activities, an aero helmet after a Zwift Academy race, and a special Zwift Academy bike paint job after all eight activities are complete.
"This year's Zwift Academy will make you faster and help you cope better with that lactate burn," says Dan Fleeman at Dig Deep Coaching, the coaching team behind the Zwift Academy workouts. "We have designed a challenging programme which will test every energy system to the limit. So if you are looking to improve your times on local climbs, race on Zwift, progress to the professional Peloton or just become a stronger cyclist, there is something for everyone."
Register for Zwift Academy here.
Thank you for reading 20 articles this month* Join now for unlimited access
Enjoy your first month for just £1 / $1 / €1
*Read 5 free articles per month without a subscription
Join now for unlimited access
Try first month for just £1 / $1 / €1