Campagnolo's New Super Record Wireless is the most expensive groupset ever and you don't even get thumb shifters
The Italian component manufacturer has finally joined the wireless arms race with its much rumoured groupset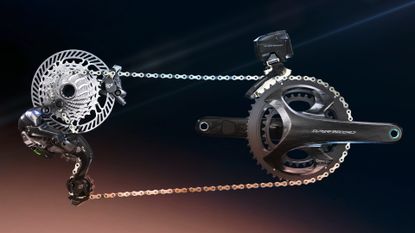 (Image credit: Campagnolo)
Get The Leadout Newsletter
The latest race content, interviews, features, reviews and expert buying guides, direct to your inbox!
Thank you for signing up to The Pick. You will receive a verification email shortly.
There was a problem. Please refresh the page and try again.
Today, Campagnolo has finally launched its highly anticipated, range topping Super Record Wireless groupset. The new shifting system, which has been heavily rumoured over the last few months, features fully wireless shifting, like SRAM eTap. It also comes with a staggering new price tag of $5,399/(£4,499), making it the most expensive mass-market groupset ever to be released.
Not only that, Campagnolo has also waved its goodbyes to rim brakes, with its flagship only available for hydraulic disc brakes.
Campagnolo fans may also be shocked by the distinct change to shifting ergonomics, with the removal of its signature thumb shifter. A step closer to Shimano on button placement, but with a price tag that trumps Shimano Dura Ace Di2 by over $1000, the new Italian groupset will have to use more than just its beautiful looks to charm the consumer.
Campagnolo Super Record Wireless : Ergonomics
Since the brand's first iteration of integrated shifter in 1992, Campagnolo's levers have been recognisable by thumb buttons on the inside of the hood, but for 2023 that's now gone. You can get an idea of our initial impressions of all of the biggest changes in our first ride review.
The new shifting system is a simple two button array, with both buttons sat just behind the brake lever. This should provide slightly easier access to both shifters when riding in the drops, although on first impression, the buttons do look pretty small - so whether or not this would have been a hindrance in the wet cold weather at this year's Giro d'Italia is certainly up for discussion.
The new group does come with some hidden buttons in place of the thumb shifters though, with a mode button which can be programmed for use with ANT+ cycling computers, as well as a power button that allows the system to be completely turned off for long flights or storage.
Campagnolo says it has revamped its lever design for Super Record Wireless, with some slight refinements being made to the hood feel. But, at a glance at least, the ergonomics look to have stayed fairly consistent with previous generations - which is no bad thing, as the comfort in the previous iteration of EPS was right up there with the best.
Campagnolo Super Record Wireless : Technology
The word wireless seems to carry multiple meanings in the bike industry, with SRAM eTap having a true wireless setup, while Shimano's 'wireless' Di2 still opts for some thin wiring between the derailleurs and battery.
We are glad to report however that Campagnolo has gone down the fully wireless route. Batteries can be found in the shifters (Coin cell CR2032), and front and rear derailleurs (rechargeable). The system communicates using a proprietary Bluetooth communication protocol.
Setup and control of the new groupset can also be managed through Campagnolo's app, 'MyCampy 3.0'. This can be used to both customize controls as well as access information like battery status.
The batteries themselves, Campagnolo says, will cover a range of around 750km on a single charge - shifting habit dependant of course. For reference, Shimano Di2 claims around 1000km of riding, while SRAM eTap AXS claims around 60hrs which at 25kph is 1500km.
Perhaps down slightly on battery life, however Campagnolo claims 90% charge can be achieved in just 45 minutes, with a full charge being taken care of within an hour. You can also charge these batteries on the bike if needed as the magnetic charging pins are a separate terminal to the battery fixing (unlike eTap). It's worth noting that for anyone worrying about durability with external charging ports on the batteries, the groupset has the highest available IP69K water and dust proofing rating.
Unlike SRAM eTap however, Super Record wireless does not have interchangeable batteries between the front and rear mechs - the patent team over at SRAM were a little too efficient for that.
Campagnolo Super Record Wireless : Construction
The Italian brand is, understandably, proud to flag that Super Record Wireless is still entirely Italian made.
Campagnolo has used a mix of carbon fibre, titanium and aluminium as the building blocks for the new groupset, with an aim to provide 'maximum functionality at minimal weight'. Campagnolo claims a weight of 2520 grams for the 50/34, 10-25 iteration of the groupset, which comes in 15 grams more than the previous generation.
Front and rear derailleurs both have an exposed carbon weave pattern that looks wholeheartedly premium, a nod to what Tullio Campagnolo (Grandson of founder, Gentullio Campagnolo), is calling 'Sports Luxury'.
A point of speculation for the front derailleur though, is that it is relatively bulky - this is the by-product of having batteries in situ with the mech itself. It's worth noting that for the aerodynamically minded out there, this isn't as optimal as Shimano's lower profile setup.
The chainsets themselves feature Campagnolo's 'Ultra-Torque' system, which it says is the brands 'most advanced system for translating your organic power to output'. This is referencing the material choices for the new chainset, which features a titanium axle mated to carbon fibre crank arms, which once again share that stunning exposed carbon aesthetic.
Campagnolo Super Record Wireless : Gearing options
Campagnolo has also taken a different approach to gearing with the new Super Record Wireless. For the chainset, options include 50-34, 48-32 and 45-29, while cassettes come in 10-25, 10-27 and 10-29. Slightly smaller increments should offer more nuanced shifting in regard to cadence choice which Campagnolo says will deliver 'optimal tempo'.
Teeth profiles have also been redesigned in combination with new gear ratios, which Campagnolo claims makes for a 'smoother shifting experience'. Marginal gain scavengers amongst you will probably have already considered the drawbacks of smaller sprockets, and that is the decreased drivetrain efficiency. Tighter chain angles are less efficient for the chain, however this is a trade off between weight and cadence optimization.
Campagnolo Super Record Wireless : Specs
Swipe to scroll horizontally
| | |
| --- | --- |
| Price | $5299/£4499 |
| Weight (claimed) | 2520g |
| Brake type | Hydraulic Disc Only |
| Cassette options | 10-25,10-27,10-29 |
| Chainset options | 50-34, 48-32, 45-29 |
| Crank options | Double Only |
| Speed | 2x 12 speed |
| Shifting type | Wireless electronic (Proprietary Bluetooth protocol) |
Thank you for reading 20 articles this month* Join now for unlimited access
Enjoy your first month for just £1 / $1 / €1
*Read 5 free articles per month without a subscription
Join now for unlimited access
Try first month for just £1 / $1 / €1
Get The Leadout Newsletter
The latest race content, interviews, features, reviews and expert buying guides, direct to your inbox!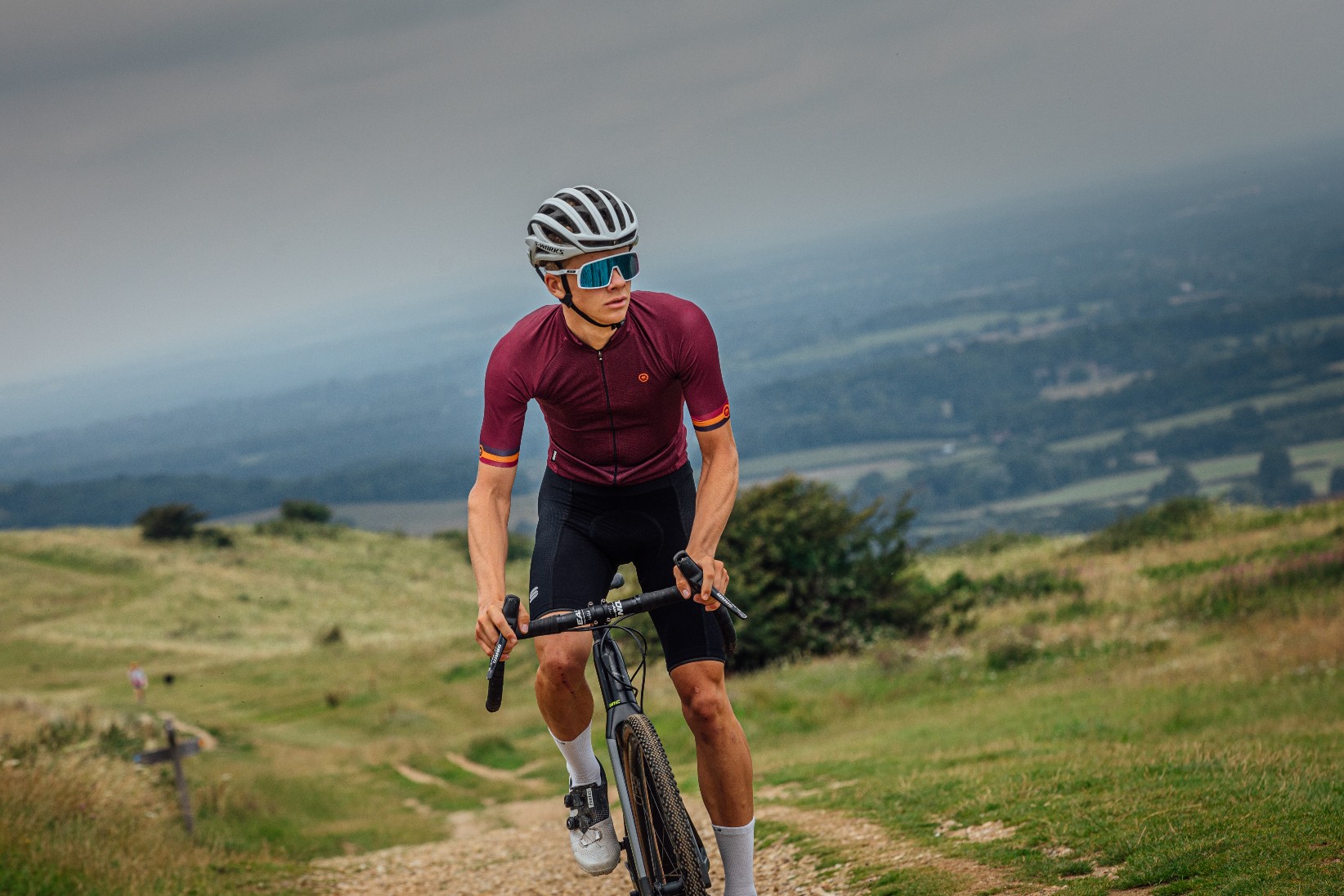 Joe is Cycling Weekly's tech writer. He's always had a love for bikes, since first riding a two wheeled steed before the age of four. Years down the line, Joe began racing at 16, and enjoyed great experiences internationally, racing in Italy, Spain and Belgium to name a few locations. Always interested in tech, Joe even piloted his Frankenstein hill climb bike to a Junior National Title in 2018. After taking a step back from elite level racing in April 2022, Joe joined our team as a freelancer, before becoming Tech Writer in May 2023.