Chris King launches the first recyclable carbon aero wheels - the carbon wheels with a smaller footprint are made in the USA
The ARD44 wheelset sports an aero profile, new black-on-black logos, a hookless rim, a lifetime warranty and a smaller carbon footprint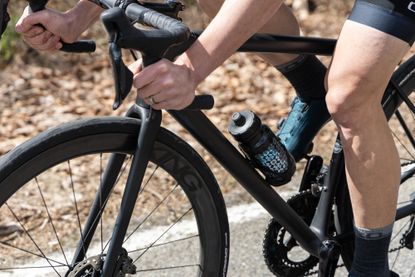 (Image credit: Chris King Precision Components)
Portland, Oregon-based manufacturer Chris King Precision Components has long been a proponent of more sustainable practices in the bike industry. This is seen in the company's manufacturing processes, materials sourcing, and resulting high-end products, which are well-known for their quality and durability.
In adopting the latest trends around down-cyclable carbon, Chris King today released its latest FusionFiber wheelset, the ARD44 — the first recyclable carbon wheels of its kind and entirely made in the USA.
Cycling Weekly got a first look at these wheels at the Sea Otter Classic in April, and here's what we learned.
Built around Chris King's buttery smooth and lasting R45D hub, the ARD44 wheels are a high-performance road wheelset designed for those who are looking for all-out speed on flats, climbs, and through corners.
The wheels are made with a 44mm deep, aero-profiled thermoplastic carbon fiber rim manufactured by FusionFiber inventors CSS Composites.
FusionFiber technology is said to make rims that are not only more durable than traditional carbon fiber products; they're also highly impact-resistant and dampening.
"The ARD44's rim produces a stable, responsive, and nimble ride while reducing bodily fatigue and strain on the rider due to the superior damping attributes of FusionFiber's thermoplastic technology," Chris King claims. "It effectively minimizes unnecessary road feedback and vibrations, resulting in better traction and a smooth, comfortable ride that will keep riders fresher, longer, and make the next day's ride easier too."
Moreover, 100 percent of the rims are downcycle in case of failure. Manufacturing scraps or an expired rim can be remolded into a new product. This is due to the lack of epoxy resin found in traditional carbon products.
Most carbon components are made from sheets of epoxy-impregnated carbon fibers. Basically, the carbon fibers are 'glued' together with a resin that is cured in a chemical process called thermoset. Once cured, the resin cannot be returned to its previous form, meaning it cannot be broken down and remolded.
FusionFiber products are made of non-epoxy-impregnated carbon fiber in a process called thermoplastic. In this process, the glue can be melted and reused for a new or different product.
The FusionFiber process is also simplified and can be automated. This not only reduces production time but it also significantly cuts down on energy usage, making FusionFiber an all-around greener option.
Chris King already used FusionFiber in its MTN30 and GRD23 rims, which our tester said made for a comfortable, compliant wheelset that's built to last.
"While we were fine-tuning the GRD23 and MTN30 rims, I knew developing our own road rim was the next step. To design a high-performance wheel that's worthy of the King name is no small feat, but the moment I rode the first prototype, I knew we were on to something special/unique," said Greg Hudson, Wheel Product Manager at Chris King.
At the core of the wheels is Chris King's R45D hub with single-piece axles, 45 points of simultaneous engagement, and the house-made bearings Chris King is renowned for.
The ARD44 wheelset sports a hookless tubeless rim with a 25mm internal width and 30.5mm external, which can accommodate tire sizes up to 47mm. For ultimate performance, however, the wheelset was aerodynamically tailored for 28-32mm tires.
"We all used to think that 19-21mm wide tires inflated to incredibly high pressure produced the fastest ride. We mistook the harsh ride that setup produced for speed, when in reality it caused a loss of speed, through lost traction and body fatigue," Hudson said.
"These ARD44 wheels represent everything we've come to understand about what makes riders faster. We already had a hub we knew outperformed the competition, but getting this rim completed the picture. That the rim could also be made in a more sustainable way, and that, ultimately, is the cherry on top."
With the ARD44, Chris King also launches its new logo. A simple, black-on-black KING decal that will now be standard on wheels going forward.
"The hubs, rims, and unbeatable ride characteristics do the talking, and the label serves as a refined and inconspicuous reminder of the heritage behind the final product," states the brand.
As with all Chris King wheels, the ARD44s come with a lifetime warranty and a premium price of $2850.
Specs:
FusionFiber Thermoplastic construction
44mm Depth Front and Rear
Weight: 1525g for the set
Available with Ceramic or Steel Hub bearings (+$120 for ceramic upgrade)
R45D Hubs available in all 2023 Color options
25mm internal rim width / 30.5 external width
Designed for 28mm-32mm tires, accommodating up to 47mm
ISO 5775/ETRTO 25-622 Rim Bead Seat TSS Hookless rim design for seamless compatibility with modern TSS road and gravel tires
MSRP: $2850
Thank you for reading 20 articles this month* Join now for unlimited access
Enjoy your first month for just £1 / $1 / €1
*Read 5 free articles per month without a subscription
Join now for unlimited access
Try first month for just £1 / $1 / €1