Recyclable carbon rims, solar powered e-bikes, sage advice from Chris King: more tech highlights from the Sea Otter Classic
North America's biggest bike expo wraps up in California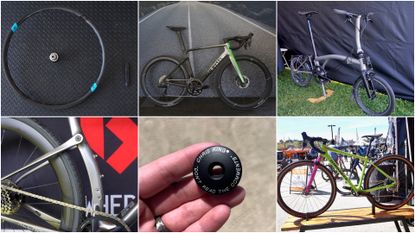 (Image credit: Anne-Marije Rook)
Get The Leadout Newsletter
The latest race content, interviews, features, reviews and expert buying guides, direct to your inbox!
Thank you for signing up to The Pick. You will receive a verification email shortly.
There was a problem. Please refresh the page and try again.
After four days of non-stop action, the annual Sea Otter Classic wrapped up in Monterey, California, on April 23. Held since 1991, the Sea Otter Classic is the biggest cycling gathering in North America, drawing some 74,000 people to the Leguna Seca Raceway venue.
Part industry show, part racing festival, the event hosts thousands of athletes as they compete in hundreds pro and amateur events, including the first round of the Life Time Grand Prix off-road series.
Alongside the racing, the industry gathers for to show off its latest and greatest. Hundreds of brands are vying for the attention of consumers and journalists alike. Amid the sea of flags, here are a few sneaks of what I saw on Industry Day 2.
Be sure to check out the highlights from Day 1, here.
A greener carbon
There were at least three brands at the expo promoting their CSS Composites-made FusionFiber wheels, which many are calling the future of carbon composites. Brands like Chris King, Revel and Evil are all in on CSS' mission of "creating products that stay out of landfills."
Traditional carbon products are near-impossible, or simple too costly, to recycle, downcycle or reuse. And so, when the carbon product —be it a bike component, a boat or a space ship— fails or reaches the end of its lifecycle, it usually ends up being discarded in landfill.
Most carbon components are made of sheets of epoxy-impregnated carbon fibers. Basically, the carbon fibers are 'glued' together with a resin that is cured in a chemical process called thermoset. Once cured, the resin cannot be returned to its previous form, meaning it cannot be broken down and remolded.
FusionFiber products are made of non-epoxy-impregnated carbon fiber in a process called thermoplastic. In this process, the glue can be melted and reused for a new or different product. Both, the scraps from the manufacturing process as well as say, a broken rim, can be melted down and shaped into new products.
Another big benefit of FusionFiber is a simplified production process. FusionFiber doesn't need to be refrigerated, the whole cutting-and-layup process can be automated and there's no sanding required. All of this not only reduces production time, it also significantly cuts down on energy usage, making FusionFiber an all-around greener option. And CSS' FusionFiber is Made in the USA to boot.
FusionFiber wheels are said to be highly impact-resistant, dampening and 100% downcyclable in case of failure.
For Forge and Bond, CSS Composites' in-house brand, scaps and broken parts are currently molded into short-fiber products like carbon tire levers, but we're told bike parts like stems and bars are in the near future.
The Forge and Bond gravel wheel pictured here is part of a $2,600 wheelset that comes with Industry Nine hubs and Sapim or bladed spokes and a generous warranty.
Specialized used solar power to charge its demo fleet of e-bikes
Image 1 of 3
Speaking of greener ways, the Specialized fleet of demo e-bikes was fully charged by solar power.
Specialized partnered with Zamp Solar, the only US-based off-grid solar manufacturer, to charge up their fleet of 60 e-bikes that were available for demo-ing. Rather than using the venue's electrical grid or bringing in generators, Specialized and Zamp made full use of the exposed, sun-baked venue.
With a solar panel-equipped trailer and several portable panels on the ground, Zamp was able to bank enough electricity to keep the bikes running all expo long.
Manufactured in Bend, Oregon, Zamp Solar specializes in off-grid solar kits for the RV market, van-lifers, campers, Tiny Home dwellers, overlanders and even, first responders. The brand's power solutions include everything from a $3,000 roof-based panel kit to small, $30 portable panels.
"If you're camping out and leaving for a bike ride, why not let the sun do the work while you're out riding so you can charge your e-bike, your drone and your devices when you return," said Spencer Welch.
Decathlon's $3999 Ti Gravel Bike
French megastore Decathlon used the Sea Otter Classic to announce its U.S. presence with a showing of its performance-oriented yet competitively priced collection of bikes and gear.
Most notable in the large booth was the Riverside GRVL 900 Ti, with a price tag that had many do a double-take.
In short, the gravel adventure bike is:
- Italian-made
- hand-welded
- Made of Dedacciai titanium tubing
- Paired with a carbon fork with accessory mounts
- Spec'd with a Shimano GRX groupset
The pricetag for such an attractive package? $3,999.
In addition to the bikes, the Decathlon superstore has a line of bags and gear to outfit every part of the bikepacking adventure.
We're told that Decathlon is currently working on establishing a dealer network in the U.S. In the meantime, bikes are available from Decathlon's European warehouse.
Brompton's lightest ever titanium T Line
Image 1 of 2
Speaking of titanium, Brompton showcased its lightest T Line yet, made with titanium tubing, a carbon fork and a carbon-wrapped steel seatpost.
Weighing in at just 7.45kg, Brompton's new titanium T Line takes off more than 2kg from its pervious lightweight model. This transformation required far more than just a new tubing material. The engineers had to completely rethink and reinvent the iconic folding bike in a new factory in Sheffield, England, opened specifically for the titanium frames which are orbital and tig-welded for improved strength.
Some 150 changes were made to the original T Line design including a beefier tube diameter; wider carbon handlebars; an all-new steel-enforced carbon seatpost; new, removable pedals; faster folding; and a new, patent-pending drivetrain.
The redesign and materials are not only aimed to provide a stiffer and more responsive ride, but the weight saving are a significant benefit to the bike's portability.
The price? $5225.00
Berria's feature-packed gravel rig
Image 1 of 6
Cycling Distribution Network (CDN), the U.S. distributor of brands like Basso, Lee Cougan and Berria, signed on with the online marketplace BikeExchange earlier this year to bring these European brands to the U.S. market starting in April.
Catching our eyes at the Sea Otter show was the Berria Belador Allroad, a feature-rich gravel racer.
Made for gravel performance, the Belador is the Spanish brand's first foray into the gravel segment but that didn't deter the brand from going all-in on off-road features.
Borrowing technologies from the MTB world, there's SRAM's new bombproof Universal Derailleur Hanger (UDH) and a flip chip in the fork dropout to adjust the rake and thereby toggle between a race-y or slacker geometry.
A rider-isolating seatstay pivot system called the 'Active Flex Concept is said to offer up to 26mm in suspension for increased comfort and decreased rider fatigue. And by staying firmly planted on the rough terrain, the suspension is meant to improve traction, handling and control.
The Belador also features a 27.2mm carbon seatpost diameter, which is compatible with dropper posts.
The front-end of the bike looks more like an aerobike with a sleek, squared profile and fully integrated cable routing. The top tube has recessed accessory mounts that are neatly tucked behind a plate when not in use.
The frame is made of HM2X triple monocoque carbon with a claimed weight of just 1,060g.
The show bike pictured here was equipped with a SRAM Rival AXS groupset and Zipp 303 carbon wheels wrapped in Vittoria Terreno Dry tires for a MSRP of $6,899.
Diamondback debutes new gravel rigs
Former BMX brand Diamondback used the Sea Otter Classic to introduce its redesigned Haanjo gravel bike line.
Originally launched in 2016, the Haanjo collection has undergone a transformation, complete with a new frame and suspension options.
Built around versatility, the Haanjo gravel collection will consist of eight unique models, ranging from entry level commuter bikes to fully-featured, carbon do-it-all adventure and race rigs.
While Diamondback once sponsored various road teams, including the program now known as Human Powered Health, the brand now appears to be all on the dirt side. Its gravel line definitely falls on the rowdier end of the gravel spectrum as the redesigned Haanjo frame is now compatible with a variety of suspension forks. Build options include a Diamondback Haanjo carbon fork, a Rockshox Rudy or the SR Suntour GVX with travel ranging from 30mm up to 60mm. Diamondback has also added extra accessory mounts for bags or cages, and some models come stocked with a dropper post.
The new Haanjo collection ranging from $1,000 - $5,700 will be available online and at retailers in 2023.
Sage advice from Chris King
Chris King had a nice gift for the journalists making their way through the Echos Communications Lounge. While the new Chris King products are not allowed to be revealed to the public just yet, the iconic components manufacturer offered some sage advice: "Don't Read the Comments."
Thank you for reading 20 articles this month* Join now for unlimited access
Enjoy your first month for just £1 / $1 / €1
*Read 5 free articles per month without a subscription
Join now for unlimited access
Try first month for just £1 / $1 / €1
Get The Leadout Newsletter
The latest race content, interviews, features, reviews and expert buying guides, direct to your inbox!