Colnago enters the 'groad' market with the C68 Allroad and it looks lovely
Made in Italy, the C68 Allroad features more upright geometry than its road counterpart with clearance for 35mm wide tires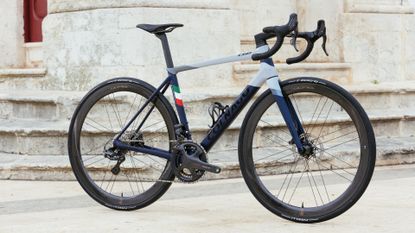 (Image credit: Colnago)
Colnago has announced its first foray into the all-road category with the release of the C68 Allroad.
As the name suggests it's a version of one of the current best road bikes, the Colnago C68 road bike that's designed for surfaces of variable quality, including some light gravel. Whereas the C68 frameset can accommodate tires up to 28mm in width, the Allroad has clearance for as wide as 35mm.
Wider tire clearance has become the norm in recent times, due to performance benefits, and thus increased use, of tubeless technology and a blurring of lines between the road and off-road categories. By catching up, Colnago is entering a competitive marketplace where the best gravel bikes shout for the consumers attention. Not least, Colnago now has a bike to rival its compatriots' Pinarello Grevil and Bianchi Impulso Pro gravel offerings.
The fact that the C68 Allroad bears a Colnago badge should be enough to make it heard above the throng of similarly priced and specced bikes. After all, what other brand would suggest that its latest all-road offering is "a hymn to a constant search for beauty", and one that "never stops, not even when the asphalt ends"?
Purple prose aside, Colnago do make beautiful bikes and the images of the C68 Allroad are encouraging, especially given that endurance bikes, with their generous stack height and shorter top tube lengths can look a little pedestrian when compared to the razor sharp angles of a modern race machine.
Not that the C68 Allroad doesn't adopt this geometry. It does. Colnago says the higher stack and shorter reach is designed to help put the rider's body in a more upright position, which "results in an increase in comfort, especially on rough surfaces or during long rides."
However, take this tried-and-tested method and blend it with Colnago's aesthetic edge and you get a bike that looks far more stylish than your typical armchair on wheels. Like the rest of the Colnago C Series, the Allroad is a modular frame design rather than a monocoque, with some of the joints left visible. Naturally, it's handmade in Italy too, which isn't the calling card of your average all-road bike.
A closer look does reveal changes to tube shapes and well as their lengths when compared to the C68 road. There's a raised headtube, while the downtube is squarer in shape, which Colnago says improves performance on bumpy surfaces. The rear stays have been beefed up too.
Colnago says the C68 Allroad will be available in a number of builds, with Shimano Dura-Ace and Ultegra Di2, SRAM Red and Force AXS and Campagnolo EPS all available. Wheel options include Enve WS SES 3.4C, Campagnolo Bora Ultra WTO 45, Shimano Dura Ace C50 and Fulcrum Racing 600db.
As for pricing, Colnago has released a suggested price in Europe of €15,335 based on build incorporating Shimano Dura-Ace Di2 groupset, Shimano C50 wheels, Colnago CC.01 integrated handlebar, Prologo Scratch M5 CPC saddle and Pirelli P Zero Race TLR 700x30 tires.
Thank you for reading 20 articles this month* Join now for unlimited access
Enjoy your first month for just £1 / $1 / €1
*Read 5 free articles per month without a subscription
Join now for unlimited access
Try first month for just £1 / $1 / €1