First ever sale at premium kids' bike brand Islabikes
Parents wanting to get their kids a new bike can get up to 35% off while stocks last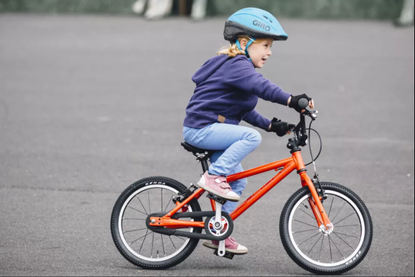 (Image credit: Islabike)
Lightweight kids bike brand Islabikes is holding its first ever sale in a boon for parents everywhere.
The companies bikes, which include the Rothan, Cnoc and Beinn are consistently well reviewed by Cycling Weekly and other outlets.
The company, founded by veteran cyclocross star Isla Rowntree has built a reputation for its design work focused on making bikes easier to ride and more fun for kids of all ages with things like lightweight frame and short reach brakes.
Consequently its bikes have always come at something of a premium and it hasn't cut it's prices before now.
But some models have now been slashed by as much as 35%.
Rowntree touted the company's "17 years of obsessive innovation" with "raising the standard" of the fit and performance of children's bikes.
She added: "With Islabikes' first-ever sale, perfectly timed in the build-up to the Easter holidays, we're thrilled to introduce our products to a new audience.
"We are confident that our bikes will exceed our customers' expectations and any first-time buyers will experience a new level of enjoyment to cycling for active travel, leisure or fitness."
Islabikes Rothan balance bike, which has 35% off some colours in the sale, received a perfect score when Cycling Weekly reviewed it.
We concluded: "The Rothan isn't the cheapest balance bike on the market, but factor in all the finer points of detail, such as the rounded allen key bolt through wheel axles that prevent rider injuries in crashes, 12" puncture resistant tyres, and a balance bike specific scooped saddle that helps a bottom stay put and little feel touch the floor, all adds up to giving the feel of a real bike and enhances the experience of riding a bike for the first time."
Meanwhile, when we tried the Beinn 20, designed for slightly older kids than the Rothan, we said it "oozes quality from every inch of its perfectly proportioned, sparkling fuchsia frame".
We backed Rowntree's assertion about the design ethos too. "The attention to detail on the bike is verging on the obsessive. Everything has been carefully considered, perfectly chosen and expertly arranged to make the perfect package; from the feel of rubber on the grips, the neatly routed cables, to the bosses for a bottle cage and those oh-so-special quick-release hubs."
If you need tips on how to choose a children's bike then check out our guide.
Thank you for reading 20 articles this month* Join now for unlimited access
Enjoy your first month for just £1 / $1 / €1
*Read 5 free articles per month without a subscription
Join now for unlimited access
Try first month for just £1 / $1 / €1