I tried an e-cargo bike - but traffic drove me off the road and onto a cheap hybrid
This is not to say that 'e-cargo bikes are bad'. But, an e-cargo bike was bad for our situation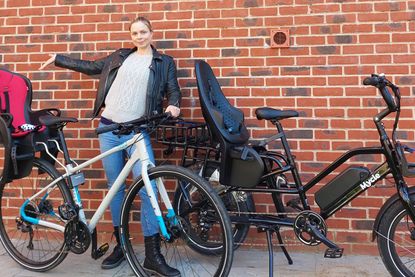 (Image credit: Future)
When an electric cargo bike arrived at our house, I was beside myself with excitement. This bike - in my mind - would transport us to an entirely new way of life. Car dependency would be a thing of the past, our nursery commutes would become 'magic moments', the hellish weekly grocery haul exchanged for daily farm shop rituals.
Perhaps, my expectations were too high.
After just over a month of living with the e-cargo bike, my husband and I decided to swap it for a pair of hybrid bikes, and two child seats.
This is not to say that 'e-cargo bikes are bad'. But, an e-cargo bike was bad for our situation.
The cargo bike dream was born of a new journey in our lives: the nursery commute.
As a couple that's dabbled - between us - in road, track, time trial, mountain bike and cyclocross racing, we've already got a lot of bikes. Most of them are carbon and none of them will accommodate a child seat. So, the one-size-fits all cargo with its energy saving motor seemed an inviting alternative to N+2 (which, according to popular cycling culture, is the perfect number of bikes where N is the number already owned - this does not apply within a house already brimming with toddler paraphernalia).
The commute in question uses an A-road, which has pavement lazily switching sides at regular intervals the entire way, and byways as alternatives should your tires be shod with the appropriate rubber.
Cargo bikes, by their very nature, tend to be long, wide, or otherwise large. The Mycle Cargo bike we had to test (which retails at £2,299), measured 1.87 metres in length, and weighed 37 kilograms. Nimble was not its middle name.
What is an e-cargo bike?
In case this topic is new to you - a quick explainer. An e-cargo bike is an electric bike with plenty of space for storage.
The storage can take many guises - it could be a large bucket, racks on the front and rear; some e-cargo bikes even push entire mini store fronts and are used by travelling baristas or tradespeople.
In the UK, e-bikes are restricted to 25kph/15mph, and this applies to e-cargo bikes too, this speed limiter varies in other countries.
Whilst we knew all of this ahead of the bike's much anticipated arrival, we didn't - at the time - know what it would feel like to cycle along an A-road with the most treasured being in our lives as passenger.
The hardened cyclist within me tried to brush off the concern. 'Cycling is statistically safer than driving', 'we both cycle on this road ourselves', 'we've ridden on roads like this our entire adult lives'. But, none of this self talk sufficed when a van driver overtook me with the sort of speed and force you'd associate with standing too close to the painted line on a train platform (before, turning on the windscreen wipers aggressively).
Ideologically, we both believe we're entitled to share the road. It's a travesty that as editor of a cycling website, even I had to admit I didn't want to be on the road. But when it comes to riding with a 1-year-old on a particularly busy stretch, we wanted off.
Not only this, but arriving at the nursery and parking the 37 kilo bike was more difficult than anticipated. Think Orica-GreenEdge bus at the 2013 Tour de France, twice daily.
After a few weeks of A-road commutes, it was a half price deal on a Hamax child seat that saw us pull the plug on hybrid bikes to pair it with. That weekend, we had our first off-road trail centre adventure. The passenger was happy, and her parents were happier.
Now, our commute can take on the byways, we can rival any apparently drunk road planner with our pavement criss-cross game (stopping, of course, for pedestrians), and manoeuvring the bike to drag it closer to the railings doesn't constitute heavy lifting.
We did rack up close to 200 miles on the e-cargo bike, and it has a lot going for it - if you want to carry a small fridge, for example, and have the infrastructure available to you to do so comfortably.
I've seen some excellent use cases for e-cargo bikes. I look on jealousy at the e-cargo bike riders who trundle around the 20mph zones in London's Herne Hill, ferrying children to and from school, via (I imagine) Waitrose, with (I expect) a blissful flat white stop at Gail's bakery. In those cases, I'm sure that e-cargo bikes really are the absolute game changers that they're made out to be.
However, we do not live in a part of the UK where dedicated cycle lanes are a given, and the 60 mph limit on the road in question is treated more as a 'guideline' than the law.
In our small family, cycling has long been a hobby as well as a means of getting places - so lighter, more nimble bikes capable of off-road adventure allow us to get off the beaten track and enjoy the journey, as opposed to simply making a beeline for the destination.
The hybrid/child seat combo is more suited to weekend adventures, too: whilst a 15-mile pootle around the local lanes isn't the 'Saturday group ride' I'm accustomed to, it beats not-getting-out-at-all hands down, and having the opportunity to showcase the countryside to our sprog makes up for any lack of speed.
Plus, the Pinnacle Lithium 3 and Hamax seat I'm using come in at £430, with offers taken into account - a fraction of the cost of the e-cargo bike. Compared to a nice hardtail mountain bike, a cheap hybrid would be less of a sob story in the event of a theft, which we all know would elicit very little response from authorities.
Ultimately, the commuter in your life needs to fit your lifestyle - and for us, a good old cheap hybrid was all we needed. Times, unfortunately, two.
Thank you for reading 20 articles this month* Join now for unlimited access
Enjoy your first month for just £1 / $1 / €1
*Read 5 free articles per month without a subscription
Join now for unlimited access
Try first month for just £1 / $1 / €1