Is this the lightest disc brake road bike in the UK?
We take a look at some of the wildest climbing bike builds from the 93rd Monsal Hill Climb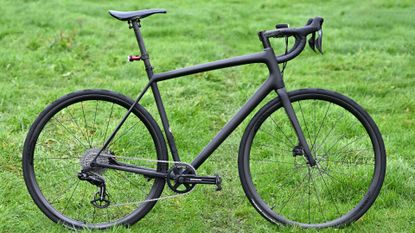 (Image credit: Future / Andy Jones)
Here in the UK, the months of September and October are home to the hill climb season. Groups of cyclists can always be found racing up hellish gradients, for what can only be described as second-degree fun.
The simple format which sees riders racing against the clock up steep sections of local tarmac sits away from any UCI ruling and, as such, encourages modifications.
Riders go all out to build the lightest machine, which creates some strange looking bikes, so we thought we'd take a look at some of the lightest bikes at this year's Monsal Hill Climb.
Chris Pott's Specialized Aethos
Chris Potts may just have one of the lightest disc brake hill climbing builds in the UK. His dream construction, which has been in the making for more than a year, has been built up from the lightest production disc brake frameset in the world, the Specialized Aethos.
With a starting point of just 585 grams for a size 56, Chris then went through every possible component to create the lightest machine possible whilst still being usable.
Coming in at just 5.30 kg without pedals, this weight weenie's dream is built up with a one-by Dura Ace 12-speed groupset, complete with Ceramic Speed oversized pulley wheels for maximum efficiency. Chris told us that the show-stopping tech of the build, however, was the Zed wheelset.
Weighing in at just 878 grams for the pair, this custom-built set of wheels is the lightest wheelset the brand has ever built for anyone, anywhere. Chris worked closely with Nathan from The Bike Smith's and Zed to bring this stunning build together, topped off with Darimo carbon finishing kit, and a feathery 63 gram AX lightness saddle.
Chris explained how he thought the build is "just about as light as you can go" while still bearing resemblance to a normal road bike - even if the full carbon saddle is a bit harsh.
Andy Nichols' Orbea Orca
The overall winner of the 93rd Monsal Hill Climb last Sunday was Andy Nichols, aboard his heavily modified Orbea Orca. Nichols described his 5.70kg race machine as an ode to AliExpress - a large Chinese online retailer synonymous in the cycling world with parts that are low cost, and sometimes questionable quality.
His carbon saddle and seatpost were both sourced from the site at no more than £20 per item. In fact, the single most expensive upgrade other than the wheels was the carbon fiber rim brake calipers which set Andy back around £150 for the pair.
You may also be wondering if Nichols' mismatched wheel set up was due to a puncture in the warm-up. He assure, however, that it is deliberate.
After some "very unscientific" aero testing in a local industrial estate, Nichols came to the conclusion that for certain courses, such as Monsal that have some sections of 25mph, having a slight aerodynamic advantage at the front of the bike is still beneficial over a full lightweight optimized setup. The front end of Andy's bike shows his true attention to detail.
Alongside the cut down Bontrager XXX carbon cockpit, Nichols has also gone to the effort and discomfort of getting shot of his rubber hoods, saving around 40 grams.
Our favorite detail is Andy's rear light. As per Cycling Time Trials regulations, all riders must have a rear light on their bikes, so Andy taped a single LED to a watch battery and mounted it underneath the saddle, with the LED itself weighing just a single gram.
Celia Brown's Liv Langma
Celia Brown's hill climb machine comes in just under the 6kg mark. It started out as a normal Liv Langma which Celia bought for around £2,000, but plenty of upgrades have been made since then, all with an eye to value in mind.
After an Ultegra Di2 upgrade, Celia also swapped out the standard cockpit for a prime carbon handlebar which has been chopped down to save weight. Alongside the commonplace drop-delete, Celia has also fitted a 100 gram carbon saddle, which sits at an aggressive angle.
As this bike is built just for going uphill, the saddle angle can be dialled in specifically for the steep gradients seen in the British hill climbing scene.
Calum Brown's last-minute bike build
It's fair to say that two-time former winner of the Monsal Hill Climb, Calum Brown, had a less than ideal run into this year's event. After snapping his Canyon Ultimate frame less than a week before whilst doing a standing start, Calum had to quickly cobble together a bike for the event, with the goal being for it to be "indestructible".
Unfortunately, though, the former track and field athlete's 2000+ watt max power still proved too much out of the gates, and he twisted his handlebars 90 degrees in the stem. His steel-framed bike still came in at an impressive 6.9 kg thanks to a Sram Red Etap one-by build - the only bike on our list over the UCI weight limit.
Ben Mckinson's Trek Emonda
Ben Mckinson's Trek Emonda is the bike on our list with perhaps the most dedicated hours involved in its making. Ben built the bike back in 2020, spending over 30 hours sanding back the frameset during lockdown.
Ben saved more weight than you might expect, too, taking away a total of 175 grams of paint and lacker off of his Emonda frameset. The full build lands on the scales like a butterfly with sore feet - just 5.0 kg.
Ben also ditched the compression plug which stops the fork from being crushed by the stem when tightening. Not what we would consider an advised practice, but certainly admired by true weight weenies in the hill climb world.
Ben told us his build came in at around £1500 thanks to "mostly second-hand parts".
Simon Warren's Time RTM Integral
The British hill climbing scene has long been known for bike modifications - often against a mechanic's best advice. An example of this is drilled parts. Riders often drill out excess material from various components on their bikes in an attempt to save precious grams of the overall build.
In the days of carbon fiber, however, it is less common to see. Simon Warren has taken a drill to his already lightweight carbon saddle to maximize efficiency. Warren's bike is also the only bike on our list with Campagnolo.
His 11-speed Campagnolo Super Record mechanical groupset has been built up complete with lightweight outer cables, which brings the bike in at a total weight of 5.89 kg.
Thank you for reading 20 articles this month* Join now for unlimited access
Enjoy your first month for just £1 / $1 / €1
*Read 5 free articles per month without a subscription
Join now for unlimited access
Try first month for just £1 / $1 / €1