85-year-old becomes historic hill climb's oldest ever participant
Brian Hygate is as keen as ever and has plans to cycle on his 100th birthday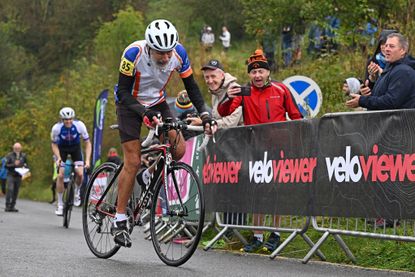 (Image credit: Andy Jones)
Brian Hygate was three days shy of his 86th birthday when he took part in the Monsal Hill Climb on Sunday, becoming the oldest participant in the history of the event.
"It didn't go exactly according to plan," he tells Cycling Weekly. "I was aiming to do the whole hill in one go, but I paused in the middle because I just ran out of oomph.
"When I got to the top, I realised I hadn't actually engaged the bottom gear."
It didn't matter, of course. Hygate never set out to break climbing records. He rode the steep, 600-metre-long hill in 4 minutes and 47 seconds, and was awarded the lanterne rouge prize for the last-placed rider.
"You get a red light," the Royal Navy veteran says proudly. "If you're the last one up the hill, you will definitely be at the back, so you win yourself a red lamp. I was very happy to receive it and it will be put to good use, I assure you."
On any given week, Hygate aims to ride between 150 and 200 miles, and enjoys competing in time trials for Fareham Wheelers, his local club.
His cycling journey dates back 75 years, when he received a hand-me-down bike from his brother. He hasn't stopped riding since.
"I tried road racing in my younger days and realised that I didn't really adapt to the change of pace," he says. "Cyclo-cross is all much too hard for me. I can't run, anyway. If you saw me running, you'd know why I ride a bike."
Instead, Hygate prefers distance challenges. He recently rode 182 miles in 12 hours as part of a timed event, and was the oldest rider at RideLondon's 100-mile sportive in May.
Still, he makes clear, the age accolades mean nothing to him. "I'm just a bloke who rides a bike, and I happen to be 85 years old," says Hygate, who celebrates his 86th birthday today. "I don't feel as though I'm that old, although I did halfway up Monsal Hill."
Does he have any plans to wind down his cycling? "No. Not at all," he snaps back, as if offended by the question.
"I make the promise, and it's rather boring to everyone else who's heard it before, that on my 100th birthday, I plan to ride 100. It probably won't be miles. I doubt if it will be kilometres. I wouldn't mind if it's only yards, but it will be 100 of something."
Coincidentally, Hygate's 100th birthday will fall on a Sunday, the likely date of the 2037 Monsal Hill Climb. Don't be surprised to see him pinning on a number in the car park.
"You can't afford to miss the Monsal Hill Climb," he says.
Thank you for reading 20 articles this month* Join now for unlimited access
Enjoy your first month for just £1 / $1 / €1
*Read 5 free articles per month without a subscription
Join now for unlimited access
Try first month for just £1 / $1 / €1