'It's the ultimate drop bar bike' - Mosaic Cycles introduces new RT-1 model
The Integrated Thick Road model turns the brand's flagship titanium roadie into a sleek, capable performer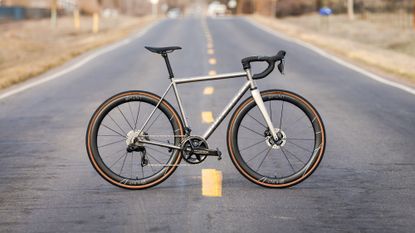 (Image credit: Mosaic Cycles)
Mosaic, the builders of custom titanium dream bikes, today unveiled a "sleeker, more capable" version of its flagship road racer, the RT-1.
Branded as "the ultimate drop bar bike," the new model is called the RT-1 ITR, which stands for "Integrated Thick Road."
Notable differences to its RT-1 siblings include a tire clearance of 35mm and neatly tucked away cables and hoses in a completely integrated cockpit.
The performance-bred, rim-braked RT-1 is the flagship road model of the small Boulder, Colorado-based brand and one that has garnered fans around the globe.
"It is the pinnacle of what Mosaic has to offer. A crafted blend of oversized internally double butted and thin-walled straight gauge tubes make a responsive handling characteristic without losing the quality ride titanium frames are known for while keeping the weight as low as possible," Mosaic states.
Over the years, Mosaic has added a disc-brake version, the RT-1d, as well as a value-oriented RT-2, which comes in stock geometry only. With its disc brakes and wider tire clearance, the new RT-1 ITR is a true All-Road machine.
To keep the ride lively and the handling speedy yet controlled, Mosaic came up with a new chainstay design and relies on Enve's composite expertise for the front end, complete with Enve's integrated fork, headset, bars and stem.
Image 1 of 5
Not only does the ITR have clearance for 35mm road tires, Mosaic optimized the bike around a 35mm "actual width" tire. This can be tricky, as Mosaic recognizes that not all tires measure the same, particularly when mounted to different rims. When inflated, one brand's 35mm may come in a few millimetres short while another may balloon well over the claimed 35 millimetres. Mosaic tried and tested a variety of tire and rim combinations and decided only to use actual width when providing tire clearance information. On the website, you'll find some tire and rim combinations the brand prefers.
The RT-1 frame is made with a blend of double-butted titanium tubing and the geometry is fully customizable based on a customer's fit requirements, ride preferences, and build configuration. But stock sizes are also available.
The RT-1 ITR is priced at $8,200 for the frame, fork, stem and seatpost and includes custom geometry design and choice of Mosaic finishwork.
Thank you for reading 20 articles this month* Join now for unlimited access
Enjoy your first month for just £1 / $1 / €1
*Read 5 free articles per month without a subscription
Join now for unlimited access
Try first month for just £1 / $1 / €1