KMC introduces dedicated e-bike sprockets and chainrings to the US market
The chain supremo adds Shimano and Bosch-compatible components to go alongside its existing range of e-bike chains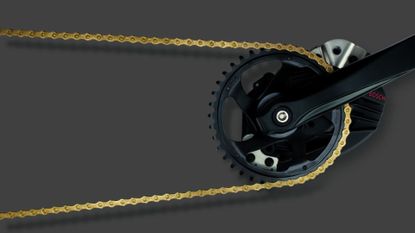 (Image credit: KMC)
It's no secret that keeping a bike's drivetrain well-maintained helps improve its efficiency. The same is true of the best e-bikes. Perhaps even more so, given the additional torque that the electric motor provides.
With this in mind KMC has released its first set of e-bike chainrings and sprockets in the US, designed to improve both durability and performance compared to OEM options.
The chain specialists are releasing a select offering at first, although it states that it has "plans to roll out more offerings in the near future". For now, the line-up features Shimano compatible sprockets in both 17t and 18t options as well as chainrings designed for use with 2nd Generation Bosch drive systems, with 3rd and 4th Generation components presumably part of the aforementioned 'roll out'. All of KMC's e-bike chainrings and sprockets are Bosch certified.
Pricing is competitive, with the sprockets retailing at $8 and the chainrings priced at $15.
"We are excited to offer these e-bike components and provide our consumers more replacement options," says Bentley Lee, KMC Chain USA's Head of Sales. "E-bikes put much more strain on the drivetrain and wear faster than a traditional bike, but many riders don't replace drivetrain components when they should. Maintaining your drivetrain is important to maximize chain life and efficiency."
KMC was the first brand to offer a dedicated e-bike chain for bikes with mid-mounted motors. Its findings showed that when shifting under load, mid-mounted motors required "significantly higher safety reserves that cannot be realised with classic chains." To overcome the problem it designed new connecting pins, the component part of the chain most exposed to shifting forces.
The result, KMC says, was rivet technology with greater resilience. By expanding its e-bike componentry to include sprockets and chainrings, it looks to continue its work into improving e-bike drive chains, stating that "better performance is offered by coordinated drive components."
For more information visit kmcchain.us
Thank you for reading 10 articles this month* Join now for unlimited access
Enjoy your first month for just £1 / $1 / €1
*Read 5 free articles per month without a subscription
Join now for unlimited access
Try first month for just £1 / $1 / €1
Luke Friend has worked as a writer, editor and copywriter for twenty five years. Across books, magazines and websites, he's covered a broad range of topics for a range of clients including Major League Baseball, the National Trust and the NHS. He has an MA in Professional Writing from Falmouth University and is a qualified bicycle mechanic. He has been a cycling enthusiast from an early age, partly due to watching the Tour de France on TV. He's a keen follower of bike racing to this day as well as a regular road and gravel rider.