Tech Question: We're used to racers on narrow bars - but are they more comfortable, too?
We ask the experts what to look for in determining the optimal handlebar width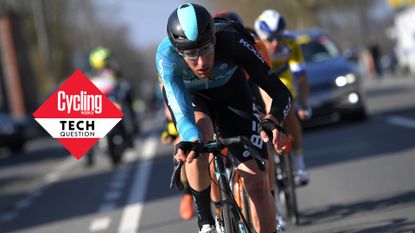 (Image credit: Getty Images)
Bar width. Whether you're a die-hard road rider, or an avid gravel racer, it's a topic that is sure to start a conversation.
On the road, we've seen a progression over the last few years towards ever narrower bars, whilst some World Tour riders have been seemingly shrinking their shoulders beyond what we thought was sensical just a decade ago.
But at the other end of the spectrum, we have the gravel trend of super-wide bars and flared drops, aiming to maximise both control and comfort.
The truth is, most of us likely sit in between these camps - wanting a comfortable, controllable ride whilst not losing out on free speed. We spoke to a range of bike fit experts and cycling brands alike to try and establish how to determine the optimal bar width for the riding you do.
What are the symptoms of incorrect bar width?
Establishing whether your bars are the right width can be a little bit of a minefield. Bike fitting is inherently a particularly multifaceted equation, with small changes of just a few millimetres to saddle, crank length or stem length being enough to leave a bike feeling out of character.
To gain a better understanding of the implications that bar width has on overall bike fit, we spoke with Phil Burt, a UK-based renowned bike fitter who has three Olympics with Team GB to his name.
"There is a misconception that handlebar width isn't important to overall fit" he described, "but bar width can make a big difference to your reach". This is because if your arms are extending directly outwards from your shoulders at 90 degrees, your reach will be longer than if you were to reaching further out to the sides, holding the hoods of a wider bar.
The same is true if you're using a narrower bar which causes your arms to be slightly toed in - your reach will be less than if your arms were extending out straight.
But what problems can an incorrect bar width cause?
Phil Burt told us: "The most common symptom associated with bar width is wrist pain, or even numbness. If your handlebars are too wide, it can cause your wrists to become rotated outwards".
As well as changing your reach, having your wrists rolled over leads to more vibrations going through the joint causing aches and pains.
Burt continued: "Hoods are designed to be used inline with your wrist" and in order to achieve this, the handlebar width generally needs to be shoulder width, or even less to achieve a comfortable position.
Burt explained how he often advises customers to "set your bike up in front of a mirror" to best see how their wrists are lining up with your handlebars.
Tim Allen from Soigneur Bike Fitting also explained how: "the majority of people don't really consider bar width to be a problem. Lots of people can identify the symptoms but don't realize its bar width causing the problems"
The general consensus from both Tim Allen and Phil Burt however was that generally customers are riding handlebars that are too wide - there's much more scope for getting things wrong in that direction, whereas there's a harder limit on how narrow you can feasibly go.
In fact, when I asked Tim Allen whether there were any symptoms of bars being too narrow, he told me "The only symptoms of riding narrower bars is going faster".
That said, he also said to note that those riding a more aggressive aerodynamic position may find a longer reach may be needed to maintain comfortable breathing.
We also spoke with Ben Robinson from Summertown Cycles in Oxford, who shared the view that very few people consider bar width to be an issue on road bikes.
"We very occasionally find customers who have had a bike fit prior to purchase who will ask for a narrower handlebar to be fitted. A bike fit prior to purchase, in our experience, does make a big difference to customer satisfaction."
What are the pros doing?
When it comes to the professional scene, it's still an overwhelmingly mixed bag. A few weeks ago at the Glasgow World Championships, I was lucky enough to snoop around a fair few of the pro's bikes, with very mixed findings in the bar department.
Simon Clarke, for example, rides a 42cm handlebar coupled with a whopping 150mm stem. This handlebar isn't for sale on the Black Inc website, which leads us to believe that it may have been custom made.
This is particularly interesting, as although 42cm bars is quite a 'traditional' width, much of the pro peloton has moved towards much narrower bars for the gains in aerodynamics. So to not only opt for a wider bar, but to have one custom made, is really quite curious.
On the complete opposite end of the spectrum, we have the current Australian national champion, Luke Plapp. Despite Pinarello's Most Talon handlebar is only being commercially available in a minimum width of 420mm - note: Pinarello measures edge-to-edge, so 420mm is closer to 390mm from other brands - Plapp has secured himself a much, much narrower setup.
His handlebar/stem combo measures in at just 360mm wide with a 140mm stem - a bar which has been custom made for him by Pinarello. It is worth remembering though that Plapp's specialism is time trialling - which would explain his readiness to adopting a narrower position on the road.
What's interesting about this is that despite Pinarello having the carbon mould already in existance for these handlebars, the brand hasn't advertised the bars on its website - leading us to believe that Pinarello doesn't see there being a high enough demand to justify putting them on sale.
Are manufacturers behind the times?
While the vast majority of us aren't racing our bikes, the data from the bike fitters we have spoken to seems to suggest that perhaps bar widths are wider than they should be - at least on race bikes.
I was surprised when testing the Cannondale SuperSix Hi-Mod Ultegra Di2, to find a 420mm handlebar fitted to a top-level race bike, which I thought actually led the bike to handle almost too quickly.
British brand Ribble seems to think so. We spoke to Jamie Burrow, Head of Product and Ex-Pro Rider. having recently challenged the convention of regular handlebars with the Ribble's Ultra Aero handlebars.
"I think the industry just settled for years on the standard sizes of 40, 42 and 44 cm almost just because that's what's always been done. Also, until more recent times we have always used 3rd party suppliers for bars which put size choice to the mercy of them. Now, like us, most bike brands are producing their own bars, and where we have space and scope to move about more and create appropriately for the right cycling genre.
"Although wider bars to an extent do offer a feeling of more security and control, especially for a novice, I'm of the opinion that road bars do not need to exceed 42cm anymore. It's just a case of getting used to change. I've moved from years on 42cm and now default at 38 and feel comfortable and in control."
Specialized, on the other hand, shared the view that this was only seen at the pointy end of racing. When we asked if they had witnessed an industry trend towards narrower bars, Specialized said: "We have seen a trend on the very pointy-end of the racing spear for riders to go after narrower bars. This trend has been mostly based on trying to gain a more aero benefit.
"Just like our saddle widths, we used data and feedback from our Retul team to inform us on what size components we should be spec'ing on bikes. When we make spec decision we take a lot of factors into consideration: Comfort, Bike Handling/Control, and what works best for the majority of the riders."
As such a large brand, Specialized has access to a wealth of bike fit data, but when we asked how often they saw bar widths being changed, they said: "We do have extensive data from Retul, from across the globe, and it seems that bar width is something that is not changed that often during a bike fit."
"We are noticing narrower bars being prefer by some riders who are going after an aerodynamic gain, but again it's mostly from of the tip-of-the spear race crowd. If we look at the road category as whole (including Roubaix, Allez, Aethos, and Tarmac riders) we don't see a preference of going to a narrower bar as a big shift.
"It seems to be a trend in pro-performance road only. In terms of the aero benefit, that is up to the rider and how they hold their shoulder and neck with each different bar width."
We say...
There is a wide variety of opinions out there, each drawing on a specific and differing datasets.
You might be fortunate enough that the stock setup on your bike does suit your position well. Bike brands do try and spec components which they believe will suit the greatest number of their customers - but that does invariably mean there will be some for whom the stock spec isn't right.
But, fundamentally, the best way to ensure that you're riding the right bar width for you it to visit an experienced bike fitter who will take into account your entire riding position and make a holistic change to your setup.
Thank you for reading 20 articles this month* Join now for unlimited access
Enjoy your first month for just £1 / $1 / €1
*Read 5 free articles per month without a subscription
Join now for unlimited access
Try first month for just £1 / $1 / €1