Tech roundup: a 7.6kg 'gravel bike', bamboo cargo bikes and a new look for the Orbea Terra
Is a gravel bike really just a rigid mountain bike?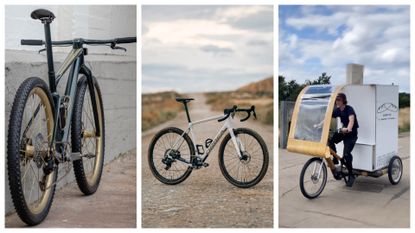 (Image credit: Daggerholm, Orbea, Bamboo Bicycle Club)
After a brief hiatus, we are back this week with our tech roundup. While this week might not have been the busiest in terms of launches, we've seen both innovative new tech as well as pretty new paint jobs.
This week, we take a look at the bike which poses the question: 'do you really need a gravel bike?'; a bamboo cargo bike seeking to bring renewable recourses to the bike industry; and Orbea's brand new look for the 2024 Terra gravel bike - let's jump straight in!
Scott Scale RC 'gravel bike'
Gustav Gullholm is a bike builder based in Sweden known for producing some pretty outrageous one-off bikes, usually with a minimal number of kilograms to their names, and his latest creation is no different.
Gullholm has really begged the question of whether 'a gravel bike is just a flat barred mountain bike?' with his latest build, utilizing the Scott Scale RC as the base for his new gravel bike.
This stunning build features a full carbon cockpit, rigid carbon fork, and 2.4" tyres making it arguably more off-road competent than most gravel bikes, yet still weighs just a feathery 7.67 kg.
If that wasn't enough, the bike is also fitted with a 4000 lumen front light, making night riding a breeze. And that might be a good thing - with the Trickstuff Piccola carbon disc brakes alone coming in at €1,100, you aren't going to want to leave this bike outside the cafe while you order a coffee!
For many, including myself, I think this is gravel bike perfection. The capable geometry of the Scott Scale frameset, mated to a rigid fork and flat handlebar makes this build perfect for technical gravel riding - though this build will most certainly be beyond almost everyone's budget...
Orbea Terra 2024
Orbea has refreshed its popular Terra gravel bike for 2024, offering slick new paint schemes, alongside the option for 13-speed Campagnolo Ekar groupset builds.
The Spanish brand will also be using its own-brand wheelsets across the entire range.
Trek has Bontrager, Specialized has Roval, and Orbea has Oquo. Orbea's in-house brand is now providing two wheelsets across the Terra range, in the form of the RC25 Team and RC25 Pro.
The former sits at the top of the range as Orbea's carbon wheelset, whereas the RC25 Pro is an alloy wheel. If you want a slightly more all-road feeling bike, however, Orbea does give the option to spec the new Terra with road-specific Oquo RP35 and RP45 wheelsets.
As previously mentioned, Orbea will be stocking its gravel bike lineup with a Campagnolo Ekar 13-speed build for the first time.
We love the Ekar groupset for its 'close range' 10-44 cassette, allowing for a wide spread of gears whilst retaining the capacity to find you the right cadence - all made possible, of course, by the 13th sprocket.
Both aluminium 'H' models and carbon 'M' models are receiving a fresh lick of paint for 2024 and for the full rundown of new colours, you can visit the Orbea Website.
Bamboo Cargo Bike
Bamboo Bicycle Club is a community-driven initiative, focusing on promoting sustainable transportation. Bamboo Bicycle Club uses the art of building bicycles using bamboo as the primary material, and its latest project is based on the recent boom in cargo bikes.
The prototype cargo bike has been designed with 'flax connections', allowing for a low-cost prototyping process without the need for welding or molding lugs. The main chassis (1m x 2.5m) also fits within major bike lanes, which gives the bike all the maneuverability to use bike lane cut-throughs whilst still maintaining a load capacity of 250kg.
The lug design that the Bamboo Bicycle Club want to use in future production, it says, will slash build times by as much as 90%, which they hope will help them succeed in their goal of providing sustainable cargo bikes at a lower cost to the consumer.
Thank you for reading 20 articles this month* Join now for unlimited access
Enjoy your first month for just £1 / $1 / €1
*Read 5 free articles per month without a subscription
Join now for unlimited access
Try first month for just £1 / $1 / €1