Would you ride a bike made of carbon infused plywood?
Beautiful though they are, these bikes are designed to ride, with the choice of wood and fiber differing in line with rider weight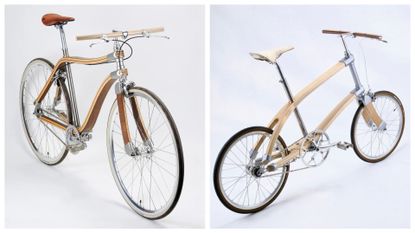 (Image credit: Masateru Yasuda )
Get The Leadout Newsletter
The latest race content, interviews, features, reviews and expert buying guides, direct to your inbox!
Thank you for signing up to The Pick. You will receive a verification email shortly.
There was a problem. Please refresh the page and try again.
Wood has been used as a building material for thousands of years. It's endured due to being a genuinely renewable source that combines strength, versatility and durability. Houses. Bridges. Furniture of all shapes and sizes. And bikes?
Masateru Yasudu certainly thinks so. The Japanese designer has created the Moccle, a single-speed bicycle made primarily of two bent plywood sheets layered with carbon fiber. These sheets form the top tube, down tube and rear stay - and there are two more used for the forks. The pieces are connected by an aluminium seat tube and steerer as well as metal lugs and dropouts. Components are straightforward, with a retro slant - a quill stem, caliper brakes and a single ring chainset.
Explaining the design ethos, Yasuda says: "In order to make use of the flexibility of wood, the structure of the frame was designed with a large two-piece structure to avoid cutting of the wood fibers as much as possible. Furthermore, eliminating large changes in the cross-sectional area shape, a smooth and beautiful shape was derived."
He goes on: "Wood sheets with carbon fiber are laminated to control shrinkage and cracking due to aging of the wood and improve safety. In addition, it makes balance of flexibility and strength."
The result is striking and elegant, evoking architect Frank Lloyd Wright's famous quote that "wood is universally beautiful to man". But in the case of a bicycle, is it fit for purpose?
"Traditional Japanese wooden buildings that take advantage of the flexibility of wood are strong against earthquakes," said Yasudu. "And the flexibility of wood and uneven fibers also provide excellent vibration absorption. I wondered if I could make a bicycle that takes advantage of the characteristics of this wood."
And so he did.
The project began in 1999, when Yasudu made his first bike using a combination of walnut and oak alongside aluminium casting lugs. The first Moccle however didn't appear until 2012, made using pinewood layered with carbon fiber and lugs made using stainless steel.
Yasudu had spent the previous ten years in Italy learning traditional bicycle manufacturing techniques, including stints at Zullo and Passoni, before returning to Japan to set up an atelier in Nagano called Kinopio. Here, Yasudu designs for domestic and foreign bicycle manufacturers as well as creating his own bicycles in-house.
In 2019 he exhibited his third rendition of the Moccle at both the Tokyo Handmade show and the North American Handbuilt Show in California and in 2023 won an A'Design Award Gold at the Tokyo Wood Collection Show.
Achieving the right level of compliance remains a primary focus for most bike manufacturers. We've seen brands continue to spend time and money on the pursuit of a more comfortable ride, using specific carbon fiber layups, dropped seat stays and even suspension systems such as Specialized's Futureshock and Trek's IsoSpeed to do so. Yasudu believes that wood has the desired properties to deliver comfort, particularly for a bike that's created for leisure rides and short trips around the city.
"Focusing on wood, which is a carbon fiber derived from nature, we aimed to develop a comfortable bicycle that takes advantage of its vibration damping and flexibility," he says.
"As the main material, we developed a hybrid material that can easily balance flexibility and strength, and incorporated a structure that absorbs vibrations by bending the entire frame like a bow when weight comes on the saddle".
Interestingly, the choice of wood and fiber differs depending on the rider's weight. In fact, each Moccle is a custom affair, with the geometry also tailored to fit the individual rider.
So who is the bike aimed at? Given its cost - listed at 6000 euros for a custom build - it's unlikely to replace the Brompton as the city commuter's bike of choice. However, for the design conscious consumer it has obvious appeal.
"High quality and simple functions for everyone," said Yasudu. "We designed a bicycle that can be displayed in the living room."
Thank you for reading 20 articles this month* Join now for unlimited access
Enjoy your first month for just £1 / $1 / €1
*Read 5 free articles per month without a subscription
Join now for unlimited access
Try first month for just £1 / $1 / €1
Get The Leadout Newsletter
The latest race content, interviews, features, reviews and expert buying guides, direct to your inbox!
Luke Friend has worked as a writer, editor and copywriter for twenty five years. Across books, magazines and websites, he's covered a broad range of topics for a range of clients including Major League Baseball, the National Trust and the NHS. He has an MA in Professional Writing from Falmouth University and is a qualified bicycle mechanic. He has been a cycling enthusiast from an early age, partly due to watching the Tour de France on TV. He's a keen follower of bike racing to this day as well as a regular road and gravel rider.