Could Zwift's turbo trainer patent make indoor cycling cheaper and easier?
Patent looks to remove barriers for beginners, experienced riders with multiple bikes, and households sharing one trainer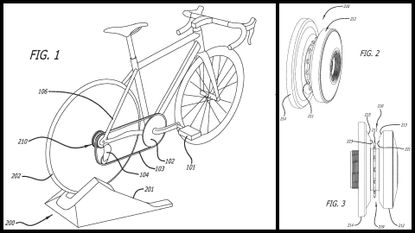 (Image credit: Zwift)
Get The Leadout Newsletter
The latest race content, interviews, features, reviews and expert buying guides, direct to your inbox!
Thank you for signing up to The Pick. You will receive a verification email shortly.
There was a problem. Please refresh the page and try again.
Zwift has filed a patent for a single-speed device to be used in conjunction with direct drive turbo trainers. The device is designed to eliminate common issues associated with many of today's trainers - namely compatibility and cost.
Indoor training app Zwift addresses these issues directly in the rationale found in the pending application, stating that using a matching cassette on a direct drive trainer "creates a problem for both beginners and expert riders."
"Beginners struggle to understand what cassette type is needed, how to install the cassette on the bicycle trainer, which can be a time-consuming process, and how to fix the trainer to the back wheel of the cycle," Zwift says.
Looking to those with more experience, it continues: "Experts are more likely to use multiple bicycles, and therefore may have to settle on only one bike (or cassette) that works with the trainer, or constantly change the cassette."
Households where more than one person is using the turbo trainer offer another use case, as "[they] will also encounter the problem of having to either frequently install different cassettes to match each user's bicycle or settle on using just one bicycle that may not be the preferred bicycle of some of the users," Zwift says.
Both are legitimate concerns. In recent times manufactures have sought to make trainers more user friendly, including Zwift, who released its Zwift Hub with beginners in mind. However, its design incurred the wrath of competitor Wahoo, who sued in the US for breach of copyright, claiming that the Zwift Hub is "identical, in all material respects" to Wahoo's own Kickr Core trainer.
Zwift's latest approach seeks to avoid both confusion for the beginner and faff for the expert. The patent application details a system that features a single sprocket with two chain guards and locking ring that is fitted to an existing trainer via a single bolt fixing. With just a single sprocket in play, all of the shifting happens virtually, using ERG mode, where resistance is controlled by the app in use.
Zwift explains in the application: "A user can install a bicycle in a bicycle trainer with a single-speed sprocket system by sliding on the unit and tightening a single bolt with an Allen key. As discussed herein, a locking key may be employed to lock a single-speed sprocket system in place without the need for tools.
"Other quick-attachment mechanisms may also be employed in other cases. No special tools are required for installation, and the user does not need to navigate cassettes, chains, derailers, chain guides, or tensioners. In such a system, the sensation of shifting gears is provided entirely through an electronic adjustment in the resistance of the flywheel."
The design even features a gully that will supposedly prevent the chain from skipping if the user tries to change gear manually using their bike's shifters.
And the claimed benefits don't stop there. Zwift suggests that its single-speed device will remove the noise associated with shifting gears while training indoors. It also highlights the additional wear and tear to the drivechain that riding indoors can cause, whereas its single-sprocket design gives the bike's shifting mechanisms a rest.
Like many patent designs, there are questions left answered. The application states that the design is "compatible with most direct drive trainers", but could a device created to avoid compatibility issues also create some of its own? The "no special tools required' claim is also likely to raise an eyebrow, or perhaps send a shudder down the spine, of many of us.
Additionally, it's a design that's only applicable for those who use ERG mode at all times when training. If you fancy a turbo session where you're shifting gears manually then you're out of luck - unless you remove the device and reinstall a cassette.
However, if the device does indeed work with all the market leading direct drive trainers and you're happy with virtual shifting, then Zwift could well be onto something. Reducing compatibility issues is a big win. Being able to market the device to both beginners and experienced users also will likely expand its appeal.
Thank you for reading 20 articles this month* Join now for unlimited access
Enjoy your first month for just £1 / $1 / €1
*Read 5 free articles per month without a subscription
Join now for unlimited access
Try first month for just £1 / $1 / €1
Get The Leadout Newsletter
The latest race content, interviews, features, reviews and expert buying guides, direct to your inbox!
Luke Friend has worked as a writer, editor and copywriter for twenty five years. Across books, magazines and websites, he's covered a broad range of topics for a range of clients including Major League Baseball, the National Trust and the NHS. He has an MA in Professional Writing from Falmouth University and is a qualified bicycle mechanic. He has been a cycling enthusiast from an early age, partly due to watching the Tour de France on TV. He's a keen follower of bike racing to this day as well as a regular road and gravel rider.