An ode to Thibaut Pinot, the man who taught us to feel
The 32-year-old will retire at the end of this season, calling time on a career of highs and lows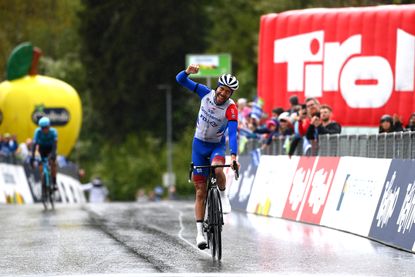 (Image credit: Getty)
"With Thibaut Pinot, it was something else," said Marc Madiot at the end of a long interview published on Groupama-FDJ's website yesterday. The Frenchman's team manager gets it. He always has.
"For many people, Thibaut represents romantic cycling," Madiot said. "He is seen as someone who is fragile, who has anxieties, fears, but when you scratch deep enough, he is actually one of the riders who goes the furthest into suffering. He hangs on."
Now, at 32 years old, the Frenchman has decided to let go. At the end of this season, Pinot will turn his final pedal strokes as a professional cyclist. "I'm ready for real life," he told L'Équipe yesterday, looking forward to a new chapter at home, at peace in nature.
Over the last 12 years, Pinot has harnessed public emotion like no other rider. We've felt heartache in his despair and basked in the joy of his success. When misfortune has struck, we've shared his sorrow, safe in the hope that, one day soon, his smile will return.
Last year's Tour of the Alps provided a microcosm of what it's like to follow Pinot's career. Having gone almost three years without a win, the Frenchman broke free on stage four of the race and tore alone towards the day's summit finish in Austria.
His attack was filled with confidence and belief. With a kilometre to go, however, it became clear he wasn't going to make it. As the road stretched out beneath his tyres, so too did the gap to Astana Qazaqstan's Miguel Ángel López, who rode clear to victory.
Motionless, Pinot sat with his back to a metal barrier after the stage. "I know you're disappointed," a reporter told him frankly, "but there were loads of people watching on TV who took great pleasure in seeing you race for victory on today's mountain stage."
The Groupama-FDJ rider stared into the distance in silence. He then turned away from the press microphones, before returning with his bottom lip quivering. "It's such a pain," he replied, his eyes welling up. "It's a pain because that would have done me good. In the last 10km I was thinking about the past few years.
"I could've turned this shitty page and moved on to something else."
Pinot's last victory before that had been, arguably, his finest. I was there. It was July 2019 and the Tour de France was gearing up for a stage finish atop the mythic Tourmalet.
I'd ridden to 500m shy of the summit, where the gendarmes stopped me and asked me to climb off. There I waited, laughing along with a group of rowdy French men, who sloshed pastis and chanted for Pinot - then seventh in the GC - for two hours straight.
When their hero eventually arrived, the noise became deafening. We couldn't see the finish line from where we were stood, but voices soon passed the winner's name down the mountain. The rowdy group broke into a frenzy. Pinot had done it.
The chanting quickly reached its crescendo. As the team cars filed through one by one, they swarmed the vehicles and slapped the windscreens along to the beat. To this day, it's the most love I've ever seen for a single rider at a bike race.
History reminds us, of course, that the Groupama-FDJ rider would go on to step off his bike days later in what has now become one of the lasting images of his career. Victim of a muscle tear, he climbed into his team car on stage 19, crying inconsolably, unable to continue.
I hope my Tourmalet companions celebrated accordingly when Pinot returned to winning ways at the Tour of the Alps last year.
In lashing rain, the Frenchman again broke away, determined to rid himself of the pain from the day before. This time, he shook off his Astana marker, a role now played by David de la Cruz, and kicked away on the final bend to cross the line first. "Finally," he said in his post-race interview, "liberation."
In the space of 24 hours, Pinot went from one of his lowest points, to one of his highest - the inverse of what had happened at the Tour three years prior. Through it all, his fans remained by his side.
The Frenchman, no doubt, will have his eye on more glory this season, his last one as a racing cyclist. He's down to ride the Giro d'Italia, but many hope he'll strap in for one final lap of France in July.
It'll be emotional, it always is with Pinot, but it's a chance to celebrate a rider who has long defied the steely attitude at the top of elite sport.
"This is not a farewell tour," Madiot said of his talisman, before admitting there will be a "little tear in the eye" when he finishes his final race, Il Lombardia.
Madiot, I'd wager, won't be the only one crying.
2023, profiter, tout donner pour ne rien regretter.@groupamafdj @groupama @fdj pic.twitter.com/0RqZqjtPviJanuary 12, 2023
See more
Thank you for reading 20 articles this month* Join now for unlimited access
Enjoy your first month for just £1 / $1 / €1
*Read 5 free articles per month without a subscription
Join now for unlimited access
Try first month for just £1 / $1 / €1