British champion Cameron Mason hoping for rain at Cyclo-cross World Championships
British national champion says patience will be the key in what's expected to be a fast race in Hoogerheide, the Netherlands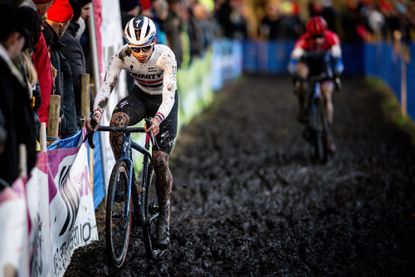 (Image credit: Getty Images)
Cameron Mason, current British national cyclo-cross champion, is predicting a tactical, and fast battle in the race to become elite cyclo-cross World Champion in Hoogerheide, the Netherlands this weekend.
Speaking to Cycling Weekly, Mason explained that he's hoping for light rain on Sunday morning to enable him to then work the course in his favour as he guns for a high finish.

"I hope the course is somewhere in the middle ground and not too muddy on Sunday," he said. "If that's the way it is, I can then use my technical skills, but when you get full, deep and heavy mud it doesn't suit me at all."
"Guys like Wout [van Aert] love that deep, heavy mud and are really good at it, but it doesn't help me whatsoever. I just need the speeds to be quite high and kind of slick so it suits me, hopefully there's just enough rain on Sunday to help me out."

Without the presence of current reigning men's world champion Tom Pidcock, the Scottish rider is arguably Britain's best hope for a high placing in the elite men's race. Mason explained that his current excellent form, combined with perfect preparation has set him up nicely in order to fly the flag for Britain on Sunday.

"I've had great preparation for this," Mason said. "It's probably the smoothest run-in that I've had to a World Championships. I had a good training camp in Spain after winning the national championships, then I've been back in Belgium since last week and have had some decent rides in races before this. So it's been a great run before this, now it's just a case of being patient."

"All the work is now done, so it's all in for Sunday," he added.

In what's widely anticipated to be a two-way scrap between Belgium's Wout van Aert and Mathieu van der Poel for the title, Mason explained that attempting to get onto the podium or finish in the top five will be a tactical affair.

Mason said: "It's definitely going to be pretty tactical on Sunday. The course is super fast, we're looking at 27/28 kph average speed, so that's going to be a real aspect to it. Getting separation is going to be really hard, there's so many corners which will make that difficult.
"For riders like myself going after the spots after Wout and Mathieu, my race will be affected by how they play their race. It depends on if they get on with their battle super early or wait for the race to come to them. There's a lot of scenarios, so I just need to get through the first 15-20 minutes without any issues, then the cream will rise to the top."
Thank you for reading 20 articles this month* Join now for unlimited access
Enjoy your first month for just £1 / $1 / €1
*Read 5 free articles per month without a subscription
Join now for unlimited access
Try first month for just £1 / $1 / €1